FA Cup Third-round Clockwatch – as It Happened
5.09pm GMT
Right, well Barnsley have been beaten 2-0 by Middlesbrough and Blackburn have won 2-1 at Charlton. So that's your lot. Thanks for your emails and birthday wishes. I'm off bowling because I'm trying to have a birthday akin to that of a 12-year-old.
5.06pm GMT
So, what do we make of all that? Poor Southport. Poor, poor Southport. I hope Steven Gerrard lets the squad eat out for free in his restaurant tonight. Other things we learned? Erm, West Brom are better than Gateshead, Birmingham are just about better than Blyth and Swansea are good when they're on the Wirral. Oh, and it's now business as usual at Newcastle.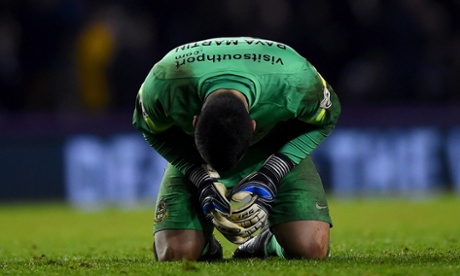 Southport's David Raya dejected against Derby. Photograph: Laurence Griffiths/Getty
Updated at 5.18pm GMT
5.03pm GMT
Here's your final scores apart from Charlton v Blackburn and Barnsley v Boro, but we know how they'll turn out.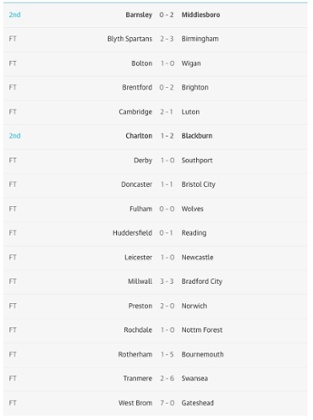 Final scores. Photograph: Guardian
5.01pm GMT
Full-time: Leicester 1-0 Newcastle
John Carver has just been booed by unhappy Newcastle fans. He should forward those on to Mike Ashley.
4.59pm GMT
"Famous January 3rd Birthdays according to internet : Eli Manning for throwing footballs, Mel Gibson for throwing hissy fits, Stephen Stills for throwing jam sessions and Gregg Bakowski for throwing up virtual birthday drinks," offers Raymond Reardon.
4.58pm GMT
Goal! 0-2 Middlesbrough (Ayala 84)
Boro look like they'll be in the fourth round thanks to the former Liverpool defender.
4.57pm GMT
Full-time: Rochdale 1-0 Nottingham Forest
Keith Hill's team deservedly knock out the Championship side thanks to Vincenzi's first-half penalty. They had to hang on but could have been 3-0 up at half-time. Spotland will be bouncing.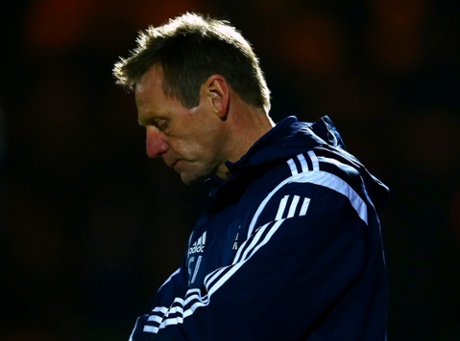 Another defeat for Stuart Pearce and Nottingham Forest. Photograph: Richard Heathcote/Getty
Updated at 5.15pm GMT
4.56pm GMT
Full-time: Millwall 3-3 Bradford
A topsy-turvy tie at The Den ends all square. All back to Valley Parade for a replay.
4.54pm GMT
Newcastle have been poor against Leicester today. John Carver hasn't been able to find the formula to get them racing forwards like they did against Burnley. It's still 1-0 to Leicester.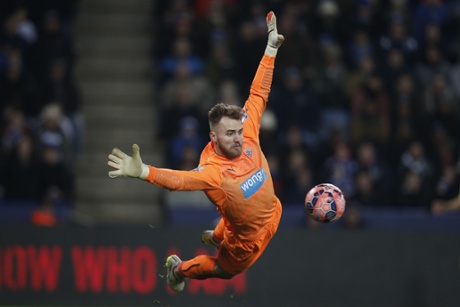 Newcastle United's Jak Alnwick saves this effort but his side are still trailing at the King Power stadium. Photograph: Adrian Dennis/AFP/Getty
4.54pm GMT
Elsewhere, Swansea have won 6-2 against Tranmere, Preston have beaten Norwich 2-0 and Derby did indeed crush Southport's dreams of a replay with that penalty in injury-time.
4.53pm GMT
Full-time: Blyth Spartans 2-3 Birmingham
No fairytale for Blyth or Dale then. Well done Birmingham for coming back so strongly though.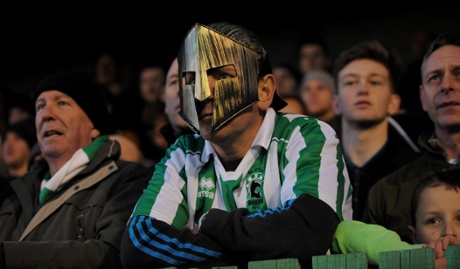 No fariytale ending for Blyth Spartans. Photograph: Michael Mayhew/Sportsphoto/Allstar
Updated at 4.58pm GMT
4.51pm GMT
Goal! Derby 1-0 Southport (Martin 90+3 pen)
Heartbreak for the Sandgrounders. Chris Martin strokes it home (with apologies for link)
4.49pm GMT
Penalty to Derby in the last minute of injury time!
This is your moment David Raya.
4.49pm GMT
And Southport are still clingng on with three minutes of injury time remaining!
Gary Brabin has parked the bus brilliantly, by all accounts. And I mean that in the nicest sense.
4.45pm GMT
Charlton are down to 10 men against Blackburn. They trail 2-1 so it isn't going to get any easier.
4.44pm GMT
Goal! Millwall 3-3 Bradford (Fuller 83)
Ricardo Fuller you big lion-hearted hero you. That's a rollercoaster game and a half at The Den.
4.43pm GMT
"Having watched Birmingham City for my entire life, even at 2-3 up, we are likely to pass directly to Dale in front of goal at roughly the 94th minute mark," doom-mongs Matthew Franks.
4.42pm GMT
Goal! Preston 2-0 Norwich (Gallagher 84)
The Lillywhites will be in the bag for the fourth round.
4.41pm GMT
Goal! Tranmere 2-5 Swansea (Routledge 85)
Erm, no they can't. But Swansea can.
4.40pm GMT
Goal! Tranmere 2-4 Swansea (Stockton 83)
They can't can they?
4.40pm GMT
Goal! Millwall 2-3 Bradford
Those Millwall fans will be miffed once again.
4.39pm GMT
Southport stats!
Here are the stats from Pride Park where Southport keeper David Raya is doing an octopus impression to keep the Sandgrounders in it.
Here a song for him …
Updated at 4.39pm GMT
4.37pm GMT
Goal! Tony Pulis Magic 6-0 Gateshead (Morrison 69)
They're staying in the Cup at least.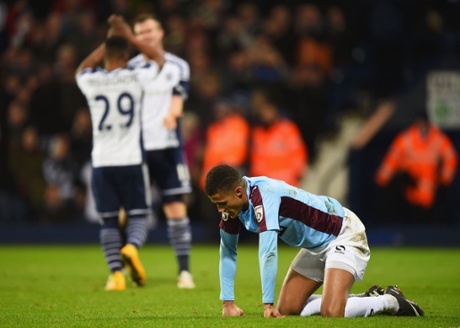 Despair for Andrai Jones of Gateshead against West Bromwich Albion. Photograph: Shaun Botterill/Getty
Updated at 4.42pm GMT
4.36pm GMT
Southport are still holding on against Derby!
Look how happy these two are about that.
@southport_fc pic.twitter.com/QDWjNRSOXP
— Paul Aird (@Paul_Aird) January 3, 2015
4.35pm GMT
Goal! Bolton 1-0 Wigan (Clough 76)
No, Nigel hasn't made a comeback. It's Zach.
4.34pm GMT
Goal! Millwall 2-2 Bradford (Nelson OG)
Bradford are back level.
4.33pm GMT
Goal! Charlton 1-2 Blackburn (Taylor 59)
That's his second of the afternoon.
4.31pm GMT
Goal! Rotherham 1-5 Bournemouth (Kermorgant 72)
They're just showing off now.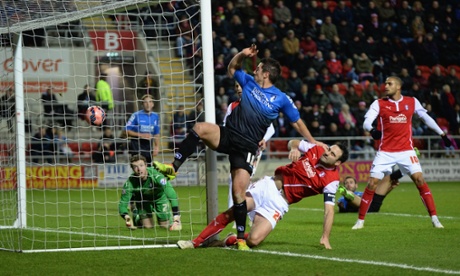 Yann Kermorgant scores the fifth goal after Dan Gosling's header was saved. Photograph: Tony Marshall/Getty
Updated at 4.45pm GMT
4.31pm GMT
Goal! Huddersfield 0-1 Reading (Blackman 69)
The Royals can smell the fourth round.
4.30pm GMT
Goal! Preston 1-0 Norwich City (Gallagher 71)
Where are you Norwich? This would be very good result for Preston.
4.28pm GMT
Goal! Tranmere 1-3 Swansea (Power 67)
Max Power was always going to score wasn't he? Any relation to Cast's lead singer I wonder?
4.27pm GMT
Goal! Rotherham 1-4 Bournemouth (Kermorgant 67)
He's done well to recover from this …
4.26pm GMT
Cambridge United 2-0 Luton (Donaldson 66)
The home side look comfortable now in this League Two rumble.
4.24pm GMT
Goal! Rotherham 1-3 Bournemouth (Fraser 63)
Edde Howe will be resting a bit easier after Fraser gives the Championship high-flyers a bit of breathing room.
Updated at 5.11pm GMT
4.23pm GMT
Goal! Barnsley 0-1 Middlesbrough (Vossen 48)
Boro take the lead in one of the day's two delayed matches.
Updated at 5.11pm GMT
4.22pm GMT
Richard Brodie has almost scored for Southport against Derby with a header at the far-post!
Updated at 4.22pm GMT
4.20pm GMT
Goal! Rotherham 1-2 Bournemouth (Stanislas 58)
Junior Stanislas has put a more realistic scoreline on the third-round tie at Rotherham.
4.18pm GMT
So, we're counting on you for an upset Southport.
They are still hanging on. But a replay's about as good as it will get if reports of an 11-man wall being built on the Southport goalline are anything to go off.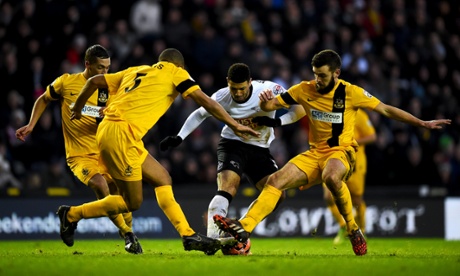 Derby's Leon Best is crowded out against Southport. Photograph: Laurence Griffiths/Getty
Updated at 4.28pm GMT
4.16pm GMT
Goal! Tranmere 0-3 Swansea (Barrow 58)
Barrow taps home from a Gomis cross and kills this tie.
4.16pm GMT
Goal! Blyth Spartans 2-3 Birmingham (Thomas 58)
Wes Thomas has taken a hammer to Cup Magic and smashed it to smithereens. He's completed a three-goal comeback inside 13 second-half minutes the big spoil-sport.
4.14pm GMT
Goal! West Brom 5-0 Gateshead (Brunt 55)
the only thing interesting about this game now is what Tony Pulis looks like without a cap.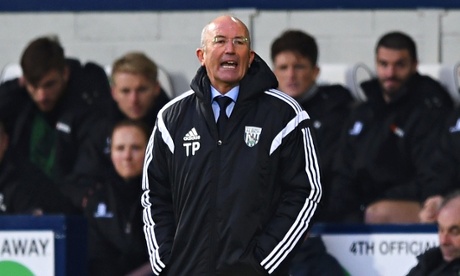 Tony Pulis Photograph: Shaun Botterill/Getty Images
4.13pm GMT
Goal! Blyth Spartans 2-2 Birmingham (Thomas 55)
Now this really is calling out for a Robbie Dale hat-trick. I presume Birmingham have worked out how to run around on a cabbage-patch and now feel comfortable.
4.12pm GMT
Goal! West Brom 4-0 Gateshead (Berahino 54)
Berahino has got a hat-trick though. He strokes home a low cross with a swish of his right boot to notch his third of the day. He's got a right face on him though. Is he off? Or has Pulis told him he's going nowhere?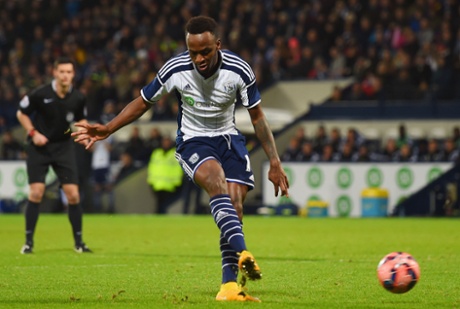 Saido Berahino completes his hat-trick slotting the ball home from 12 yards. Photograph: Shaun Botterill/Getty
Updated at 4.33pm GMT
4.09pm GMT
Goal! Blyth Spartans 2-1 Birmingham (Novak 52)
It's taken a former non-league player from the north-east , Lee Novak, to draw the Blues level. He's struck home from 20 yards. This is crying out for a Robbie Dale hat-trick.
Updated at 4.10pm GMT
4.06pm GMT
Goal! Tranmere 0-2 Swansea (Carroll 49)
Carroll times his run into the box to perfection to pick up a square pass, poke the ball past a defender and sidefoot home from six yards. So it's up to Southport to provide Merseyside's dose of Cup magic. Their defenders are currently throwing themselves in front of Derby shots like cannon fodder.
Updated at 4.08pm GMT
4.04pm GMT
Goal! West Brom 3-0 Gateshead (Berahino 45)
And it's a lovely one. The forward picks the ball up just outside the 18-yard box, turns and opens up his body in one movement, and then curls the ball into the top right corner. Well done you.
3.57pm GMT
A Birmingham fan, I presume …
@GreggBakowski Birmingham get what they deserve. 10 changes.
— pastcaring (@pastcaring) January 3, 2015
3.55pm GMT
Here are your half-time FA Cup scores (ignore Charlton v Blackburn. It's broken, as are the floodlights at The Valley. It was 1-0 to Blackburn before the delay). Oh, Barnsley and Boro are still playing due to a gas leak that delayed kick-off by 15 minutes.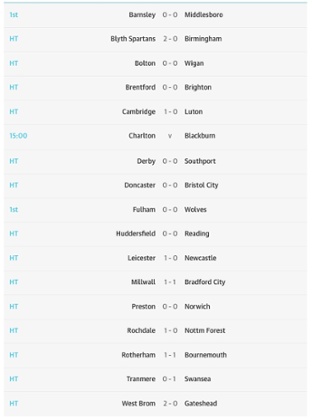 Scores. Photograph: Guardian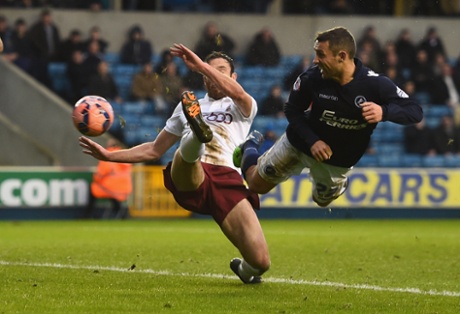 Millwall's Scott McDonald heads the equaliser against Bradford. Photograph: Christopher Lee/Getty
Updated at 4.14pm GMT
3.52pm GMT
It's not been a high-scoring half of FA Cup football but at least we have an upset on the cards. Just look how up for it these Blyth fans are …
Blyth fans get the battle-fever on.
3.48pm GMT
Goal! West Brom 2-0 Gateshead (Anichebe 45)
Right on the stroke of half-time Anichebe turns and crashes home inside the box to give a comfortable-looking sheen to what has been a hardwork-half for the Baggies.
3.46pm GMT
Goal! Rotherham 1-1 Bournemouth (MacDonald 44)
Eddie Howe's side restore parity.
3.44pm GMT
Goal! West Brom 1-0 Gateshead (Berahino 42)
Great news for one north-east team, not so for another. Berhaino is sharpest in the box to sidefoot home an accurate right-footed strike from 10 yards. Pulis can cool his guns a bit now.
Updated at 3.47pm GMT
3.43pm GMT
Goal! Blyth Spartans 2-0 Birmingham (Dale 41)
Robbie Dale can pull himself another pint. A short free-kick is played to Dale, the Birmingham defence stand around picking their noses and Dale strides into the box and crashes home his second.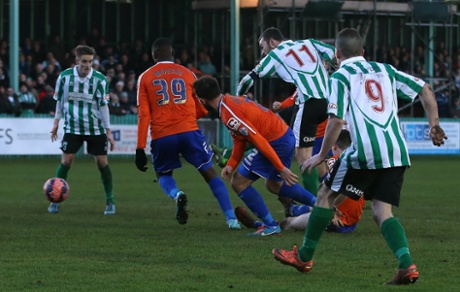 Blyth Spartans' Robert Dale scores his second goal to put Birmingham in trouble at Croft Park. Photograph: Ian MacNicol/AFP/Getty
Updated at 3.55pm GMT
3.41pm GMT
Goal! Leicester 1-0 Newcastle (Ulloa 39)
The big Argentinian has scored his eighth goal of the season to give Leicester the lead in the half-strength Premier League-side tussle.
3.39pm GMT
Goal! Millwall 1-1 Bradford (McDonald 36)
Ian Holloway's side find a bit of fight to equalise against the run of play.
3.38pm GMT
Goal! Cup Magic 0-1 Swansea ( Dyer 34)
Nathan Dyer goes on a jinking run into the Tranmere box, cutting in from the left one, twice and then shooting. His first effort is blocked but he slams home the rebound from 10 yards to give the Premier League side a lead they deserve after dominating the game for the past 20 minutes.
3.36pm GMT
Goal! Cup Magic 1-0 Birmingham (Dale 35)
Robbie Dale scores his 16th goal of the season for Blyth Spartans after some inventive play down the left-hand side results in a comfortable finish for Dale. He's a barman apparently. He'll enjoy a few pints on himself tonight.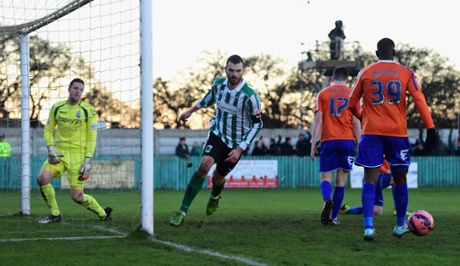 Blyth Spartans' Robert Dale celebrates after scoring from a Rivers' cross and the upset is on. Photograph: Stu Forster/Getty
Updated at 3.55pm GMT
3.34pm GMT
It's dark at The Valley
The floodlights have packed in.
3.31pm GMT
Some magic!
"Afternoon Gregg," writes Simon McMahon. "I know it's not the Cup, but this is still magic. Dumbarton lead slow-motion car-crash club The Rangers 1-0 at Ibrox. The Sons haven't beaten a team from Govan since '94. 1894." I hope you recovered from your Dundonian derby celebrations Simon. No lasting damage done?
3.28pm GMT
Goal! Cambridge United 1-0 Luton Town (Simpson 27)
Cambridge get a penalty. Simpson takes it but it is parried by Luton's Tyler … but then makes up for it by burying the rebound.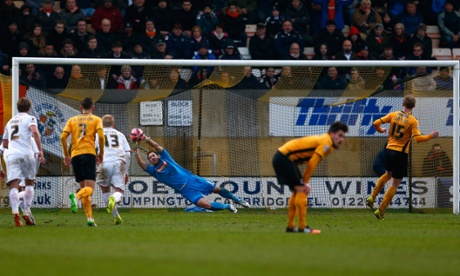 Robbie Simpson has his penalty saved but follows up to score the rebound to make it 1-0 to Cambridge United. Photograph: Julian Finney/Getty
Updated at 3.47pm GMT
3.26pm GMT
Newcastle and Leicester sounds pretty tame. It's 0-0 and rather dull apparently. And elsewhere there are still no goals. But the talk at Blyth is that the pitch looks something like this …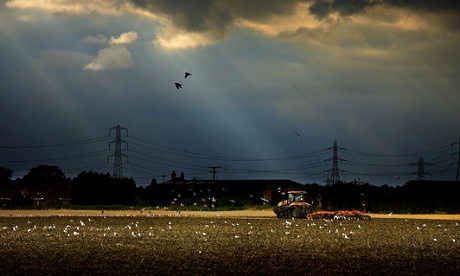 Farmers field
And Birmingham are really struggling to deal with it. Poor Birmingham. Should have brought wellies.
3.22pm GMT
Noel Barrow goes close for Swansea against Tranmere with a mishit volley from the edge of the box, while Craig Best has hit the post for Derby against Southport, who are gamely hanging on at the Ipro Stadium. Well done Southport.
3.20pm GMT
There are no goals anywhere else. Where's the MAGIC?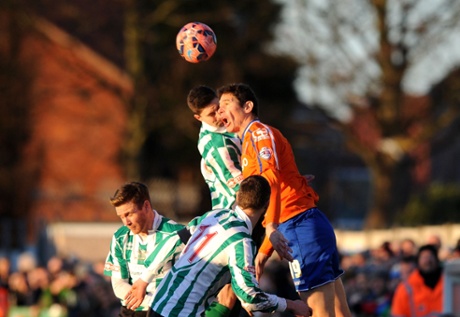 Birmingham City's Nikola Zigic beats Jordan Watson of Blyth Spartans to the ball but the score remains 0-0. Photograph: Richard Lee/BPI/Rex
Updated at 3.22pm GMT
3.19pm GMT
Tony Pulis has taken just 13 minutes to leave his seat in the stands and bawl out his West Brom players in spectacular fashion. He looks like a caffeine-addled traffic cop as he tries to get his underperforming Baggies to buck up their ideas against Gateshead.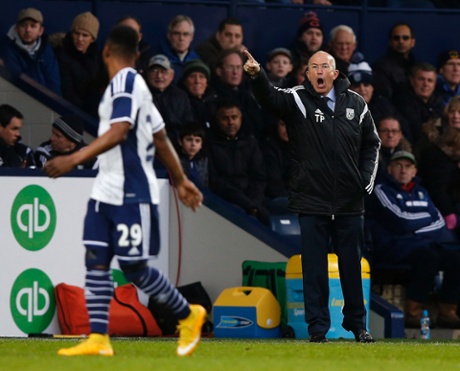 Tony Pulis shouts at Stephane Sessegnon as his team struggle to break down Gateshead at the Hawthorns. Photograph: Andrew Yates/Reuters
Updated at 3.34pm GMT
3.16pm GMT
Grant Walker has this to say: " Here's hoping your present from the Reds is a spot in the 4th round draw! Happy birthday you beautiful son of a b!tch!" Erm, ta Grant.
3.14pm GMT
Goal! Rochdale 1-0 Nottingham Forest (Vincenti 12 pen)
And that isn't so much of a surprise. My colleague Nick Miller is a Forest fan and expects only disappointment from his beloved team these days.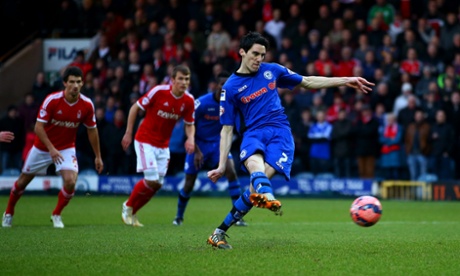 Rochdale's Peter Vincenti of Rochdale scores from the penalty spot, sending Forest's Dorus De Vries the wrong way. Photograph: Richard Heathcote/Getty
Updated at 3.28pm GMT
3.13pm GMT
Goal! Rotherham 1-0 Bournemouth (Brindley 10)
That's a surprise!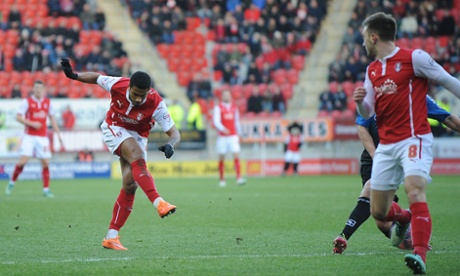 The Millers take the lead as Rotherham United's Richard Brindley scores via a deflection. Photograph: Ryan Browne/PA
Updated at 3.25pm GMT
3.12pm GMT
Tranmere are doing most of the attacking against Swansea. They have Max Power in their ranks today. They've forced a couple of corners – and when you have someone called Max Power in your team, you have to hope for some heroics.
3.10pm GMT
Goal! Millwall 0-1 Bradford (Knott 6)
Bradford make a great start away at Millwall. Billy Knott has rammed one home from six yards and Millwall fans are not happy. They're having a right old moan.
3.08pm GMT
Goal! Charlton 0-1 Blackburn (Taylor 4)
So there it is. Your first FA Cup third-round goal of the day. Boom!
4mins: Marshall with a cross from the right, brought down by Brown in the box. Cleared to Conway, deep cross, Taylor attacks and heads home!
— Blackburn Rovers (@OneRovers) January 3, 2015
3.06pm GMT
Blyth's groundsman's had his feet up the past two weeks apparently …
The Blyth pitch looks like no-mans land in 1916. #FACup
— Back And To The Left (@BATTLCOMEDY) January 3, 2015
3.04pm GMT
If you're at any of today's matches feel free to email/tweet me. It's difficult to get eyes on much of today's action. Oh, and any more virtual birthday pints are also welcome. Or whiskies. They're always nice.
3.02pm GMT
Peep!
It's football!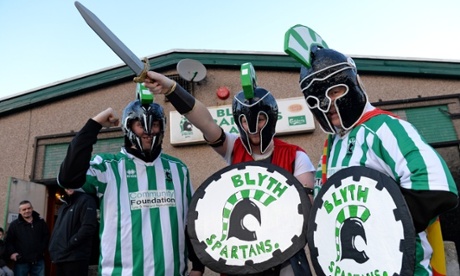 'This is where we hold them. This is where we fight …' Photograph: Richard Lee/BPI/Rex
Updated at 6.28pm GMT
2.59pm GMT
The teams are heading out around the grounds. The north looks like it got the weather today. It's lashing down outside Guardian Towers.
And just look at Cambridge …
FA Cup third-round clockwatch – live! Join @GreggBakowski http://t.co/L2jV4PTO0Q (Photo: Getty) pic.twitter.com/OpGHSOqVDR
— Guardian sport (@guardian_sport) January 3, 2015
Updated at 3.00pm GMT
2.57pm GMT
Paul Merson's having a fit over why Swansea are resting so many players against Tranmere. Garry Monk is still putting out a team that should beat League Two opposition. And it's not like Swansea's recent performances have been ones bristling with energy and verve.
2.52pm GMT
The magic of the Cup!
2.44pm GMT
Gateshead's defence may be twisting and turning a bit today. Sessegnon and Berahino start for the Baggies. They can have a breather when they mark Anichebe, mind.
Albion v @GatesheadFC: Myhill, Pocognoli, McAuley, Dawson, Baird, Morrison, Brunt, Dorrans, Sessegnon, Anichebe, Berahino. #WBAGAT #FACup
— West Bromwich Albion (@WBAFCofficial) January 3, 2015
2.38pm GMT
I've just been sent a virtual pint by James Thomas, so I'll virtually drink it and then virtually start shouting aggressively at my colleagues then telling them I love them before falling asleep. "Good morning from the colonies and HAPPY BIRTHDAY GREGG! So what's the conventional wisdom say about the Fulham-Wolves squabble at Craven Cottage? Would a result for the visitors be considered an upset?" asks James. Hmmm. Fulham appear to have fielded a stronger team so, yes, perhaps it would. Hic.
2.32pm GMT
No surpise as Derby make nine changes for Southport's visit.
TEAM: #DCFC's side shows 9 changes from #DCFCvLUFC. Naylor makes his full debut & @couttsy_7 starts for first time under McClaren #DCFCvSFC
— Derby County (@dcfcofficial) January 3, 2015
Southport are taking 2,700 fans to Pride Park. They average about 800-1,000 at Haig Avenue. Here's their old-school teamsheet …
Here is the @southport_fc team sheet... pic.twitter.com/CaoAdkoceA
— Jamie Bowman (@JamieBowman77) January 3, 2015
2.23pm GMT
Here's Leicester's team to face Newcastle, featuring Championship Manager regen-soundalike 'Nugent Lawrence'. Seven changes …
City: Hamer, De Laet, Morgan (c), Moore, Konchesky, Cambiasso, James, Knockaert, Nugent Lawrence, Ulloa. #LeiNew
— Leicester City (@OfficialFOXES) January 3, 2015
And seven changes for Newcastle too …
#NUFC v @OfficialFOXES (4-3-3): Alnwick; Santon, Williamson, Dummett, Haidara; Anita, Tioté (c), Vu?ki?; Armstrong, Rivière, Cabella.
— Newcastle United FC (@NUFC) January 3, 2015
Updated at 2.24pm GMT
2.18pm GMT
Tranmere may well fancy their chances after having a look at this Swansea teamsheet
TEAM SHEET: A reminder of this afternoon's #Swans team ahead of #FACup tie against @tranmererovers. pic.twitter.com/eaubfyikW0
— Swansea City FC (@SwansOfficial) January 3, 2015
2.10pm GMT
If you're a fan of sweatbands, leg-warmers, gigantic mobile phones and the sitcom Bread, then this 1980s nostalgia-fest from our Sport Network regular Steven Pye will be up your street. Here's his take on the third round of the FA Cup in1983-84, a round that saw Man Utd humiliated at Bournemouth, shocks galore, a thrilling Watford-Luton derby, and Telford keeping the non-league flag flying.
Updated at 2.11pm GMT
2.06pm GMT
Will this song, by glam-punk warblers The Quireboys, be echoing around the Blyth Spartans dressing room today?
'We are the famous Blyth Spartans'
1.37pm GMT
Afternoon. Well, it's a big one. I'm 36 today! Just look at what Lampard's achieved at that grand old age. It's the new peak. I'm expecting great things in 2015. Oh, and let's not forget it's also FA Cup third-round day. Well, kind of. It's about half of an FA Cup third-round day. Well done FA. Not one match is being televised. Not even Blyth Spartans v Birmingham City. Nope. West Brom v Gateshead? Give over.
That does make this clocko a little more useful than usual though. My fingers are going to do some stretches shortly and get a massage. They may be busy.
So where are the upsets going to be, as after all, that's what this weekend is all about. Well, unfortunately, of the non-league teams only Blyth have got a home tie. Birmingham won't feel very comfortable up at Croft Park, as Louise Taylor writes here.
As for Southport and Gateshead, at Derby and West Brom respectively, the Cup magic may be a little harder to locate. But, who knows, maybe Tony Pulis will begin life at The Hawthorns practising ugly survival football. In which case, that will suit Gateshead just fine. League One Rochdale are in good form and will smell blood when Nottingham Forest visit Spotland. Forest are a bit of a shambles at the moment. They'll be a nice little scalp for Keith Hill.
Southport bank on tears of joy after the trauma Caskey fired up to face West Brom in FA Cup
Other interesting ties include the Lancashire (all right pedants, Greater Manchester then) derby between Bolton and Wigan. Brentford v Brighton – where Chris Hughton takes charge for his first match as the Seagulls' new manager – also looks intriguing. And then there's Tranmere v Swansea, with League Two's lowly Rovers finally finding form under newish boss Micky Adams and the Swans creaking for the first time under Garry Monk's charge.
Oh, and Leicester face Newcastle in an all-Premier League tie. How seriously will Pearson's struggling Leicester take that one? Team news shortly …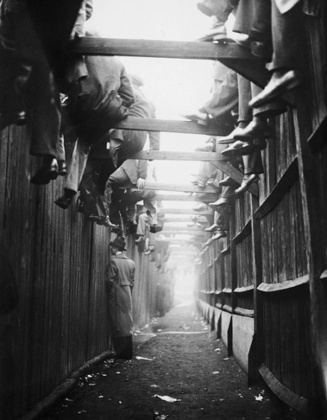 The Den, back in the day. Well, 1938 to be specific. Photograph: Getty
Remember when football looked like that? Me neither.