From Holly To Annie To Brooke: The Women Of Cinema Who Personify New York
The actress Greta Gerwig surely deserves to receive the keys to New York in recognition of her on-screen celebrations of that city. Two years ago, in Frances Ha, she played an eternally jubilant dancer who ping-ponged between apartments without ever finding her place, either figuratively or literally. Now she is playing another wayward New York dreamer in Mistress America, again co-written by Gerwig and the director Noah Baumbach, who happens also to be her partner.
While Mistress America is still enamoured of New York life, its affection is complicated by age, wisdom and reality. Brooke, played by Gerwig, has reached 30 without achieving anything of consequence. Though she behaves like a grande dame in the presence of her teenage protegee, it has dawned on her that she is running out of time and chances. Like Frances, she sizzles and sparkles like a human Catherine wheel, but beneath the delirium is a whiff of despair.
Brooke is a descendant of Holly Golightly, played so chirpily by Audrey Hepburn in Breakfast at Tiffany's that an inattentive viewer might watch the entire film without realising the character is a prostitute. But Holly, Brooke and Frances have not merely found themselves in New York; they belong to a coterie of characters who act as extensions of the place itself – the promises it makes, the hopes it inspires. Hepburn and Gerwig are part of a tradition of actresses who have come to embody both New York and our dreams of it, just as Anna Karina became synonymous with Paris through the films she shot there with Godard, or Carmen Maura grew to be the epitome of Almodóvar's Madrid.
When we think of the cinema of New York it is male directors who spring to mind: Martin Scorsese, Spike Lee, Woody Allen, Abel Ferrara. But Annie Hall would not exist without Diane Keaton, and not merely because Woody Allen based the title character on her. Her perkiness and giddy hunger provide an ongoing rebuke to Allen's pessimism – just like the city around him. It says a lot about Allen that by the time of Manhattan, two years later in 1979, he had cast Keaton as a prickly, hard-nosed intellectual while the post of Embodiment of the Glory of New York was now filled by the teenage Mariel Hemingway as his high-school sweetheart (that is, a sweetheart who had not yet graduated from high school).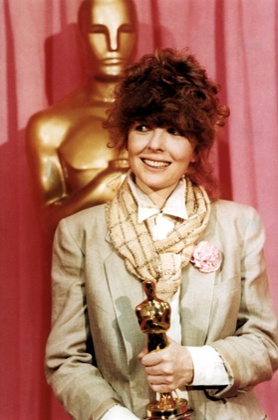 Diane Keaton wins her Oscar for 1977's Annie Hall. Photograph: Everett/REX Shutterstock/Everett/REX Shutterstock
Allen never wrote another New York woman as iconic as Annie. But he paid homage to another of the city's towering female characters when he made Broadway Danny Rose. His default female lead by this point was his then-partner, Mia Farrow, who already had one key New York character to her name: as the newly-married, newly-pregnant protagonist of Rosemary's Baby, she seemed as troubled by the frenzy of city life as she was by the satanists next door. Allen's masterstroke was to cast Farrow fiercely against type as a gangster's moll. From the pile of vanilla hair to the sassy twang, her performance was a conscious throwback to Cathy Moriarty's thrilling work four years earlier as Vickie La Motta in Scorsese's Raging Bull. Moriarty enjoys one of the most memorable introductions in cinema: kicking her feet languorously in slow-motion in an open-air Bronx pool, she evokes the city's tough, woozy beauty. Even as she is bullied remorselessly by her husband, the boxer Jake La Motta (Robert De Niro), Vickie is no victim.
In the only one of Scorsese's movies so far to have included his beloved home city in the title (New York, New York), he chose Liza Minnelli, who brought along her own showbizzy, champagne-on-Broadway connotations, to square off against De Niro. If this was conceived as stunt casting, it soon transcended any gimmickry; the ghost of Minnelli's mother, Judy Garland, and of all the New York dreams that ever morphed into nightmares, hung over the whole downbeat enterprise like city smog.
It's no stretch to find female roles that mirror the city's reputation for attitude and brassiness
It's no stretch to find female roles that mirror the city's reputation for attitude and brassiness – Cher in Moonstruck, Michelle Pfeiffer in Married to the Mob, Mercedes Ruehl in anything. Gena Rowlands put in years of tears in the finest films of her husband, John Cassavetes (including A Woman Under the Influence and Opening Night). When she stood on a street corner and pointed a gun at a car full of mobsters in his 1980 thriller Gloria, in which she protects an orphan from the mafia, it felt like the cherry on the cake. This was one of Cassavetes's least sophisticated movies but there was something very New York, very 1980s, in the scenes of this tough dame taking on the mob.
It wasn't the gun she was brandishing—it was small enough to make no appreciable difference—so much as the principles she was defending. She gets many chances during the film to look the other way, make the wrong choice, have an easy life. She turns them all down.
If this felt like any kind of inspiration to nervous New York audiences in that particularly crime-plagued decade, it must have been more comforting than the bleak vision presented by Abel Ferrara in Ms. 45—Angel of Vengeance. In this 1981 exploitation thriller, a brutalised mute woman (Zoë Tamerlis Lund) gives something back to the muggers, burglars and rapists who helped spike the city's crime figures. Had her case ever gone to court, she would have had some justification in saying: "New York made me do it."
Other roles that have become iconic have been more amenable or aspirational –Meg Ryan in When Harry Met Sally, say, or Sarah Jessica Parker in Sex and the City. That said, the nature of "aspirational" is subject to change. It's doubtful audiences would be as approving today of the "head for business, bod for sin" displayed by Melanie Griffith's corporate climber in Working Girl now that the boardroom has lost much of its 1980s sheen.
Meryl Streep, as the fashion editor with ice-pick eyes and a stalactite heart in The Devil Wears Prada, is a great New York movie villain but she's no kind of role model. Rather than emulating her success, her underlings (Anne Hathaway, Emily Blunt) come to see the hollowness of the system which has facilitated it. It may be that Mistress America is the natural next step for a female New York narrative. Knowing there's scant fulfilment in the old stereotypes doesn't necessarily make it any easier to define your place. And if the new film isn't as satisfying as Frances Ha, that may be because the questions it asks of Brooke and her future are trickier than the ones posed to Frances. All she had to do was embrace life. The clock wasn't ticking audibly for her, as it is for Brooke.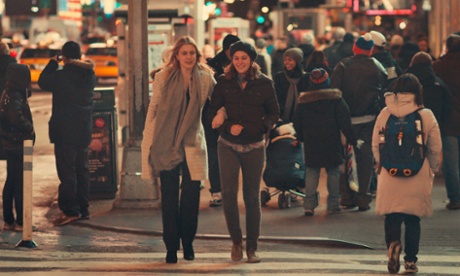 Greta Gerwig as Brooke with Lola Kirke in Mistress America.
Even now, if there is a single sequence in cinema that embodies the thrill of being young and optimistic in New York, it is when Frances skips, then bolts, then leaps along the streets to the sound of David Bowie's Modern Love. Anyone who has tried to live in such an expensive city without first securing a post as a CEO will consider the film as far-fetched as any Marvel superhero blockbuster. But then cinematic fantasies about New York are as proliferate as yellow cabs in Manhattan. In Gerwig's Frances, those fantasies found their zestiest personification since Desperately Seeking Susan, where Madonna strutted from rest-room ablutions to thrift-store shopping to the nightclub where her own words rang out: "Only when I'm dancing can I feel this free…"
But as Brooke knows very well, everything can change in a New York minute.
MANHATTAN MUSES Audrey Hepburn, Breakfast at Tiffany's (1961)
Hepburn embodies the hopefulness of New York life.
Diane Keaton, Annie Hall (1977)
Annie is the most independent and strident of women. As is the woman who has the distinction of both playing the character and serving as its real-life inspiration: Diane Keaton.
Madonna, Desperately Seeking Susan (1984)
Sassy, footloose, devil-may-care, bedecked in thrift-shore chic and with a dollop of danger, Madonna was basically playing 1980s New York City.
Tracy Camilla Johns, She's Gotta Have It (1986)
As the unapologetically lustful Brooklynite Nola Darling, who just can't get no satisfaction, Johns briefly made a splash in Spike Lee's debut feature.
Chloë Sevigny, Kids (1996)
Sevigny was already a fixture at New York parties and openings when she starred in this succès de scandale. She knows she's way cooler than anything except, perhaps, New York itself.