DruidShakespeare Review – This Blessed Plot Of English Kings, Conjured From Eire
"This blessed plot, this earth, this realm, this..." the next word in John of Gaunt's famous deathbed speech is, of course, "England". Tonight these lines are delivered beneath a darkening evening sky close by Kilkenny castle, where the actual Richard II stayed during medieval England's colonisation of Ireland. The action of Shakespeare's 1597 tragedy is taking place on Irish soil: designer Francis O'Connor has packed the stage floor with rich, dark earth (surrounded by metal gantries and pillars). On this fertile ground, four of Shakespeare's histories unfurl over six hours: Richard II, Henry IV (Parts 1 and 2) and Henry V. Although each is firmly rooted in the playwright's native land, these plays are as much about England as Dante's Divine Comedy is about Florence. Their multi-layered universality is powerfully conveyed in this new adaptation by the Dublin-born writer Mark O'Rowe for the Galway-based Druid company in co-production with the Lincoln Center festival, New York (Kilkenny performances concluded the tour).
In compressing the plays, O'Rowe necessarily loses some complexities (I particularly miss the textures that excised female characters could have offered), but he powerfully develops the density of certain thematic strands. One of these appears as an exploration of the question: what makes a king – divinely sanctioned lineage or physical force? The universal implications of this theme are highlighted by director Garry Hynes's decision to apply gender-blind casting, including giving both King Henry roles to female actors. The title characters are kings and men but their struggles are those of Every(wo)man between right and might, duty and desire, soul and flesh: how to harmonise spiritual and earthly qualities?
By setting each play in the same stark space (the one decorative detail is a glass case displaying a human skull wearing a golden crown), director and designer expose Shakespeare's patterning of the three kings' behaviours. Memory seems to superimpose similarly staged scenes one on to the other – emphasising similarities and contrasts in the three king's choices, telescoping their pasts into our present. Conor Linehan's music and Gregory Clarke's sound design build aural echoes and counterpoints.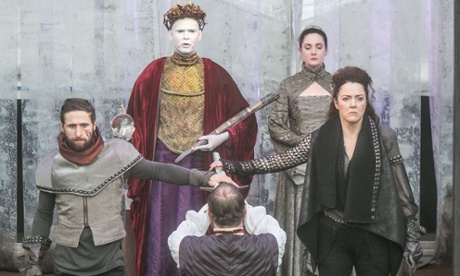 'Strong-jawed determination': Derbhle Crotty (right) as Bolingbroke/Henry IV.
Richard II is embodied by Marty Rea as an otherworldly presence – almost an emblem of a king rather than the king himself. White greasepaint porcelains his head, face and arms. His body tilts and sways, suddenly sprints, jagged. In the opening scenes he appears serenely complacent, disposing of lives around him on the whim of a flatterer's whisper. When Peter Daly's Gaunt hurls at him: "Shorten my days thou canst with sullen sorrow,/ And pluck nights from me, but not lend a morrow", the king's painted face cracks with surprised displeasure, as if the idea of such a limitation has never occurred to him. Each subsequent buffeting by reality seems to add another crack until, in the final prison scene, Richard washes away the last white streaks of kingship and Rea affectingly exposes him as a man confronting his destiny.
Their struggles are those of Every(wo)man, between right and might, duty and desire, soul and flesh
Derbhle Crotty as Bolingbroke is all martial attitudes and strong-jawed determination – her long, flowing hair seems like energy streaming from force of presence. As deposer, Bolingbroke's decisions are pragmatic, based on a canny reading of other men's ambitions, measured against his own. Once enthroned as Henry IV, his decisiveness wavers: the crown was won by force; it may be lost – even his own son might steal it. The attitudes soften, the jaw twitches, the firm gaze flickers uncertainly. By the close of Part 2, the king can no longer stand. He collapses beneath a burden of monarchy weightier than his mortal illness.
Hal is the figure who brings together these two aspects of kingship – spiritual and martial (visibly so as the spirits of Richard and Henry appear at his side during his prayer to the "God of battles" before Agincourt – armies clashing later conveyed with eloquent economy through sound, light and slow motion). In Henry IV Part 1, Aisling O'Sullivan's young prince at first seems overly pantomime boyish (an impression exaggerated by John Olohan's bearded, panto-dame-like Mistress Quickly); thin and insubstantial against Rory Nolan's heavyweight Falstaff. This, however, is just a starting point for her subtle transition from dubiously motived roister-doister to warrior king, as Hal learns to discern men's vices and virtues by their actions not their words, to seek counsel when needed and to accept responsibility when necessary. This grand reworking of Shakespeare's histories highlights the choices that make both king and fully human being.