Annie Nightingale's Favourite TV
Unmissable show?W1A
It resonated straight away. Now, at the BBC, whenever you think someone's putting forward a questionable idea, you just say, "That's a bit W1A." It may end up being a bit of an own goal for the Beeb, but it's so brilliantly written and performed. I don't think it's supposed to be a closed in-joke about just the BBC. It's about big corporations in general.
Earliest TV memory?
The first thing I remember was the Coronation. I grew up without a TV, so we watched it with the people next door who were having a party in their living room. I had to sit on my neighbour's lap because there weren't enough seats. And my main memory is that she kept patting me like I was a dog. What I also remember was the music. There was one piece, Handel's Zadok The Priest, which has really stuck with me.
Guilty pleasure?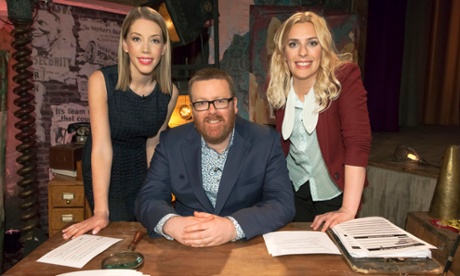 Frankie Boyle's Election Autopsy. Photograph: Brian Ritchie/BBC/Endemol Shine UK/Brian Ritchie
Not enough of them. I loved Frankie Boyle's Election Autopsy but that wasn't on TV, just the iPlayer. And it's not really a guilty pleasure either! But there's so much stuff that people are afraid of saying at the moment, so we have to get Frankie in there.
Bring back?
I'm not really one for bringing things back. Sometimes you look at things and realise how much we've changed. Things that are sexist or racist or whatever. I'm a great one for moving forward. There's always this pressure to bring back Top Of The Pops, for example. But they should probably leave it, really.
Pitch us a TV show?
A one-off documentary about the Abbey Road pedestrian crossing. I live nearby and you see people there all the time. It's become one of London's top tourist attractions. You meet people from all over the world. It's a really joyous thing; people are laughing and joking and really happy to be there. Also, there's a webcam, so you can get footage from the crossing at any time.
Annie will be discussing her career in radio with Edith Bowman at the Radio Times festival on Friday 25 September