Muslim Drag Queens Activist Voices Fears Of Backlash Over Channel 4 Film
Police are on alert in case of a backlash after Channel 4 airs a documentary featuring the UK's first gay Muslim drag queen.
Asif Quaraishi, an activist for the so-called "Gaysian" community who performs in clubs as the glamorous Asifa Lahore, has received death threats in the past and is concerned about the public reaction to Muslim Drag Queens when it airs on Monday night.
"I do worry post the broadcast," said Quaraishi, who added that authorities and police have been notified about the broadcast next Monday. "There are certain things that have been put in place for my safety. The death threats featured [in the doc] were last year. As and when those things happen the police are always informed and they have been ridiculously supportive."
Related: Muslim drag queens: bhangra, Bollywood and bravery
The documentary, which follows the difficulties faced in the lives of three gay Asian drag queens and explores the largely clandestine gay Asian community in the UK, is narrated by Sir Ian McKellen.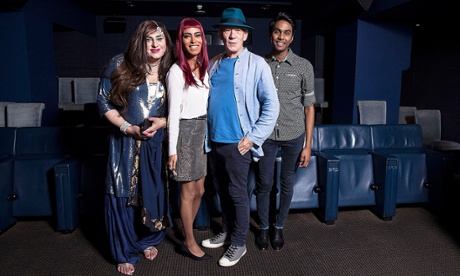 Muslim Drag Queens: Zareena Khan, Asifa Lahore, Sir Ian McKellen and Ibrahim. Photograph: Channel 4/PA
McKellen said that for him the film was an eye-opening insight into the scale of the prejudice against gay Asians that exists today which reminded him of the plight faced by the gay community 30 years ago.
"I'm ashamed how little I know about drag and trans and areas of being gay that I've not been part of," he said. "It makes me begin to understand what it was like 20 or 30 years ago about simply being gay."
McKellen called the documentary's stars "pioneers" and offered his support in dispelling the prejudice they face from the Asian and Muslim community.
"You are pioneers but you are riding on a wagon that is going forward," he said. "We are all with you. You are going to have to lead us and help us help you."
Quarishi, who has become a leading activist in the Gaysian scene, expressed a desire to speak to David Cameron about the issues faced by his community.
Muslim drag queens: 'the clubs are busier than ever' – video
"I'd like to speak to David Cameron as here is a community in Britain that is totally hidden," he said. "One that needs a lot of help. I'd like to see certain charities that deal head on with supporting gay Muslims get more funding. I'd like there to be more support in raising role models in the community. [And] getting our voices into mosques."
In the documentary, inspired by a short film produced by a Dazed & Confused contributor for the Guardian, Quaraishi says he has received "constant death threats" for taking an activist role on behalf of the Gaysian community.
Quaraishi, who sparked outrage within sectors of the community for wearing a burka in a strip scene in his shows, has felt frustrated at how to give the plight of the underground Gaysian community a voice.
"I didn't realise it would get me into so much trouble," he said. "Some say that stripping off a burka isn't the right way forward. What I say to that is what is the alternative? It is a community that doesn't get a voice on national media. It is a community that on one hand doesn't want its own acknowledgement. On the other hand there are a few voices in it that really want the issues put forward."
Asifa Lahore's Punjabi Girl
In the film 28-year-old British Pakastani Imran, who has created a female alter ego Zareena Khan, talks of the difficulties of not being able to be public in the search for a partner.
"It's like being Catwoman, in the night you are someone else," he said. "[But] being Zareena is a cover-up. It is like a clown who smiles but he is crying on the inside."
Quaraishi rejects the allegation made by many in his community that his sexual orientation goes against their beliefs.
"For me it is never been an issue in terms of how I practice what I interpret as Islam," he said. "I fast, I pray, I believe in one god, I give to charity, I've been on pilgrimage. All I do know is I exist. I'm gay, I'm Muslim, I'm a drag queen, I'm British, I'm a Pakistani. People say that all these things shouldn't fit right together but hey, here I am."