These Broken Stars By Amie Kaufman And Meagan Spooner – Review
Although I began this book with some doubts, after trying (and failing) to read it previously, I was soon enamoured with the world of Amie Kaufman and Meagan Spooner's creation, or should I say, the worlds. I must admit, I'm not typically a sci-fi lover, but the action-packed plot and the vividness of this space-adventure universe intrigued me nevertheless. Although it was not the most unique text I've ever laid eyes upon, These Broken Stars was an irresistible love story and a wonderful escape for a while.
The book is about Lilac LaRoux, top of the top in space social class and making her first independent journey across the universe on her father's star ship, the Icarus, and Tarver Merendsen, a decorated soldier who has no business speaking to, or even making eye contact with, anyone of Lilac's status. When an unforeseen disaster leaves them stranded on a rogue planet with nobody but each other for company, the only way to survive the less than ideal circumstances might just be to overcome their differences.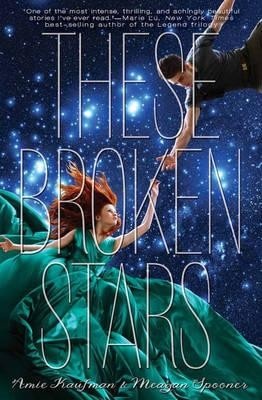 One thing which I really liked about this book was the wonderful character development. I felt that the fact that there were two authors really assisted with this as each of the two main protagonists had their own individual voice and personality. Despite having seen books wherein the two author format has combined to create something maybe more spectacular than this book, I felt that it worked relatively well and assisted in the creation of loveable and believable characters. When I began the book, I was nervous about the fact that for the majority of it, there were literally only two characters interacting. However, this actually made reading These Broken Stars even more memorable and was not for one moment boring.
I do have one issue with the book, although it might occur only to me since I am not particularly familiar with science fiction, and that is the confusing terminology used, specifically towards the end of the text. There was a tendency in this book to have long and confusing paragraphs about scientific and electrical systems, which I think the authors may have made up as part of their vivid universe, but which just ended up muddling my mind. In fact, in the end, I started to skip over them with my eyes and find the next, comprehensible section of the text.
Despite this, I really enjoyed These Broken Stars, and will probably venture on to the next book in the series, as the ending really left me wanting more. I thought the format of the book was extremely unique and intriguing, and I was especially captivated by the wonderful characters, whom I hope to see more of. I would thoroughly recommend this book to lovers of a once-in-a-while soppy love story, and also to those who like science fiction.
Related: How do I get involved in the Guardian children's books site?
Buy this book at the Guardian Bookshop
Want to tell the world about a book you've read? Join the site and send us your review!