Creating Jobs And Conserving Forests In Honduras
It's easy to see why some call the vast, largely roadless region of La Mosquitia the "Amazon of Honduras". Humming with biodiversity, the rugged northeast corner of the country contains some of Central America's last remnants of tropical rainforest. It's also an area with one of Latin America's highest deforestation rates, and is home to indigenous people who depend on the land for their livelihoods.
In May 2014, Avery Dennison announced a one-year $200,000 grant to Rainforest Alliance, renewable for three years, to help fight deforestation and support the development of community-based, sustainable forestry enterprises in La Mosquitia. Recently, a joint team of Rainforest Alliance and Avery Dennison employees, including Rainforest Alliance president Tensie Whelan and Avery Dennison CEO Dean Scarborough, visited La Mosquitia to see how work is progressing.
Here's what they found.
The Rainforest Alliance is working with forestry cooperatives in three key parts of La Mosquitia. The town of Brus Laguna borders a UNESCO World Heritage Site and is the largest surviving area of virgin tropical rainforest in Honduras. The reserve is currently threatened by illegal logging and other activities, including drug trafficking. Photograph: Avery Dennison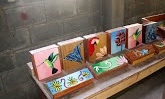 Among other things, "sustainable" means wasting as little as possible. Cooperatives in La Mosquitia are finding new ways to use smaller cuts of wood—like creating these colorful painted boxes to sell at local shops. Photograph: Avery Dennison
In many communities in La Mosquitia, forestry offers one of the only sustainable economic development opportunities. Photograph: Avery Dennison
Sometimes the simplest challenges to developing a business can be the most vexing. This wood shop in Brus Laguna has tools and machinery, but no electricity to run them. Photograph: Avery Dennison
Related: Nine rainforest facts everyone should know
Some cooperatives lack basic safety gear like gloves and eye protection. In coming months, employees from Avery Dennison's operations in Honduras will work with cooperatives to improve safety and address challenges like power generation. Photograph: Avery Dennison
Las Camelias is a sustainable forestry cooperative in La Ceiba, near Pico Bonito National Park. The cooperative is certified to the Forest Stewardship Council (FSC) standards, thanks to Rainforest Alliance's training. Around 30% of Las Camelias' employees are women: a rarity in the forestry industry. Photograph: Avery Dennison
Rainforest Alliance is teaching loggers who work for cooperatives like Las Camelias how to harvest timber sustainably. Photograph: Avery Dennison
UNICAF, another cooperative working with Rainforest Alliance, is a sustainable forestry success story. It is FSC-certified and sells wood internationally. UNICAF manages one of the world's most important remaining mahogany stocks and is part of the supply chain for Gibson Guitars and other companies. Photograph: Avery Dennison
Rainforest Alliance is helping La Mosquitia's forestry cooperatives pursue sustainability in every sense. This processing facility uses a solar and sawdust-powered dryer to remove moisture from fresh-sawn timber. Photograph: Avery Dennison
Related: Empowering women in India: one company's work to change gender attitudes
So far, Avery Dennison's support has helped Rainforest Alliance achieve FSC certification for 40,000 hectares. Rainforest Alliance expects to achieve certification for 100,000 hectares by the end of 2016. Photograph: Avery Dennison
The rainforests of La Mosquitia are essential to the health of the planet's climate and to several critical watersheds. They're also critical to the people who depend on them for their livelihoods, many of whom live in small, remote communities. Photograph: Avery Dennison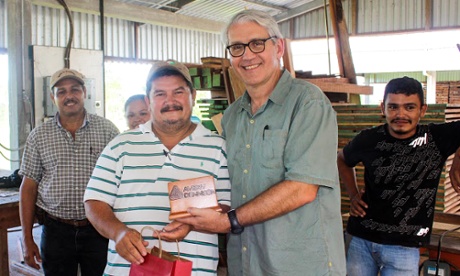 Rainforest Alliance's vision for Honduras is a win-win scenario in which forests are preserved along with jobs for the people who make a living from them. To date, Avery Dennison's grant has helped create 190 forestry-related jobs. Rainforest Alliance expects its efforts to bring a total of 650 new local jobs to La Mosquitia by 2016. Photograph: Avery Dennison
Learn more about Avery Dennison's commitment to communities and sustainably sourced paper. Then join the conversation at the Avery Dennison blog.
Content on this page is provided by Avery Dennison, supporter of the Vital Signs platform.