Moone Boy: The Blunder Years By Chris O'Dowd And Nick Vincent Murphy - Review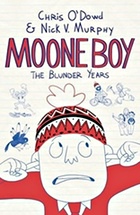 Moone Boy: The Blunder Years by Chris O'Dowd and Nick Vincent Murphy is a superlative and original comedy about 11-year old Irish-born Martin Moone. Being the only boy in a family of girls, Martin feels that he needs a compatible companion to direct him through his nonsensical life. And after his best friend Padraic recommends getting an imaginary friend, Martin chooses to take his advice on board but it doesn't quite go according to plan. His first attempt is overzealous goofball Loopy Lou but soon decides to exchange him for someone less preposterous - Sean 'Caution' Murphy. But will Martin ever reach his ultimate goal or simply continue to live his life in solitude?
This absorbing book is littered with hilarious narrative and jam-packed, laugh out loud jokes. Working perfectly in partnership with the text are Walter Giampaglia's splendid, comical illustrations which help to bring the story to life; the book simply wouldn't be complete without them.
An engrossing and facetious tale, this semi-autobiography is a must read, beautifully simple and punchy in its presentation. But some aspects of the novel, such as when Martin is beaten up by the school bullies or is seriously considering pimping his sister, may be unsuitable for some younger readers.
But despite this it is a highly enjoyable and amusing read. Fans of the hugely successful Emmy award winning Sky series will not be left disappointed with this side splitting novel and neither will lovers of David Walliams' Billionaire Boy.4/5 stars
• Buy this book at the Guardian Bookshop.
Want to tell the world about a book you've read? Join the site and send us your review!