Did The Golden Globes Website Just Spoil The Show?
Every awards show includes that little part where some man in a suit from an accounting agency comes out to tell everyone that the votes and results have not been tampered with. But did the Hollywood Foreign Press Association, the cabal of foreign entertainment journalists that runs the Golden Globes, already give the team that designs their website the winners of Sunday night's awards?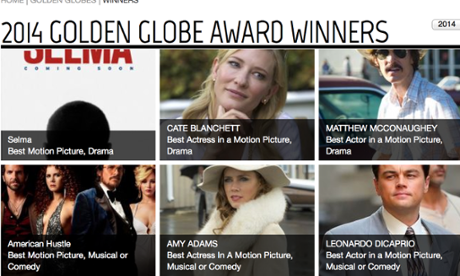 The Golden Globes website appearing to announce Selma as best picture. Photograph: Public domain
When visiting the Golden Globes official website with the winners of the 2014 awards on Friday afternoon, it already listed Selma, the historical drama about the civil rights movement, as the winner of outstanding motion picture – drama. That was the only movie nominated in 2015 listed on the page. The rest of the winners reflected the 2014 award winners including American Hustle for outstanding motion picture – comedy or musical, and Amy Adams and Cate Blanchett in the acting awards.
Selma seems to have replaced 12 Years a Slave, which actually took home that trophy in 2014. The name of the movie was clearly visible along with a thumbnail of the movie's poster, featuring the back of Martin Luther King's head. When revisiting the same page a few minutes later, the name Selma was still in the same place, but the photo had reverted to an image from 12 Years a Slave. As of this writing, the page still features the Selma name with the 12 Years a Slave picture.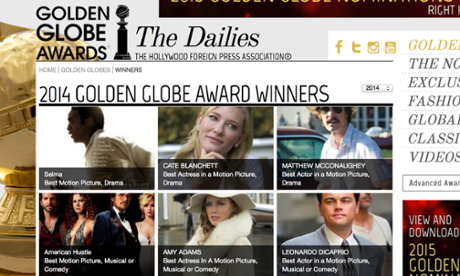 The Golden Globes site with the Selma picture replaced. Photograph: Public domain
Now, this could be absolutely nothing. The internet is weird and buggy and full of errors. Isn't that the credo upon which Wikipedia was founded? But it does seem suspicious, especially that the picture changed. It was as if someone was trying to rectify a mistake but didn't do it entirely or couldn't quite figure out the coding of the website to change the title after they changed the photograph. This could all be some weird glitch – or it could be that the person who programs the website wanted to have everything ready to go for Sunday night so they could just hit the publish button for the new winners and got a little overzealous.
I guess we won't know either way until Selma wins – or doesn't, who knows? – on Sunday night.
NB: We checked the page again a few minutes later and Selma was still listed as best motion picture – drama over the picture of 12 Years a Slave, but now Into the Woods replaced American Hustle's as outstanding motion picture – comedy or musical. There was still a photo from American Hustle in the box. Is it possible that we were watching someone fill in the info for next year's page (and poorly) a few days early?