The Seagull Review – A Frenzied And Feverish Take On Chekhov
Gone, it seems, are the days when we played Chekhov with intense poetic naturalism. The current vogue is for something more frenzied, feverish and violent. Those are certainly the words that come to mind watching Matthew Dunster's production of Torben Betts' new version.
The mood down on Peter Sorin's country estate is one of borderline hysteria, which pays mixed theatrical dividends: what you gain in nervy excitement you lose in emotional nuance. The chief victim of this approach is the writer, Trigorin. Chekhov's ironic portrait of an obsessive scribbler aware of his own shortcomings is replaced by a highly judgmental vision of the man as a rampant egotist whom you feel even Nina would have seen through.
This desire to editorialise is confirmed by the presence of an all-seeing female servant who not only falls in love with Konstantin but finally launches an attack on the whole pack of doomed introverts, which strikes me as contrary to Chekhov's dramatic instinct.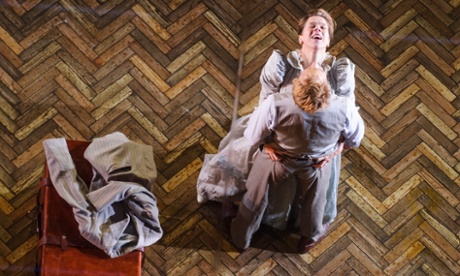 Relentlessly frenetic … Alex Robertson as Boris Trigorin and Janie Dee as Irina Arkadina. Photograph: Tristram Kenton
But there are some very good things about the evening. I loved Jon Bausor's design in which a gigantic mirror is tilted over a patch of greensward. Janie Dee is an excellent Arkadina, making light of the character's theatrical vanity as she skitters round the lawn with an affected girlishness. There is also vibrant work from Matthew Tennyson as a palpably suicide-prone Konstantin, Lisa Diveney as a self-destructive Masha and Ian Redford as a ratty, red-faced Sorin grieving over his unlived life.
When it stops bombarding us with electronic sound effects and being quite so relentlessly frenetic, the production takes us closer to the heart of Chekhov's first great masterpiece.
At Regent's Park Open Air theatre, London, until 11 July. Box office: 0844 826 4242.