Crystal Palace V Liverpool: FA Cup Fifth Round – As It Happened
7.26pm GMT
FULL TIME: Crystal Palace 1-2 Liverpool
But Lambert heads clear, and that's that! A magnificent second-half performance by Liverpool, who turned things around within 13 minutes of the restart, then put a stop to Palace's gallop with a controlled performance towards the end. Palace were impressive in bursts, and put Liverpool under lengthy periods of pressure, but Simon Mignolet was a commanding presence. Despite impressive performances by Sturridge and Balotelli, the keeper's the man of the match. It's a happy Valentine's Day for his fiancee, whose wise words appear to have salvaged his Liverpool career. Anyway, Liverpool join West Bromwich Albion, Reading and Blackburn Rovers in the quarter finals, having put one over Palace in the FA Cup for the first time since 1977.
Updated at 7.30pm GMT
7.25pm GMT
90 min +5: Skrtel bangs into the back of Gayle, under a high ball, 25 yards out, to the left of the Liverpool box. What a daft challenge, giving Palace one last chance to salvage the tie!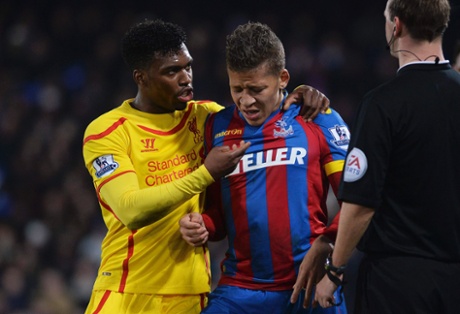 Dwight Gayle is helped up off the ground by Liverpool's Daniel Sturridge. Photograph: Philip Brown/Reuters
Updated at 7.38pm GMT
7.23pm GMT
90 min +4: Balotelli, taking a pass up the left wing, channels the spirit of Didi Hamann, holding the ball up and drawing a time-wasting foul.
7.22pm GMT
90 min +3: Ward and Balotelli get involved in a little shoving match over a throw. Nothing much in it, and once again Balotelli wanders away smiling.
7.21pm GMT
90 min +2: ... and attempts a curler into the top right. He gets the ball up, but it's not coming back down any time soon. Way over the bar. Mignolet prepares to take the resulting goal kick, and fannies around with purpose. He's booked for his trouble.
7.21pm GMT
90 min +1: Ward, down the right, sprays a long crossfield ball towards Zaha, just in front and to the left of the Liverpool area. Can is all over Zaha, and concedes a clumsy free kick. Gayle steps up ...
7.19pm GMT
90 min: Lovren sprays a spectacular pass down the right for Balotelli, who pulls the ball across the face of the Palace box for Lambert. The striker shoots, but his effort is deflected out for a corner on the right. There will be five minutes of added time. Sounds about right, given all the subs, and the injury to Sakho.
7.18pm GMT
89 min: Ward strides in the big-leggy style down the inside-right channel. It's a determined run, and a decent cross follows, a ball curled at pace towards the far post. But Campbell can't contort his body to meet the pass, which was just behind him.
7.17pm GMT
87 min: Liverpool have done marvellously well to draw the sting from this game since the double change, because Palace were well on top. Now the home side can't get out of their own half. Palace need to do something quickly. Of course, they have quite a bit of form in the respect of late comebacks.
7.15pm GMT
85 min: Henderson picks Ledley's pocket, on the edge of the Palace box, to the right of the D. He sashays towards the byline, and pulls across for Balotelli, with a view to the Italian tapping in. But the cross isn't great, behind Balotelli, and hacked clear by a relieved Dann.
7.13pm GMT
84 min: Lambert sends Can into space down the right. For a second the home side are backpedalling in panic, but Can can't deliver to Balotelli in the middle. "Liverpool needn't worry," writes Niall Mullen. "Palace never come back against them."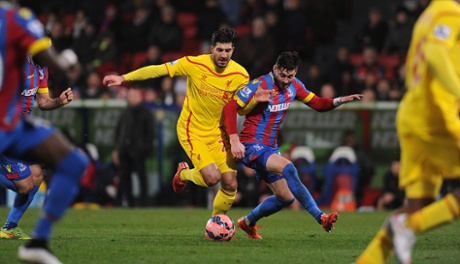 Emre Can battles for the ball with Joel Ward. Photograph: John Powell/Liverpool FC/Getty Images
Updated at 7.27pm GMT
7.12pm GMT
83 min: A bit of possession for Liverpool. Lallana has it by the left-hand corner flag. Soon enough, the ball's back with Mignolet. Then back up the left through Moreno. Liverpool keep it for the best part of two minutes. The inevitable ole! Ole! Palace finally nick it. Their supporters, after one pass, start with the ole!s themselves. That's some pretty good terrace back-and-forth, there.
7.09pm GMT
80 min: Can slips Henderson away down the right. Henderson reaches the byline, then dinks one into the middle. Lambert was preparing to meet the cross, but slipped. Palace were light at the back there, and breathe again.
7.08pm GMT
78 min: With that in mind, Brendan Rodgers makes a double change. Lambert and Lovren come on, Sturridge and an extremely quiet Coutinho make way.
7.06pm GMT
77 min: Liverpool have hardly put two passes together since taking the lead. This is as poor as their turnaround in the early portion of this half was impressive.
7.05pm GMT
76 min: Zaha forces a corner off Sakho down the right. It's hit deep, and caught cleanly by Mignolet.
7.04pm GMT
75 min: A dismal couple of minutes for Can concludes with a booking, as he tugs back Guedioura in the midfield.
7.04pm GMT
74 min: Campbell overpowers Can down the left, by the corner flag. Can very sleepy there. Campbell breaks into the area, near the byline. He's got Zaha in the middle, but the cross is abysmal, rolled straight into the hands of Mignolet at the near post.
7.01pm GMT
72 min: Bolasie nearly squirms free down the right, but is eventually crowded out of it by a combination of Sakho and Can. It's Bolasie's last contribution to the match, as he's replaced by Zaha.
7.00pm GMT
71 min: Liverpool have taken a little of the sting out of the game, but only by faffing around at a couple of throw-ins. They're not displaying much in the way of midfield control right now.
6.58pm GMT
68 min: Puncheon larrups a useless ball down the inside-right channel. It's flying out for a goal kick, as harmless as you like, but Sakho sticks out a leg, ludicrously, and diverts the ball away for a corner. Mignolet gets his defender out of bother with yet another punch, but the ball's soon coming back at Liverpool. Skrtel is forced to concede another corner. That's wasted, but Palace are properly on top here, pushing Liverpool back. The visitors can't get out from their own final third. But they do still have the lead.
6.55pm GMT
65 min: It's been all Palace since Liverpool took the lead. Souare looks to burst down the left, and goes over with Lallana in vague orbit. Not sure there was much contact there, but it's a free kick in a very dangerous position, 30 yards up the wing. The ball's whipped into the area, but Balotelli and Skrtel combine to lump clear.
6.53pm GMT
64 min: Sakho is back on. Meanwhile a change for the hosts: Guedioura comes on for Kelly, with Ward dropping in at right back.
6.52pm GMT
62 min: Sakho is off the pitch right now, so Liverpool have to defend the set piece with ten men. Mignolet punches clear, but only to Ward, to the right of the D. Ward hits low and diagonally. Allen, near the left-hand post, slices an awful attempt at a clearance behind for a goal kick. Palace release the pressure by hoicking the second corner straight out of play.
6.51pm GMT
60 min: Corner for Palace, though, who spring straight back into action down the left. The set piece can't be taken yet, though, as Sakho is down and in some distress. He clanked heads with Bolasie 40 yards up the pitch, before going down. But he's clutching his stomach. Really not sure what's happened, but the Liverpool medical staff have got him sat up. Perhaps he's just winded.
6.48pm GMT
GOAL! Crystal Palace 1-2 Liverpool (Lallana 58)
... curls a low shot around the right-hand side of the wall. It's battered hard, and straight at Speroni, who can only parry. The ball breaks to the right, and Lallana, rushing in, sidefoots home from six yards. That was all about Mario Balotelli, who wears a smile as wide as you'll see! No Spurs style deadpan response here.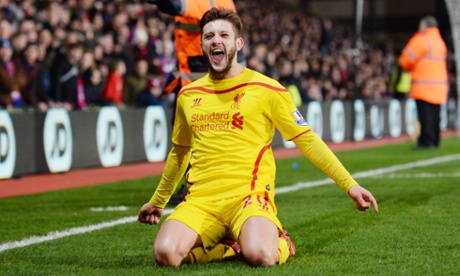 Adam Lallana celebrates after scoring to put Liverpool ahead. Photograph: Tony O'Brien/Action Images
Updated at 6.58pm GMT
6.46pm GMT
57 min: And this is even better, Balotelli backheeling towards Henderson down the inside left, then taking the return pass before being upended by Dann, just to the left of the D. Balotelli fancies this set piece himself. He steps up, and ...
6.45pm GMT
56 min: This is better, though, Balotelli zig-zagging down the inside-right channel and nearly finding Sturridge in the middle with a low cross.
6.44pm GMT
55 min: A bit of space for Lallana down the right. He looks for Balotelli in the middle, and finds his man, but the striker miscontrols. He's not got into this game yet.
6.43pm GMT
53 min: Palace have responded well to the Liverpool goal. Bolasie bothers Sakho to the right of the centre circle, allowing Palace to load the box. The ball's looped high towards the area. Mignolet comes out to claim. That's fine keeping, for Liverpool were under the cosh there.
6.42pm GMT
52 min: ... Dann has a batter which is deflected wide right. And from that set piece, Gayle sends a shot towards the bottom right from 12 yards. Mignolet, at full stretch, tips round for another corner. Liverpool finally clear their lines. Good luck predicting the outcome of this one!
6.41pm GMT
51 min: Can rather clumsily lets a Palace throw from the left bounce in the box. Gayle nearly nips in to take a shot. He can't quite get one away. Sakho clears, but Dann pumps the ball back into the mixer. Can heads backwards to concede a corner on the left. From that ...
6.39pm GMT
GOAL! Crystal Palace 1-1 Liverpool (Sturridge 49)
It was a slightly more considered start to the second half, both teams taking turns to knock it around patiently. Then, all of a sudden, Liverpool spring forward, Henderson picking up possession to the right of the D and sending a pitching wedge towards the far post, where Sturridge flies in to sidefoot under Speroni and into the bottom left!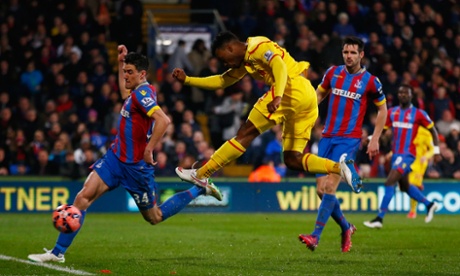 Daniel Sturridge smashes home the equaliser from Henderson's cross. Photograph: Clive Rose/Getty
Updated at 6.54pm GMT
6.37pm GMT
47 min: This half hasn't quite started yet.
6.36pm GMT
45 min 20 sec: What an introduction this could have been for Puncheon! He picks up a pass from the right by Bolasie, and has space to shoot, just outside the area. But he wangs it miles over the bar. A few more minutes into the half, a few more seconds even, and the result might have been different.
6.34pm GMT
And we're off again! Liverpool get the ball rolling. Balotelli does indeed come on, replacing Markovic. And there's a change for Palace, Puncheon replacing Chamakh, who was perhaps the only Palace player who didn't in some way impress during the first 45 minutes. "What is Liverpool's record with both Jordan Henderson and Joe Allen in the XI?" asks Lou Roper, almost certainly rhetorically. "Ten seconds of intensive research produced nothing, but I have a sense that the result is not world, never mind Palace-beating."
6.30pm GMT
So, the half-time replays of the Sturridge-Souare penalty decision ... it wasn't given, but it should have been, Souare's left boot flicking Sturridge's during the second phase of his challenge, the ball having been fairly hooked away previously. It took BT Sport quite a few angles to prove the point, though, and even then I'll be bound plenty enough people would argue it the other way. Who'd be a referee? Meanwhile, expect at least one Liverpool change at half-time, or shortly after the restart, as Mario Balotelli, the hero midweek against Spurs, is swanning around the pitch, warming up.
6.25pm GMT
Half-time entertainment: Palace's 1990 cup final song, performed in stratospherically awkward fashion on Derek 'Do They Mean Us? They Surely Do!' Jameson's chat show ...
… and here's Liverpool's effort in 1977, a boogie-woogie so base it makes Status Quo sound like Durutti Column.
6.21pm GMT
HALF TIME: Crystal Palace 1-0 Liverpool
Liverpool have been, on balance, the better team. Just about. They probably - probably, but not certainly - should have had a penalty. But it's Palace who have the lead, with Dwight Gayle a magnificent menace, and they're looking determined at the back. This should be a cracking second half. Will Palace jigger Liverpool's FA Cup dreams yet again?!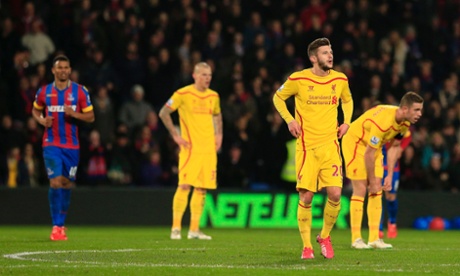 Liverpool's Skrtel, Lallana and Henderson downbeat after Fraizer Campbell's goal. Photograph: Jonathan Brady/PA
Updated at 6.23pm GMT
6.18pm GMT
45 min +1: Sturridge clips Gayle's ankle, very gently. Gayle rolls around. Sturridge attempts to pick him back up. Gayle's not interested. Souare comes across to further the row. Sturridge throws his arm around Gayle when the player gets up, but he's not interested in that, either. Liverpool showing frustration.
6.17pm GMT
45 min: A bit of space for Allen, 30 yards from goal. He exchanges crisp passes with Coutinho, to burst down the inside-left channel, then drops a shoulder to shoot. Dann slides in to block.
6.15pm GMT
43 min: Henderson curls a low ball into the Palace area from the right. That's trundling along the Corridor Of Uncertainty, but no yellow shirt is nearby to take advantage. Speroni drapes himself over the ball.
6.14pm GMT
42 min: Bolasie flicks a ball down the inside-left channel. Gayle, showing power and persistence, bursts through a gap and into the area. He's one on one with Mignolet! But the keeper saves brilliantly, and the loose ball is hacked clear by Can. Liverpool have been pressing for an equaliser, but another Palace goal now would see them in all sorts of bother.
6.13pm GMT
40 min: Lallana bothers Liverpool old boy Kelly down the inside-left, and forces a corner. It's sent deep. Markovic tries to remedy the situation by embarking on a Homeric solo run from the right wing. When he reaches the left of the D, he looks for the top-left corner, but can't wrap his foot around the ball, and it flies into the stand behind. Markovic looks highly frustrated, though the run was wonderful.
6.10pm GMT
39 min: Coutinho makes good down the middle, drifts out to the right, then sends a rising effort goalwards. It's straight at Speroni, though, and the keeper claims well.
6.10pm GMT
37 min: A replay of the non-penalty, and perhaps an explanation of the referee's dilemma. Souare got a toe to the ball, prodding it away from Sturridge, but then hooking the striker's boot on the follow-through. It was light, but there was contact.
Updated at 6.11pm GMT
6.08pm GMT
36 min: Chamakh is booked for a late slide on Allen. He's already been talked to by the referee for fouls various, so that one may have been a cumulative decision.
6.07pm GMT
35 min: Liverpool are seeing a lot of the ball, pinning Palace back, but they're not going anywhere. It's all too tight.
6.07pm GMT
32 min: Allen meets a dropping ball, 25 yards from goal, and sends it whistling inches right of the Palace goal. So close. Liverpool are still livid about the non-penalty decision, with Sturridge totally non-plussed.
6.05pm GMT
31 min: Sturridge, standing on the penalty spot as Liverpool triangulate but faff around, unable to get a shot away, is clattered to the floor under pressure from Souare. The referee isn't having any of it. That looked like a clear penalty in real time, but replays show Souare appears to have got the ball, just. Mind you, that was so close it'd be good to see that again. Who'd be a ref?
6.02pm GMT
30 min: Henderson, the best part of 30 yards out, sends a swerving screamer towards the top left. It's a fine effort, but Speroni is again equal to it. Henderson is a study in frustration, effin' and jeffin' as he trudges back upfield.
6.01pm GMT
29 min: Gayle is a constant menace, causing Liverpool all sorts of bother. He sashays down the left at speed, forcing Henderson into a cynical trip. That's a booking all day long. And out comes the yellow. The resulting set piece is a waste of time, whistled straight into the stand with the Liverpool box loaded, a real waste.
5.59pm GMT
28 min: A corner for Palace down the right. This is a fine period of pressure from the home side. But they stupidly let Liverpool off the hook, Dann clattering into Mignolet as the set piece comes across.
5.58pm GMT
26 min: Moreno and Bolasie battle like hell for a long ball down the right. It looks like a fair fight, but Palace get the decision. A free kick, 30 yards out, down the right. Ledley's set piece is cleared, but Palace are soon coming back at Liverpool, through Gayle, down the inside left. Skrtel just about deals with the situation, though Gayle nearly gets a shot away, then thinks about going down after a little nudge. He stays on his feet, though, and wins a throw. Which leads to a corner. Which leads to another decent Mignolet punch. Palace are turning fire back on Liverpool now.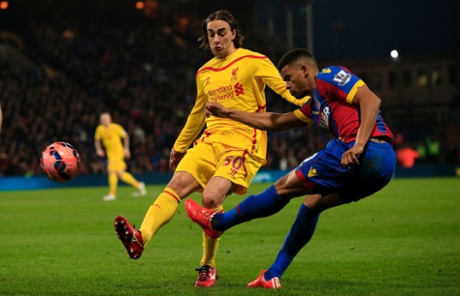 Lazar Markovic tries to block a cross from Fraizer Campbell; Palace on top so far. Photograph: Jonathan Brady/PA
Updated at 6.18pm GMT
5.56pm GMT
23 min: Coutinho shoots from the left of the Palace D. His low shot is blocked, and comes back at the prone Ward, who traps the ball with his chest. Liverpool claim he's hand balled while smothering it, but he didn't. Breast ball! Coutinho gets another chance to shoot, eventually, but that one's straight down Speroni's throat. Liverpool have finally woken up.
5.53pm GMT
22 min: Liverpool have been ponderous so far, but suddenly turn up the speed, Henderson slipped free into the area by Coutinho down the right. He zips a ball inside for Lallana, who looks for the bottom right from ten yards. Speroni tips round the post wonderfully. The corner is a non-event.
5.52pm GMT
20 min: Henderson, Sturridge and Coutinho all consider shooting from the edge of the Palace D, but the home defence is onto them like a flash, each time.
5.50pm GMT
19 min: Competing for a high ball, Souare crumps his knee into Lallana's back. A free kick, 30 yards out. Henderson loops it to the far post, where Skrtel connects limply. His header flies harmlessly out of play to the left of goal.
5.49pm GMT
17 min: Liverpool respond by pinging the ball around in the Palace half for a while, but it's sterile domination. Palace look comfortable, and Liverpool are going nowhere.
5.48pm GMT
GOAL! Crystal Palace 1-0 Liverpool (Campbell 15)
And now he's had to pick the ball out of the net! The ball's lifted straight down the middle by Ledley. Skrtel doesn't deal with it, heading backwards, allowing Gayle to nip into the box, with a view to looping a header over Mignolet. The keeper parries Gayle's header brilliantly, but he can only do so much here, and the ball flies out to Campbell on the edge of the area. Campbell sidefoots strongly into the empty net, and Palace are riffing on Liverpool's pain in cup competition yet again!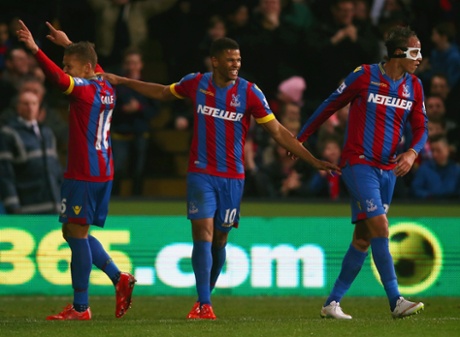 Fraizer Campbell celebrates firing Palace in front with Dwight Gayle and Marouane Chamakh. Photograph: Clive Rose/Getty
Updated at 6.03pm GMT
5.46pm GMT
14 min: Liverpool have enjoyed 69% of possession so far. It's Mignolet who's had more to do, though.
5.45pm GMT
12 min: Marvellous end-to-end stuff, as Mignolet punches again, dealing well with Bolasie's deep cross from the right, under pressure from Gayle. Then Lallana so nearly bursts into a huge gap in the middle of the Palace half, but Dann steps in to intercept just before the Liverpool midfielder can break towards the Palace box.
5.43pm GMT
11 min: Palace are beginning to enjoy themselves down the left wing. Gayle is again found in space, and he hoicks a deep ball into the box. Bolasie competes, but too vigorously, bundling Moreno to the floor. It's a really bright start to this game, with both teams showing willing in attack. And moxie in defence. So far.
5.41pm GMT
10 min: Gayle is sent scampering into acres of space down the left, a lovely spray down the wing from Ledley. Skrtel, sliding in at the near post, bundles the ball out for a corner, with Chamakh lurking in the middle. A suggestion the defender had handled as he dealt with the cross, but that's more from the fans than the players. The corner's hit deep towards Dann at the far post, but Mignolet is out quickly to punch miles clear in a very confident manner.
5.40pm GMT
7 min: Sturridge, to the right of the Palace D, flicks a backheel into the area, and nearly releases both Markovic and Lallana. The ball clips the debutant Souare's hand, but it's not a penalty, because it's totally unintentional; his hand is hanging limply, close to his body; and it might have been just outside the box anyway. That doesn't stop Markovic screaming for the spot kick, but it's not something he'll be getting.
5.37pm GMT
5 min: Sakho plays a sliderule sideways pass from the left to Lallana, free in acres in the middle, 25 yards from goal. On the slippery surface, saturated with water, Lallana falls and skitters hysterically across the turf on his buttocks. Suffice to say he doesn't control the pass, and Palace clear.
5.35pm GMT
4 min: Markovic again threatens down the right, but Campbell is back to help the defence. He harries the winger, and eventually makes off with the ball, which is blootered upfield and away from danger.
5.34pm GMT
2 min: Gayle hoicks the free kick into the box. Lallana eyebrows it into the air, allowing Mignolet to gather. Liverpool zip up the other end, thought Markovic down the right. He whips a mid-height cross into the area. Sturridge, jumping, tries to sidefoot it into the top right from 12 yards, level with the right-hand post, but gets it all wrong, and the ball flies wide right. A lively start.
5.33pm GMT
And we're off! Crystal Palace are kicking towards the Holmesdale Road Stand. Markovic, out on the right, gives a sloppy pass inside, Chamakh threatening to break down the inside-left channel. Henderson tugs him to the floor. A chance to load the box early for the home side.
5.28pm GMT
The teams are out! The pitch has been heavily watered, and so have the folk in the stands, I'll be bound; they're singing loud and long in the well-lubricated, loose-tongued style. It's a belting atmosphere at Selhurst, but then again it's always a belting atmosphere at Selhurst. The best ground in the Premier League for this sort of old-school carry-on, with the possible exception of the Britannia. The away fans giving as good as they're getting, too. FA Cup football, right here, with a place in the quarters up for grabs.
5.21pm GMT
Regarding the aforementioned Emile Heskey 70-yard run at Anfield in 2003, here's a dispatch from the Guardian's very own [NAME REDACTED SO CORRESPONDENT DOESN'T HAVE TO SPEND THE NEXT 37 YEARS FIELDING HOT-FACED ACCUSATIONS OF ANTI-BRIGHTON BIAS]: "I remember talking to Gerard Houllier the following season. He asked me who I supported and I told him Palace. He just looked at me, sighed and said: 'You must love Emile Heskey.' " You've gotta love Ged, who despite his dour image had a nice line in tinder-dry humour.
4.59pm GMT
Crystal Palace boss Alan Pardew, pictured below celebrating his winner in the cup semi in 1990, shuffles his pack. Left-back Pape Souaré makes his debut, while Scott Dann, Yannick Bolasie, Dwight Gayle and Frazier Campbell are the four other changes from a team not particularly impressive at home to Newcastle United midweek.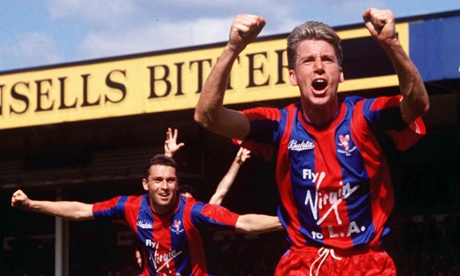 Alan Pardew settles the argument in 1990. Photograph: Colorsport/REX/Colorsport/REX
Palace will, naturally, be wearing their famous red and blue shirts as the home side; Liverpool therefore will cut their respective dash in away yellow. Joe Allen and Adam Lallana come in for the spent injured Steven Gerrard and the super-exciting, but cup-tied, Jordan Ibe. And how futile that seems now, Derby County knocked out this afternoon, 2-1 at home by Reading, who make it to the quarters for only the third time in 88 years! Blackburn Rovers, 4-1 victors over Stoke City, and West Bromwich Albion, who battered West Ham United 4-0 at lunchtime, are the other names already in the quarter-final hat.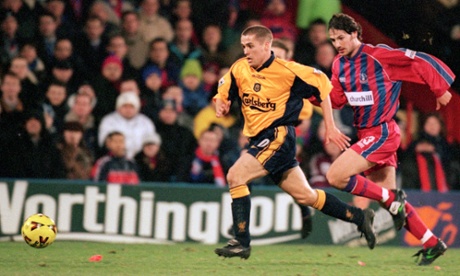 Michael Owen, with Craig Harrison in hot pursuit, back in 2001. Photograph: MIKE, HEWITT/ALLSPORT
4.39pm GMT
Dramatis personæ
Crystal Palace: Speroni, Kelly, Dann, Hangeland, Souare, Bolasie, Ledley, Ward, Gayle, Chamakh, Campbell.Subs: Hennessey, Mariappa, Delaney, Guedioura, Puncheon, Zaha, Murray.
Liverpool: Mignolet, Skrtel, Can, Sakho, Allen, Henderson, Moreno, Markovic, Coutinho, Lallana, Sturridge.Subs: Ward, Johnson, Lovren, Lambert, Manquillo, Borini, Balotelli.
Referee: Robert Madley (West Yorkshire).
4.30pm GMT
Crystal Palace certainly have the upper hand over Liverpool. The examples that spring immediately to mind are, in no particular order: Crystanbul at the tail end of last year's title chase; the classic seven-goal FA Cup semi-final of 1990, Alan Pardew and all that; and Palace's fairly comprehensive 3-1 drubbing of a dejected Brendan Rodgers' side at Selhurst Park last November. Dejan Lovren has only recently stopped spinning.
But that's not all! Palace put Liverpool out of the League Cup in 2006, the winning goal in a 2-1 victory scored by Marco Reich, who must surely have the lowest profile of any two-time Bundesliga champion to ever take his talents to Blighty. Then there's an FA Cup tie at Anfield in 2003, in which Emile Heskey, all shins and knees, skittered clear for the best part of 70 yards - Palace had over-committed at a corner - only to chip lamely into Cedric Berthelin's arms, a moment which, according to unpopular daily email The Fiver, "could only have been improved in slapstick terms had Heskey then slid along the turf on his teeth and crashed into the advertising hoardings with such force that the Anfield Road end was pushed all the way back to Gwladys Street." Julian Gray was Palace's hero for that one. Or how about the 1992 League Cup, Grant Watts and Andy Thorn scoring the goals in a 2-1 win, Mike Marsh's penalty never enough for Graeme Souness's side?
That is a fairly strong body of work. For reasons various, Liverpool won't be looking forward to this.
But Liverpool have had their triumphs against Palace in cup football, too. They've twice done for Palace at the semi-final stage of the League Cup, in 1995 and 2001, going on to win the trophy both times. And they've seen off the same opposition twice in the FA Cup, firstly in 1938, then in 1977. Mind you, both of those FA Cup wins were close shaves. Both required replays. And in both ties, Palace went ahead in the second match.
In 1938, Liverpool were tested to the limit at Selhurst Park by the Third Division (South) side, holding on for a goalless draw. Back at Anfield, Liverpool made a meal of it. Reds foward Alf Hanson missed a first-half penalty, then early in the second Palace striker Ernie Waldron sent a looping header over keeper Arthur Riley and in. John Shafto scored a bonny equaliser soon after, and the match went to extra time, whereupon Palace's legs went. Nick Collins sliced the ball into his own net, then Berry Nieuwenhuys was brought down for a penalty, which Willie Fagan converted. In the Liverpool side that day: future Reds manager Phil Taylor, and Matt Busby.
In 1977, league champions Liverpool were held by Palace at home, then fell behind at Selhurst, Paul Hinshelwood beating Ray Clemence from 35 yards with a dipping screamer. But Liverpool soon equalised through Kevin Keegan, and Steve Heighway scored twice in the second half, the job done. George Graham's late consolation was just that.
So even when Liverpool best Palace in the cups, it's a tough task. (See also the two close 1-0 wins in the 1995 League Cup semi-final, or the 2-1 defeat at Selhurst in the 2001 League Cup semi, which admittedly was offset by a 5-0 belting.) It's four cup wins apiece, then, and it's fair to say that Palace have over the years punched well above their weight. Yes, for reasons various, Liverpool won't be looking forward to this at all. It has all the makings of a dramatic classic. It's on!
Kick off: 5.30pm.