Good To Meet You… Laura Carland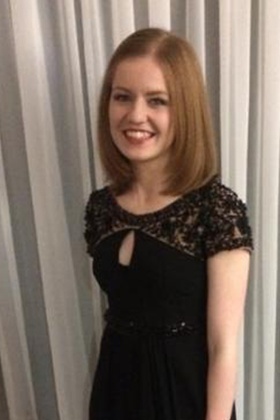 Good to meet you… Laura Carland.
I'm 28 and from Belfast, which is such a unique and odd place to grow up that I can't imagine living anywhere else. I studied English literature at Queen's University here and I have recently started working for Pubs of Ulster, which is the professional body of the Retail Licensed Trade in Northern Ireland. You learn quite quickly that working within the hospitality industry is as interesting as it is rewarding, particularly when you have such brilliant people working with you.
Thanks to Northern Ireland's growing reputation as a great location for productions such as Game of Thrones and The Fall, I spend much of my free time loitering about film and TV sets drinking a lot of tea while working as an extra. Highlights include shooting a man in the chest with an arrow and pretending to be a corpse. I'm also a long-term supporter of Belfast Giants ice hockey club, which only gives me more reason to love the city I'm in.
I started reading the Guardian at school, having picked up a copy because I was thinking about studying journalism. It was probably the first newspaper I had encountered with articles on subjects that genuinely interested me. The culture section was packed full of reviews on films I would watch, music I listened to and books I would read. I also discovered that it was full of writers who offered opinions that were (more often than not) similar to my own, writers who were sharp and often funny. I particularly love the travel section, which gives me an ever-growing list of countries and cities to visit that I'm slowly but surely ticking off when and where I can.
I mostly follow the paper online or via Twitter – reading routinely every morning, lunchtime and evening – but I try to avoid reading the comments below opinion articles. They can often spiral into strange and frustrating places.
Although it would also be great to see a less London-centric focus, I keep reading the Guardian and the Observer because of the wide variety of topics covered and because some of my favourite columnists – Marina Hyde, Jay Rayner, Stuart Heritage, Owen  Jones and Mark Kermode – regularly contribute. I'm also grateful for an old pull-out festival survival guide that I studied prior to my first festival. It probably ensured I didn't come to an unfortunate end covered in mud in an Irish field somewhere.
If you would like to appear in this space, send a brief note to good.to.meet.you@theguardian.com