Andy Murray V Mikhail Kukushkin: Wimbledon 2015 – As It Happened
5.51pm BST
Murray beats Kukushkin 6-4, 7-6, 6-4!
Third set: Kukushkin 4-6, 6-7, 4-6 Murray*A couple of weak serves, and a double fault, and Murray's 15-40 down. But Murray is nothing without his ability to dig deep, and clamber his way out of a hole. A couple of harder, more precise, simply better serves, and he's got Kukushkin chasing towards the corners. It's deuce. Another big serve, and it's match point. He sends his serve kicking out to the left, and Kukushkin lashes a cross-court forehand wide. Murray's in the second round! A brave effort by Kukushkin, who made life pretty difficult for his opponent there. The home hero flings his wristbands into the crowd, and smiles more in relief than pure joy. If a straight-sets win can be a rollercoaster, that was it.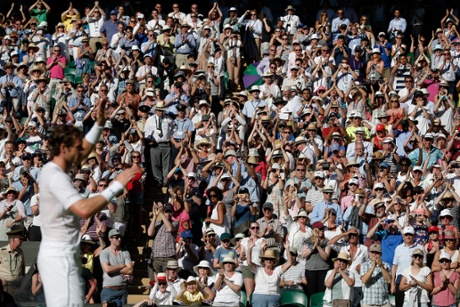 Andy Murray is applauded by the crowd just after winning his match. Photograph: Tom Jenkins for the Guardian
Updated at 6.26pm BST
5.45pm BST
Third set: Kukushkin* 4-6, 6-7, 4-5 MurrayA textbook grass-court point, Kukushkin battering long, then meeting Murray's return with a delicious dink over the net. Murray doesn't even bother taking a single stride to meet that one. Sheer brilliance. But he needs more brilliance in a minute, because Murray will be serving for the match.
5.43pm BST
Third set: Kukushkin 4-6, 6-7, 3-5 Murray*It's 41 degrees centigrade out there. And phew, what a scorcher, Murray fires a burner down the left sideline. He then retrieves brilliantly, Kukushkin having lashed the ball to the left-hand corner. Scooping the ball back over the net while running back at pace, he catches Kukushkin by surprise at the net; he sends his reactive volley wide right. Another easy hold. And Murray's now one game from the second round.
5.38pm BST
Third set: Kukushkin* 4-6, 6-7, 3-4 MurrayKukushkin has Murray skittering hither and yon for the most part of this game, an easy hold.
5.36pm BST
Third set: Kukushkin 4-6, 6-7, 2-4 Murray*Murray looks like winning a controlled service game, but then smacks one low into the net and chips up an easy one for Kukushkin to smash away. It's deuce. To his credit, an agitated Murray composes himself quickly, wheechs down a couple of big serves, and finishes the job.
5.33pm BST
Third set: Kukushkin* 4-6, 6-7, 2-3 MurrayA strange, meandering game, with little or no intensity, the players trading points almost with a yawn. It's hot, the crowd, understandably quiet, aren't helping. But suddenly Murray finds himself at deuce. At which point Kukushkin shovels a forehand long, and it's break point. A vicious double-handed cross-court return seals the break, and the finishing line has suddenly snapped into focus. But the way this match has gone, it's probably best not to make too many assumptions.
5.29pm BST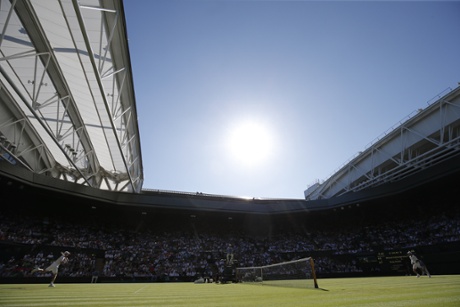 It looks pretty hot out there. Photograph: Tom Jenkins for the Guardian
5.27pm BST
Third set: Kukushkin 4-6, 6-7, 2-2 Murray*Kukushkin manages to work his way into a rally, but whistles a forehand long. That's the only time a serve comes back with any interest. Murray bangs down an ace and levels things up in the set.
5.25pm BST
Third set: Kukushkin* 4-6, 6-7, 2-1 MurrayThey're throwing first-set shapes again. Like the early stages of this match, the serve is dominant again. Murray makes no in-roads.
5.23pm BST
Third set: Kukushkin 4-6, 6-7, 1-1 Murray*A simple enough hold here. No drama. "Kukushkin's name is like a shorthand version of the classic Game Boy Advance puzzle game Kuru Kuru Kururin," notices Simon McMahon, who might not have got enough daylight as a callow child. "Got to be an endorsement or sponsorship opportunity there. Or at least a tongue twister. Mikhail Kukushkin plays Kuru Kuru Kururin. Kan you?" Yes, a decent marketing expert could probably work something out. Kukushkin's head certainly started spinning like the character in that game upon getting a sniff of the second set.
5.19pm BST
Third set: Kukushkin* 4-6, 6-7, 1-0 MurrayThat set was breathlessly brilliant. Murray should have won it. Then Kukushkin - 30-0 up and serving for the set - should have levelled the match. But it was the home favourite who made it. He really did get away with that one. Anyway, on we traipse. Kukushkin goes 40-0 up in double-quick time, but Murray finds a couple of corners, then his opponent nets one. It's deuce. Murray lets him off the hook, though: having done all the hard work, he wafts a couple of lame ones into the net.
5.14pm BST
Murray wins the second set 7-6, and leads 2-0 in sets
Second set tiebreak: Kukushkin* 3-7 MurrayAnd after that astonishing fetch, Kukushkin blooters a simple forehand long, and Murray takes the second set. He never takes the easy route, does he?
Updated at 5.14pm BST
5.13pm BST
Second set tiebreak: Kukushkin 3-6 Murray*This should be over, Murray dropping delicately over the net. But Kukushkin retrieves from beside the umpire's chair, and whips one over at an absurd angle!
5.12pm BST
Second set tiebreak: Kukushkin 2-6 Murray*Time for a double fault, then.
5.12pm BST
Second set tiebreak: Kukushkin* 1-6 MurrayAnother Kukushkin forehand finds the net. Murray has five set points.
5.11pm BST
Second set tiebreak: Kukushkin* 1-5 MurrayKukushkin hits a forehand long. Murray is in total control here. Then again, he was in total control of the set, and look where we are right now.
5.10pm BST
Second set tiebreak: Kukushkin 1-4 Murray*Murray blooters a big serve into Kukushkin's body. Kukushkin can't react.
5.09pm BST
Second set tiebreak: Kukushkin 1-3 Murray*Another Kukushkin drop volley. Murray can't retrieve this one. A break point back,
5.09pm BST
Second set tiebreak: Kukushkin* 0-3 MurrayA gorgeous drop volley by Kukushkin over the net, but Murray chases it down and whips a lovely cross-court forehand past his opponent. He's a double break up!
5.08pm BST
Second set tiebreak: Kukushkin* 0-2 MurrayA return fizzed down the left sideline, and Kukushkin hits long.
5.07pm BST
Second set tiebreak: Kukushkin 0-1 Murray*Kukushkin nets a slow, spinning Murray second serve.
5.06pm BST
Second set: Kukushkin* 4-6, 6-6 MurrayKukushkin races into a 30-0 lead, but gets sloppy, and a couple of errors allow Murray to tie things up at 30-30. Then a long rally, and he nets a weak forehand! A break point for Murray - and after another long exchange, during which Murray shows supreme patience, Kukushkin nets again! It's going to a tiebreak!
5.02pm BST
Second set: Kukushkin 4-6, 6-5 Murray*Murray begins to capitulate at exactly the wrong time. A double fault, then a misjudged lob sailed over the umpire's head. An ace doesn't stop Kukushkin's momentum; he belts another forehand into the left corner, and suddenly he's got two break points! And he only needs one, Murray's first serve sent back down the right-hand sideline! That's a screamer! And he'll be serving for the second set! This is a brilliant display by the Russian-born Kazakh!
4.58pm BST
Second set: Kukushkin* 4-6, 5-5 MurrayMurray looks throughly livid with himself, battering away at the soles of his shoes with his racket. An unlucky net cord doesn't help his mood. It's 40-0. Murray then starts finding the corners, bossing the next three points in majestic style, winning the second with a whipped forehand down the right sideline, then taking the game to deuce with a delicate dink over the net. But it's all in vain, as Kukushkin whistles two stunning winning forehands into the left-hand corner. Kukushkin was dead and buried in this set, and now he's back on terms!
4.51pm BST
Second set: Kukushkin 4-6, 4-5 Murray*Murray races into a 30-0 lead but is flummoxed by a gentle drop volley, then sails a backhand slice long. And then, after another miserable second serve, is rocked back by the return and can only dispatch into the net. Break point for Kukushkin. And he converts it, pushing Murray back into the left-hand corner, where another weak slice ends up billowing the net. Murray's serve has started to misfire at the wrong time. Kukushkin's back in the set!
4.46pm BST
Second set: Kukushkin 4-6, 3-5 Murray*Kukushkin is serving to stay in the second set. Which he achieves with neither fuss nor drama, though Murray did contribute one fizzing forehand return that nearly knocked his opponent over. Murray will have to serve out for his two-set lead.
4.42pm BST
Second set: Kukushkin 4-6, 2-5 Murray*Murray hits a 1mph second serve which is dispatched with borderline disgust by Kukushkin. That gets him to 0-30, then his determination in a long rally wears Murray down and brings the score to 15-40. Two break points. They're both saved, though, the second in impressive circumstances, Murray hitting a slow but viciously spinning second serve wide left, then dealing with Kukushkin's return by caressing a soft volley over the net. And he's out of trouble. That's a big hold.
4.37pm BST
Second set: Kukushkin* 4-6, 2-4 MurrayMurray sends Kukushkin to the corners, earning the first point. Kukushkin then wangs long after approaching the net, all his neat set-up work undone in one lumpen blast. He's in trouble at 0-30. But a couple of big serves later, he's back in the game. Points traded, we move to deuce. At which point Kukushkin blooters another of those laughably long serves. Again, he's upset himself. Murray pounces on the tentative second serve to set up break point. Kukushkin should save himself, but advancing the net yet again, he hoicks a clumpish forehand out of play. He's given the break straight back in abysmal fashion.
4.31pm BST
Second set: Kukushkin 4-6, 2-3 Murray*That forehand in the previous game really has given Kukushkin a boost. He was all over the shop before that, with Murray totally dominant. But now look. At 15-15 here he hits a glorious passing shot down the left sideline, and that's the shot that unsettles Murray into a couple of simple errors. Kukushkin breaks back, and this second set is on again!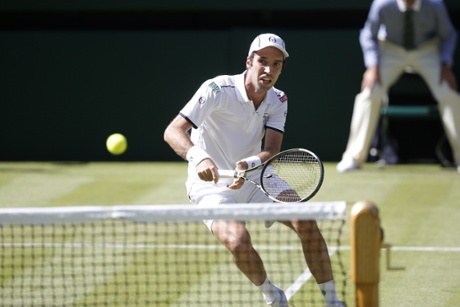 Mikhail Kukushkin runs in. Photograph: Tom Jenkins/the Guardian
Updated at 4.34pm BST
4.27pm BST
Second set: Kukushkin* 4-6, 1-3 MurrayMurray sets Kukushkin scampering around hither and yon. He advances to the net and sends a little Phil Mickelson flop shot spinning off into space. Lovely. Though not as good as the screaming cross-court forehand that Kukushkin sends across Murray's view as he chases down a ball miles out to the left. Worthy of winning any game, and it gives him the momentum to do exactly that. He's on the board in this second set.
4.23pm BST
Second set: Kukushkin 4-6, 0-3 Murray*Murray is looking very comfortable right now. A glorious passing shot stroked down the left sideline. Two big aces. Kukushkin looks overwhelmed by melancholy. His strong showing in the early stages of the first set seems a long time ago already.
4.21pm BST
Second set: Kukushkin* 4-6, 0-2 MurrayWe're back in the old groove again, with the servers dominating. Or at least it looks like that at 40-15. Then Kukushkin hits an absurd long first serve which almost clips Murray, standing on the baseline, on the toes! That is genuinely ludicrous. It completely upsets his equilibrium, his mechanism gone. Murray takes the opportunity to pounce on a series of weak serves, whistling them into the corners, out of reach. An early break in the second set!
4.15pm BST
Second set: Kukushkin 4-6, 0-1 Murray*That was a breezy opening set, secured in 37 minutes. Kukushkin looked right on his game, too, until Murray did what Murray does best, and ground him down with some clever, patient play. He looks to consolidate quickly, with a solid service game to love.
4.12pm BST
Murray wins the first set 6-4
First set: Kukushkin* 4-6 MurrayKukushkin is serving to stay in the set. A loose forehand into the net isn't the best start. This might explain his loud cry of "Shit!" as he stomps back to the baseline for the next point. Perfectly enunciated, which is apt, as this is going out live on the British Broadcasting Corporation. He goes 0-30 down, and then Murray slaps one into the net himself. A chance to turn the screw spurned. The pair trade blows, cross-court forehands flying back and forth. It's 30-30, a fine fightback. But then a second double fault of the match bring up set point for Murray. A booming serve, which can only be returned defensively long, saves the day. A second set point after the deuce, but Kukushkin sends a kicker wide left, and dispatches Murray's cross-court return down the line. That took balls. But he can't save a third one, Murray waiting patiently during a long rally, Kukushkin eventually blootering long. The pressures of the business end of the set, huh.
4.05pm BST
First set: Kukushkin 4-5 Murray*We're coming towards the business end of the set, where service holds suddenly become that little bit harder to achieve. Murray mixes up his delivery here, though, and holds to love, a textbook service game. That's priceless. And nerveless. Over to Kukushkin, then.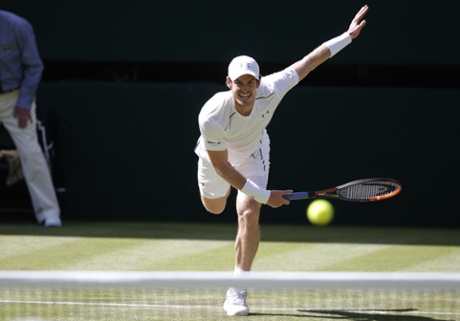 Andy Murray returns. Photograph: Tom Jenkins/the Guardian
Updated at 4.10pm BST
4.03pm BST
First set: Kukushkin* 4-4 MurrayMurray's not quite making in-roads into Kukushkin's serve yet. But there are signs. Another lovely defensive lob from deep flummoxes Kukushkin, who must have thought he'd won the point. Murray is then close to stealing another point with a Djokovicesque scampering return out wide left, but Kukushkin reads it well. Still, Kukushkin holds firm, and that's another service hold.
3.59pm BST
First set: Kukushkin 3-4 Murray*Murray lashes a couple of huge forehands towards the right-hand corner. Kukushkin retrieves them gamely, but he's always fighting a losing battle. Murray's 40-0 up, but Kukushkin punishes a weak second serve with a two-handed cross-court boomer, then whistles an unstoppable return straight past Murray's ears. Murray then nets weakly after being pushed back into the corner. Deuce. Kukushkin's got Murray panicking, so much so that he challenges the call on a serve that's three feet long! But then Kukushkin slams an easy pass into the net, and his chance to win a precious break is gone. Murray wraps up the game with a cry of C'MON. He needs to c'mon himself, because that was nearly a very sloppy loss of serve.
3.54pm BST
First set: Kukushkin* 3-3 MurrayKukushkin goes 30-0 up quickly, but misses a simple forehand, then is shocked by the pace of Murray's cross-court whip. He reasserts himself with a huge ace, and another game goes by without major incident.
Updated at 3.54pm BST
3.51pm BST
First set: Kukushkin 2-3 Murray*It's Wimbledon in a 1990s style right now. Big, booming serves, nothing much coming back. It's almost as if the pair are trying to conserve their energy in the heat. One point that goes against the grain: Kukushkin hitting deep into the left corner, Murray's defensive scramble looping high on the diagonal, Kukushkin ripping a blistering forehand back past Murray's lugs. But Murray wins the game with a big ace.
3.47pm BST
First set: Kukushkin* 2-2 MurrayKukushkin pushes Murray to the back-left corner. Murray responds with an improvised high diagonal looper. Kukushkin, at full extend, gets the rim of his racket to it, but nothing else. However, that's the only resistance of an otherwise easy hold by Kukushkin.
3.44pm BST
First set: Kukushkin 1-2 Murray*Kukushkin attempts a little sliced volley over the net. It drops over, but sits up and Murray lashes it down the right sideline and away. Not cute enough. Kukushkin then tries to pass Murray down the left, but Murray lashes a cross-court forehand to seal the game. Murray holds to love.
Andy Murray plays a delicate shot down the line. Photograph: Tim Ireland/AP
Updated at 3.50pm BST
3.42pm BST
First set: Kukushkin* 1-1 MurrayMurray's sporting a lovely all-white kit with black trim and matching peaked cap. He'd have been Under Armour's No1 act until Jordan Spieth started racking up majors a couple of months ago. Good to see they've not forgotten about him and are still sending him gear. This game's a fairly easy hold, too, though the last point was a glorious rally, won in the end by Kukushkin's searing pass down the left sideline.
3.39pm BST
First set: Kukushkin 0-1 Murray*OK, apologies for the lack of tok-by-tok coverage, I've only just wrapped up the Rafael Nadal match on No1, which finished 0.00000238746 seconds ago. But suffice to say both men have, and are, warmed up. It's 1976 out there! And thankfully for your flustered game-by-game hack, it's a workaday hold for the 2013 champ, and the nation's favourite.
3.25pm BST
There's an awful lot of pointless overthinking in sport these days. So all hail Anastasia Kukushkina, coach and wife of Mikhail Kukushkin. When asked how her husband might beat the world No3 and 2013 champion Andy Murray in this first round match, she located the chase in double-quick time and started cutting towards it with rapier precision. "Try to do something good."
But in case this gives the impression that the Kukushkin-Kukushkinas are a pair of chancers, winging it with reckless abandon, let the record be set straight. Kukushkin is the world No59. Kukushkina is a coach of some renown, having learned her trade at the Spartak Tennis Club of Moscow, the alma mater of grand-slam champs Yevgeny Kafelnikov, Anastasia Myskina and Marat Safin. And Kukushkin took a set off Rafael Nadal here last year, before losing in four. Just as well it's not in Andy Murray's nature to underestimate anyone.
Murray is coming into this tournament off the back of an impressive French Open and victory at Queen's. He should emerge victorious against a player he's faced twice, winning on both occasions, on hard courts. "It's tough to say whether I'm at my peak but I do feel like I'm playing extremely well right now," he told the BBC. "I don't think I could have prepared any better for the biggest tournament of the year." But the Kazakh is determined to make the 2013 champion work for everything he gets. And he's ready: "I'm not that nervous." Both men are champing at the bit, waiting to start their 2015 Wimbledon challenge. It's on!