Women's World Cup 2015 Semi-final: USA Beat Germany – As It Happened
9.30pm ET
You can read the full game report from Tuesday's game here:
Related: Women's World Cup: USA into final after Carli Lloyd tames Germany
8.58pm ET
Ellis is talking after the game: "It's not about the system, it's about the players". She's modest - it was a great change in formation to free up space for Lloyd and she subbed in O'Hara for the second goal.
8.54pm ET
FULL TIME: USA 2-0 Germany. USA reach the World Cup final
Germany scamper about searching for a miracle. But there won't be one. Leroux comes on for Morgan. Leroux barks some orders, something like "Don't conceded three shock goals". AND THAT'S IT! The US are in the World Cup final.
8.52pm ET
90 min+2: Solo comes out to claim the cross. She takes her time clearing it.
8.51pm ET
90 min+1: US negotiate the first minute of added time with zero scares.
8.51pm ET
90 min: Germany try another shot from distance. Nicht gut. There will be three minutes of added time.
8.49pm ET
89 min: The US, understandably, are slowing play now. Morgan tries to run it into the corner but the Germans win the ball back.
8.48pm ET
88 min: Sasic attempts an overhead kick but fails to connect. Kemme then has a wild swing at the ball. The Germans have relied on long-range shooting today, and it's failed completely. It's an odd tactic - Solo is hardly a soft touch, and they caused Johnston problems when they ran at her. Mystifying.
8.46pm ET
86 min: Ellis is having a brilliant game as a coach. Her tactics have worked a marvel, with loyd able to roam forward and her substitute just delivered a goal. Off Lloyd.
8.45pm ET
GOAL! USA 2-0 Germany (O'Hara 83)
And that should be it. Should. Lloyd is her usual calm self, cutting in from the left to deliver a cross into O'Hara, who jabs it home. Not a bad substitution from Ellis then.
8.44pm ET
84 min: Obligatory crowd shot of fans in novelty costumes. Johnson free-kick is lofted 80 feet over Wambach's head. Even she's not that good in the air.
8.42pm ET
83 min: The US are sitting back but a quick counter releases O'Hara, who is marginally offside.
8.42pm ET
81 min: Maier does enjoy a shot. And the US enjoy a Maier shot too as they're invariably off target. Exhibit A: the one that just sailed over the bar.
8.40pm ET
79 min: Rapinoe is off for Wambach.
8.38pm ET
78 min: Goessling hoofs it over. American will take that. Marozsan, who has been carrying an injury, is coming on for Mittag. Marozsan has 987% fewer tattoos than Mitag but is much better. Robbie Rogers. Pleased:
Goal goal goal!!!! #USAGER
— Robbie Rogers (@robbierogers) July 1, 2015
8.35pm ET
75 min: O'Hara is on for Heath.
8.33pm ET
74 min: Free-kick to Germany, it's headed cleared by the US though.
Updated at 8.40pm ET
8.32pm ET
72 min: Right. The replays are in. The foul was outside the box. It shouldn't have been a penalty. Vladimir Putin will be all over this one.
8.31pm ET
71 min: Lloyd has nerves of steel. Possibly steel encased in more steel with steel-plated steel around it. How must Sasic feel now after her own missed penalty. There are mutters that the foul on the penalty was outside the area.
8.29pm ET
GOAL! USA 1-0 Germany (Lloyd 67 pen)
LLoyd has scored some crucial goals in this tournament but this could be her most important. She crashes the ball to Angerer's left. The keeper goes right.
8.28pm ET
PENALTY TO THE US!
Morgan is bocked by Krahn and Lloyd will take...
Updated at 8.28pm ET
8.27pm ET
66 min: Morgan should have done better. Morgan dances past Krahn, making her opponent look all kinds of clumsy. But instead of squaring it to Heath she shoots across the goal
8.25pm ET
65 min: A corner for the US and a bit of relief for the Americans. Rapinoe attempts a yeah-kinda shot that bumbles around the area before being treated with the contempt is deserves by the Germans.
8.23pm ET
63 min: US escaped big time there. Johnston has been a real worry this half though. She's usually the US's most consistent player but something has rattled her and Germany can scent blood. Mittag crunches a shot wide of Solo's left-hand post. A lot closer than Sasic's penalty too.
8.21pm ET
GERMANY MISS THEIR PENALTY!
Solo dances about on the line leaving Sasic plenty of time to think about her shot. A stupid tactic, this kind of elementary school rubbish never wor... Ohhhhh. Sasic misses it. Like really misses it. Solo is a fine hero-villain
Updated at 8.21pm ET
8.19pm ET
PENALTY to Germany!
Johnston's been shoddy since half-time. She pulls down her opponent as she rushes through on goal
8.17pm ET
57 min: A couple of mistakes from Johnston now. And Sasic seems to be getting the better of their tussle. From the Guardian's Caitlin Murray:
55- The Germans are playing very high up the field, pressing, and trying to win the ball in the midfield.
— Caitlin Murray (@caitlinmurr) July 1, 2015
8.15pm ET
55 min: A rare mistake from Johnston, gifting the ball to Sasic like it was Christmas Day. Sasic nudges the ball back to Maier but her shot is thudded into a US torso.
8.13pm ET
54 min: Solo tips a header out for a corner - it was probably going wide thought. As the ball bobbles out from the area Maier thunders a ball toward the Van Allen belts.
8.12pm ET
52 min: A rare corner for Germany, who have had a good spell over the last few minutes. The ball is spread side to Sasic but her cross is ... [tries to think of German for "not good" and fails] not good.
8.11pm ET
51 min: This is pretty much a home game for the US, with every move forward greeted by loud cheers.
8.09pm ET
49 min: The US are still on top in the (very) early stages of the first-half but the Germans stage their first attack. Maier and Popp combine nicely but the US manage to scramble the ball away.
8.07pm ET
47 min: The cries of USA! USA! USA! go up as the Americans win their 83,456th corner of the game. Rapinoe will take. Oooof. Lloyd is unmarked on the penalty spot but heads wide.
8.05pm ET
46 min: And we're back. Oddly, I think the Germans may have been the happier team after that half. They were battered but did not concede. "Alexi Lalas just described Germany's tactics in the first ten minutes as 'HP sauce'", says Andrew Enloe. I know, I noticed that one. Because they're good with steak? High stakes? Good with chips? No idea.
8.01pm ET
A promising/depressing stat (delete as appropriate based on your personal bias):
#USWNT has never officially lost a WWC game when tied at halftime (9-0-4).
— Paul Carr (@PCarrESPN) June 30, 2015
7.58pm ET
A fair few people are saying that Popp and Brian shouldn't have been allowed to continue after their clash of heads. Brian in particular looked pretty ill afterwards:
Amateur hour #FIFA. All show, no substance with player safety particularly head injuries. #USAGER
— Taylor Twellman (@TaylorTwellman) June 30, 2015
7.57pm ET
And Alex Morgan's effort late in the first-half:
.@alexmorgan13 miss.. https://t.co/tf01rYzdor that must be goal https://t.co/tf01rYzdor #USAGER
— R3dD3vil (@D3vilofficial) June 30, 2015
7.56pm ET
England's Anita Asante reckon's the ref was kind to Popp:
How Popp doesn't get booked there, I don't know! @FIFAWWC check your refs out...what happened to protecting players?!!! #USAGER
— Anita Asante (@NicenNeetz) June 30, 2015
7.52pm ET
Half-time thoughts. Well, that was much, much better from the US. They're either benefitting from the bigger stage, and more aggressive tactics from Ellis or they've been playing the biggest rope-a-dope in the history of women's football for the entire tournament. I suspect it's the latter. Still, for all their attacking intent they have failed to score - and German teams are pretty good at making teams pay.
7.49pm ET
Half time: US midfielder and part-time Tilda Swinton impersonator Rapinoe delivers the US's sixth corner of the game. She then picks up a loose ball, does a few tricks and produces a useless cross. You can't have it all, eh?
7.48pm ET
45 min+3: Rapinoe is treated to an agricultural greeting by Popp. The German is warned by the ref - she could easily have been booked. The Rapinoe is chopped down again, Maier - who has been booked already - gives her an elbow to the back of the neck.
7.46pm ET
45 min: The US seem intent on injuring themselves tonight. Heath charges into the advertising display. She's groggier than a drunken sailor for a few minutes but is soon up and running again. Four minutes of added time.
7.44pm ET
44 min: Morgan has a decent-ish chance at a tight angle on goal. Angerer rushes out - a bit too hastily - but it spooks Morgan who jabs it across goal and to (Germany)s afety.
7.42pm ET
42 min: The Germans attempt another long shot but it fails to trouble Solo.
7.40pm ET
40 min: Some nice, crisp passing from Germany before they play the ball back to Kemme. She unleashes a powerful, skipping shot but it goes wide of Solo's right-hand post.
7.38pm ET
38 min: The US have five attempts on goal to Germany's three, and 58% possession. Although Germany have it now, so maybe it's 57%. I dunno, I gave up maths at 16.
7.37pm ET
37 min: Corner for the US after a deflected shot. Johnson collects on the edge of the area, beats two defenders and then plays the ball through to Morgan. Two more corners follow for the US and they're all over the Germans.
7.35pm ET
35 min: A free-kick for the US and Maier is booked. The US play the free-kick short - again. They seem to have developed a pathological dislike for their once cherished long-ball game. This is a Good Thing. The free-kick comes to nothing though.
7.33pm ET
33 min: Popp and Brian are both cleared to continue. For now.
7.32pm ET
32 min: Yep, Brian does not look good - she's very pale. Popp is still having her cut patched up.
7.30pm ET
30 min: Brian looks VERY wobbly as she sits up. They'll check her for concussion.
7.30pm ET
29 min: Germany try to get something going in attack. The US are uncharacteristically rash though and play short passes in their own area before losing the ball and conceding a free-kick on the edge of the box. I like their new cavalier atitude but that's taking it too far, maybe. Goessling floats in the free-kick and there's a nasty clash of heads as the US clear. Popp is bleeding just above the hairline, while Brian is laid out on the pitch. Anthony Pearsall has a wee story for us:
Angerer and Morgan are teammates on the Portland Thorns, in Oregon, and Angerer said this week they they've sometimes practiced penalties saying "Let's pretend it's the 90th minute of the World Cup....!" And now here they are.
7.26pm ET
26 min: Rapinoe and Morgan exchange quick one-twos before a curled cross is claimed by Angerer. They're bossing the game at the moment, and have 52% possession. Linda Howard emails in: "Not entirely off-topic but really what-am-I-doing-here-saying-this adjacent: Kelly Deal jokingly humped my leg after a Breeders show sometime in the mid '90s.That's all I got." And Kim Deal once called my mate a Bad Word in a bar. He wrote a song about it too. It was called Kim Deal called me a Bad Word.
7.23pm ET
23 min: Handball? The US are shouting for the call in the area as Germany scramble it away. The ref waves away the appeals to loud boos around the ground but she was right - it struck the defender's chest.
7.21pm ET
21 min: Rapinoe with another corner. She plays it into the near post but Germany are wise to it this time and head away. Landon has chipped in with his two cents' worth. He's right too:
Absolutely world class pass from @TobinHeath #USAGER @ussoccer_wnt
— Landon Donovan (@landondonovan) June 30, 2015
7.19pm ET
19 min: The Germans ping it about in their own half, possibly to catch their breath.
7.16pm ET
16 min: Another chance for the US! Morgan races through and is one on one with Angerer, who pulls off another brilliant save. She is screaming to herself. SCREAMING. It's fair to say the German keeper is pumped. I like it when the US bother to attack rather than waiting 78 minutes to score a deflected goal.
Germany's goalkeeper Nadine Angerer blocks a shot from Alex Morgan. Photograph: Nicholas Kamm/AFP/Getty Images
Updated at 7.50pm ET
7.15pm ET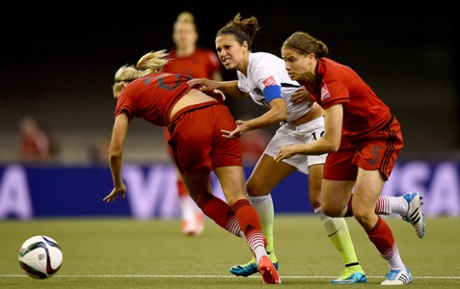 USA's Carli Lloyd attempts to break through the challenge of Lena Goessling and Annike Krahn. Photograph: Lars Baron/FIFA via Getty Images
Updated at 7.15pm ET
7.14pm ET
13 min: Two minutes go by without a shot. Ah, no. The Germans have a Sasic shot charged down. Lots of feedback about the Breeders. "This is just perfect," says Daniel Strauss. "I come here freaking out because I'm trapped in my cube at work and I can't watch the game and we've not been altogether good at the tournament so far and everything's ruined forever and then, and then, I'm struck by your reference to the Breeders and my inability to tell if it's a slight against Kim Deal. If you have, in fact, slighted Kim Deal, then sir, I shall meet you in the darkest alleyway behind Guardian Towers and have at thee."
Kim Deal doesn't care what I think. That's what makes her Kim Deal.
7.11pm ET
11 min: The US aren't sitting back and relying on their defenders. Rapinoe darts up the pitch again. The move breaks down but there's definite attacking intent from the Americans. This is the most positive I've seen them all tournament - Jill Ellis's attacking formation is yielding ... attacks. Huh.
7.09pm ET
9 min: End-to-end stuff. Solo palms over a shot - she went for safety and could have held it. Nerves perhaps? Anyway, Germany have a corner. Goessling takes but Mittag can't control the ball as she attempts to turn and shoot quickly.
7.07pm ET
7 min: The US win a free-kick in the German half, you sense set-pieces are where they could win an advantage ove the Germans. Holiday plays it short to Rapinoe, and some good work from her wins a corner, which she takes. Oh! And the US nearly take the lead. A header flashes in at Angerer's near post and the keeper pulls off a great save with her legs.
7.05pm ET
5 min: A first attack doe the US is repelled and Germany are straight up the pitch. They're giving the US approximately 1 inch of space (or around 3cm if you're reading in Germany).
7.03pm ET
3 min: It's 2-1 to the US in previous World Cup meetings, by the way. Germany, in red, are pressing early. And they win an early corner. Goessling takes and Leupolz's header loops over the bar.
7.02pm ET
1 min: And we're off. It's a warm night in Montreal, and we have our first email:
"This US fan has a strong sense of doom, writes Anthony Pearsall. "Germany with arguably the best forward in the tournament. The professional oddsmakers in America all giving Germany the betting edge. Virtually every US football analyst picking Germany by one or two goals. A US attack that has never really gelled, a tournament-long history of players in the wrong positions, and of ineffective tactics. I assume the German side has everything absolutely dialed in for today, perhaps the 'real' final. I think it's Germany's game to lose, and I don't think they're going to lose it.
"One thing the USA (USA USA) has done right is make Sepp Blatter feel too uncomfortable to come over to Canada and grace the final with his presence. That's something good anyway."
Ah, yes. Sepp isn't here. I thought the atmosphere seemed a bit more pleasant.
6.57pm ET
The anthems. I can confirm both sets of players know the words to their respective anthems. Judging by the fans singing along I'd say the crowd, is 80% American, and 20% Fifa reps along on their [strictly accounted for] holidays.
6.54pm ET
The teams make their way on to the field to a tremendous noise. A proper World Cup semi-final atmosphere with deafening noise, an emerald green (fake) pitch, and pompous intro music.
6.51pm ET
Predictions! The Fox Sports expert panel are split on this their predictions between Germany and the US. For what it's worth (and it's not worth much), I'm going for Germany. I haven't seen one game where the US have looked completely convincing and I'm not sure they have the attack to come back if they fall behind. Germany, on the other hand, have scored 20 (twenty) goals so far this tournament (admittedly against some so-do teams). If the US do win this, it's likely to be on penalties or 1-0. The only place I think they have a clear advantage is in defence.
6.46pm ET
Fifa attempts to move past its recent, ahem, publicity problems by shoehorning references to 90s indie classics into its Twitter feed:
Rest Days behind us. Just under 2 hours to go till #USAGER. "I'm moving on up now, getting out of the darkness." https://t.co/ms7pmOcQZC
— FIFA Women'sWorldCup (@FIFAWWC) June 30, 2015
Next week: Sepp Blatter blames Chuck Blazer's downfall on his addiction to the Breeders
6.42pm ET
An early question:
@tom_lutz Impressive that Tom Hanks has secured the #9 shirt, but do you think he had the good sense to sport the name "Wilson" on the back?
— Parlour Games AFC (@ParlourGamesN5) June 30, 2015
Bear in mind that, along with David Cameron and Prince Williams, Hanks is an Aston Villa fan. Hanks does not back winners - apart from the team of plucky underdogs in A League Of Their Own. And the innocence of childhood against the cynicism of adulthood in Big/Toy Story/Toy Story 2. And Toy Story 3, come to think of it.
6.39pm ET
Meanwhile, there's some kind of football game happening in the Copa America. Join my esteemed colleague Tim Hill for coverage of Argentina v Paraguay:
Related: Copa América 2015: Argentina v Paraguay – live!
6.28pm ET
And a little more from Caitlin:
Looks more like 4-2-3-1 than 4-3-3. #USWNT loves to get outside backs up the field, but vs. a team like #GER, could expose them badly.
— Caitlin Murray (@caitlinmurr) June 30, 2015
6.23pm ET
Here's Caitlin Murray, our woman on the ground in Montreal, on tonight's US team. And it's a surprise formation for many:
USA coach Jill Ellis had favored a 4-4-2 formation throughout this tournament, with Carli Lloyd and Lauren Holiday sharing attacking and defensive duties in the central midfield behind a forward pair. But tonight, in a surprise XI, she is going for what appears to be a 4-2-3-1 with Alex Morgan starting as a lone striker. Lloyd looks poised to focus on the attack while Morgan Brian, the youngest player on the squad, and Holiday will pick up the defensive work. This formation adds numbers to the midfield and will let natural wide players like Megan Rapinoe and Tobin Heath focus on working the flanks.
6.20pm ET
And your teams for tonight:
#USA : Solo; Sauerbrunn; Lloyd (c); Krieger; Holiday; Morgan; Brian; Rapinoe; Heath; Johnston; Klingenberg. #FIFAWWC pic.twitter.com/i99zOcTdpj
— FIFA Women'sWorldCup (@FIFAWWC) June 30, 2015
#GER : Angerer (c); Bartusiak; Maier; Krahn; Laudehr; Mittag; Sasic; Leupolz; Popp; Goessling; Kemme. #FIFAWWC pic.twitter.com/yk5nPvNJxm
— FIFA Women'sWorldCup (@FIFAWWC) June 30, 2015
Updated at 6.27pm ET
6.18pm ET
Good evening. First of all, some good luck messages:
Fake turf or not, I'm full Bosom Buds if coach Ellis needs me. No yellow cards! Hanx pic.twitter.com/4eT5cYzmjD
— Tom Hanks (@tomhanks) June 29, 2015
Let's gooooooooooo ladies ???????????????????????????????????????????????????????????????????????????????????????????? #SHEBELIEVES #USA @ussoccer_wnt
— Landon Donovan (@landondonovan) June 30, 2015
And one man who may be a little conflicted tonight:
Super excited to watch the #USWNT play the #WWC2015 semifinal tonight. We are all supporting you !! #Believe pic.twitter.com/xmRK5ewqBe
— Jürgen Klinsmann (@J_Klinsmann) June 30, 2015
6.09pm ET
Tom will be here shortly. In the meantime, here's a quick preview of tonight's game.
Whenever USA and Germany have faced one another in a Women's World Cup, the winner has gone on to lift the trophy.
As far as statistics go, it's not the most ironclad – they've only faced one another twice in World Cups before. But given the paths both teams have taken to Tuesday night's semi-final, and what lies ahead, that small piece of history is all the more striking.
Whoever wins the semi-final will have beaten the other highest-ranked team in the tournament and will have the best odds of winning, based on past performances. The winner will face either Japan or England, and there are plenty of reasons to think both Germany and USA can beat either of those teams. "It's No1 and No2," the USA forward Alex Morgan said. "It's almost like a final in and of itself."
Click here for the full article.