Eurozone Approves Greek Deal, But Creditors Voice Doubts - As It Happened
7.55pm GMT
And finally finally, here's Europe editor Ian Traynor's news story on today's developments, confirming that the coming weeks will be difficult:
Greece secures eurozone bailout extension for four months
Greece's new leftwing government faces months of fraught negotiations with its creditors over how to ease its unsustainable debt levels and austerity programmes after securing - but only conditionally - a eurozone lifeline on Tuesday that wins it time until the end of June.
Alexis Tsipras, the Greek prime minister and leader of the Syriza movement, had to bow to German-led pressure to stick to the broad terms of its €240bn (£176bn) bailout in order to obtain a four-month extension to the rescue he repeatedly pledged to scrap.
Late on Monday the new finance minister, Yanis Varoufakis, sent a six-page list of proposed economic reforms to Brussels which held to some of Tsipras's election campaign pledges, but largely diluted or abandoned them to win the support of the other 18 governments in the eurozone, and of the troika of bailout overseers from the European commission, the European Central Bank (ECB) and the International Monetary Fund (IMF).
Despite Tsipras's assertions, for domestic consumption, that the hated troika is dead and that the bailout programme has been ditched, both remain very much in play, with the troika grudgingly blessing Tuesday's proposals from Athens and mandated to deliver a more detailed verdict by the end of April.......(for more click here)
#grexit greece reform agenda secures grudging eurozone bailout extension, trouble deferred http://t.co/mGnT8u4Hjd
— Ian Traynor (@traynorbrussels) February 24, 2015
Updated at 7.56pm GMT
7.52pm GMT
A quick PS. Over in Greece tonight, the flagship evening news programme on Skai TV is saying that the government will face a three-pronged opposition: from
dissenters in Syriza, the oligarchs and "vested interests" that now have so much to lose if the new leftist-led administrations succeeds in reforming tax collection and clamping down on tax evasion and the opposition itself From Athens, Helena Smith adds:
Tonight both the former prime minister Antonis Samaras and his deputy, socialist Pasok leader Evangelos Venizelos, accused the Tsipras government of taking Greece back into a "third memorandum" with the country's creditors.
Venizelos said:
"I am truly very sorry. We have lost a lot of time and instead of exiting the memorandum and moving onto a preliminary credit line with more relaxed conditions we will, come July, be moving into a third memorandum."
There's also talk that Greece's pledge not to unravel privatisations is the major bone of contention among Syriza MPs. We sense trouble ahead.....
7.45pm GMT
Closing summary
Enrique Diaz, Chief Risk Officer at financial services provider Ebury, sums up the situation tonight:
"Today's green light to Greece was undoubtedly good news. The deal is a reasonable one for both sides. Although the Greeks have had to abandon many of their unrealistic initial requests, the Greek Government is now once again in control of the reform process.
"That said, the outlook for the Euro remains bearish. The single currency only responded moderately to the news, rising by 0.4% against the Dollar.
Given the ECB's recent injection of around €1.2 trillion into the economy, we should see continued downward pressure on the Euro against the Dollar over the next eighteen months."
Pigeons fly over a building covered with graffiti in central Athens, Greece, 24 February 2015. Photograph: Yannis Kolesidis/EPA
So, let's wrap up with a very quick summary after a long day....
Eurozone finance ministers have given their approval to Greece's economic reform plans, but the longer battle over the Greek bailout has just begun.
The decision clears the way to a four-month bailout extension that will avoid the danger of Athens running out of funds, once national parliaments have also given the green light.
The decision was taken on a conference call this afternoon, after the eurogroup had assessed a series of economic reforms sent by Greece late last night. [click here to read the proposals in full].
Those proposals strike a middle-ground between the demands of Greece's creditors, and the expectations of MPs in the Syriza party, and the Greek electorate. And all sides remain somewhat unsatisfied tonight.
The International Monetary Fund has already warned that Greece's proposals don't meet its own expectations.
While the European Central Bank warned that Greece can only replace existing austerity measures with new plans that are "at least as effective".
And PM Tsipras apparently faced some dissent at a cabinet meeting today.
The financial markets, though, are pleased that the Greek crisis has eased (although national parliaments still need to give their approval).
Athens stock market surged by 10%, while Greek borrowing costs fell sharply as investors treated its debt as less risky
And in London, the FTSE 100 hit a new record high -- smashing through its dot-com peak.
And analysts argue that the Footsie isn't overvalued, and could climb further....
I'll be back tomorrow to do it all again. Thanks, as ever, for reading and commenting. GW
Updated at 7.47pm GMT
7.26pm GMT
Valdis Dombrovskis, the European Commission vice-president for the Euro, tweets tonight that Greece's reform plan is a good "first step":
Speaking to reporters earlier today on #Greece pic.twitter.com/4fpff85THx
— Valdis Dombrovskis (@VDombrovskis) February 24, 2015
#Eurogroup confirmed reform list is comprehensive enough as valid first step. Must move forward with practical&swift implementation #Greece
— Valdis Dombrovskis (@VDombrovskis) February 24, 2015
He also echoes Mario Draghi's point earlier - that any new measures introduced by Greece must be 'as good' as existing
Possible to negotiate replacing some measures with others with same fiscal value – if not done unilaterally #Greece
— Valdis Dombrovskis (@VDombrovskis) February 24, 2015
Updated at 7.29pm GMT
7.07pm GMT
The Greek government is briefing tonight that it has achieved some success with the eurogroup, but warned that key issues need to be clarified.
Efi Efthimiou of Capital.GR has the details:
#Greece FinMin sources:We r in uncharted water+this is coz there's no clarification yet on issues like funding +the primar surpl @capitalgr
— Efthimia Efthimiou (@EfiEfthimiou) February 24, 2015
#Greece FinMIn sources: Biggest gain from agreement reached is that there is a 4month moratorium without recessionary measures @capitalgr
— Efthimia Efthimiou (@EfiEfthimiou) February 24, 2015
#Greece FinMin sources: Today's Eurogroup was successfully completed. We have passed the obstacle (via @capitalgr )
— Efthimia Efthimiou (@EfiEfthimiou) February 24, 2015
#Greece FinMins sources: We also managed to separate loan agreement from MoU, which initially considered "unacceptable" by some partners
— Efthimia Efthimiou (@EfiEfthimiou) February 24, 2015
6.57pm GMT
Here's a photo of that CDU party meeting, where MPs apparently raised concerns over the Greek deal:
German Chancellor Angela Merkel looks over papers as prior to a meeting of the Christian Democratic Union's (CDU) parliamentary group in Berlin. Photograph: Bernd von Jutrczenka/AFP/Getty Images
Updated at 6.58pm GMT
6.51pm GMT
I missed this earlier. Greece's economic reforms include an intriguing hint that they could introduce a basic income for citizens aged tween 50 and 65.
That's an important issue in economics today; with many experts arguing that in a world with less growth and major technological change, governments may have to guarantee BI for all citizens.
Tomas Hirst has a good take on Business Insider:
BI is, at its core, about a redefinition of the conception that was prevalent at the inception of the modern welfare state that the point of welfare payments were to keep people "fit for work". That may have been an appropriate moniker for its time, but modern societies have developed different expectations for the quality of life that its citizens should enjoy.
Just being fit enough to get into work doesn't cut it anymore.
In the case of Greece it looks like such a scheme would initially be targeted at those nearing pension age in order to prevent them from taking early retirement — providing them with an income that they would otherwise draw from the state pension fund.
The Greek government is calling for a radical new welfare policy http://t.co/L4dFU5b8fR
— Business Insider UK (@BI_Europe) February 24, 2015
6.47pm GMT
Had Syriza failed? Sony Kapoor of the Re-Define thinktank argues that it has not, even though the bailout deal fails to meet all the government's pre-election promises.
He points to three victories.
1) On process:
The Eurozone has accepted that it is legitimate for the Greek government to put forward its own proposals as an alternative to reforms prescribed by the creditors. This is more than it appears on the surface, given the very top-down regimented and legalistic approach followed by the Troika so far....
2) Getting time to develop its own policies....
Being a party that has thus far not been part of the clientelist state, Syriza is more likely to actually deliver on these. It will also focus more on creating an e-government, transparency and on investments essential to help build up productive sectors. Many of the reforms in the programme that has been put forward are sensible and reasonable. It has a few more weeks to put more flesh on the bone and put forward an alternative program to negotiate with the creditors when the "bridge" runs out.
3) ...and time to show Syriza can actually govern:
It has won a precious few weeks to demonstrate to its creditors and Eurozone partners that it is a serious government and that Syriza has actually moved beyond the rhetoric of the election into the slow business of taking Greece out of its great depression. What Syriza does in the next few months will be closely watched and scrutinised for intent, as well as competence.
In a situation when minister Schäuble was once again, as in 2012, ready to push Greece out of the Eurozone and many Greece's partners had lost trust in the country, this is perhaps the most important victory.
Here's the full piece: The Greek Deal – A game changer or a mere name changer?
Updated at 6.47pm GMT
6.29pm GMT
The German ruling CDU party have some concerns about the Greek deal, tweets the FT's Peter Spiegel.
They'll decide on Thursday whether to back it in Friday's vote in the Bundestag.
Sounds like there was a decent amt of septicism in #Schauble meeting today with @CDU's Bundestag group on #Greece http://t.co/EyMeQndQLm
— Peter Spiegel (@SpiegelPeter) February 24, 2015
The @CDU Bundestag group agreed to meet Thurs morning to take view on #Greece extension at meeting w/Schauble this pm http://t.co/EyMeQndQLm
— Peter Spiegel (@SpiegelPeter) February 24, 2015
It would be a major shock if the Bundestag rebelled against Angela Merkel and Wolfgang Schauble on Friday. But by playing hardball now, CDU can help set the tone for the upcoming negotiations with Greece.
6.16pm GMT
Greece's mountain of borrowing will eventually need to be restructured, argues debt campaigners tonight.
Sarah-Jayne Clifton, Director of the Jubilee Debt Campaign, says:
"The agreement affords a small but vital pocket of breathing space for Greece to begin to tackle its humanitarian crisis. But the fundamental injustice of the Greek debt situation remains unaddressed.
The people of Greece continue to carry the burden of debts caused by reckless, unaccountable banks. Debt crises across the world show that constant debt rescheduling does not work. Greece's debt is unjust and unsustainable, and debt cancellation is the only fair response. Syriza's original proposal for a European debt conference needs to be revived."
6.01pm GMT
Back to the Greece bailout deal, and Open Europe's Pieter Cleppe reckons the Dutch parliament will approve the four-month bailout extension on Thursday.
Majority in Dutch Lower House supports Greek deal, voting on motions related to it on Thursday http://t.co/79O1QCdtmK #greece #kolotoumba
— Pieter Cleppe (@pietercleppe) February 24, 2015
5.59pm GMT
Read the full story of the FTSE 100's watershed day here:
FTSE 100 hits record high of 6959 after Greece's reform plan is approved
FTSE 100 hits record high of 6959 after Greece's reform plan is approved http://t.co/mZgTBWFxYy
— Jill Treanor (@jilltreanor) February 24, 2015
5.48pm GMT
Bookmaker Paddy Power is taking bets on when the FTSE 100 will hit 7,500 points.
2015: Evens 2016: 2/1 2017 or later: 5/2
5.42pm GMT
That record high looks a bit less impressive once you adjust for inflation (although don't forget those dividend payments)
FTSE 100 at an "all time high". But adjust for consumer price inflation. Shows index still 27% lower than peak: pic.twitter.com/nMpXHEg1MR
— Ben Chu (@BenChu_) February 24, 2015
Updated at 6.01pm GMT
5.35pm GMT
Today is a "watershed moment" for City investors, says Tom Stevenson, investment director at Fidelity Worldwide Investment.
Investors have finally exorcised the ghost of the dot.com bubble which has haunted the market for a decade and a half. Of course, what matters is not the actual level of the market but the value it represents. In 1999 shares were grossly overvalued.
Today, thanks to rising profits over the years, UK shares are reasonably priced – not cheap but by no means expensive."
5.26pm GMT
Although the FTSE 100 is flat over the last 15 years, the value of London's blue-chip index is actually up by 67% once you include dividends: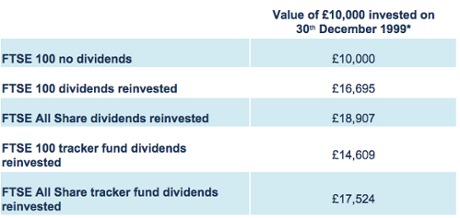 FTSE 100 with dividends Photograph: Hargreaves Lansdown
Updated at 5.33pm GMT
5.19pm GMT
So is the London stock market overvalued again, as in 1999?
Laith Khalaf, senior analyst at Hargreaves Lansdown, argues that it's not.
On a Price-per-earnings basis (the classic ratio of how much shares cost, versus the dividends they pay), the FTSE 100 is actually 50% cheaper now than it was in December 1999.
Khalaf explains:
The current P/E of the UK's largest companies currently sits at 16 times earnings.
This compares with the dizzy heights of almost 30 times earnings reached in December 1999. The long term average is 15 times earnings.It is tempting to think a new peak in the market is a good time to sell, but investors shouldn't get spooked by the FTSE 100 reaching new highs.
The headline index doesn't tell us anything about how stock prices relate to company earnings, it is therefore a bit like a clock face without any hands.When you factor in company earnings, the UK stock market looks close to its long term average. In other words the glass is either half empty, or half full, depending on your point of view
Updated at 5.20pm GMT
5.17pm GMT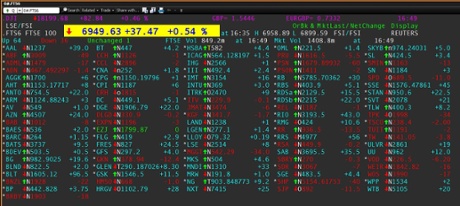 The FTSE 100 at the close of trading tonight. Photograph: Thomson Reuters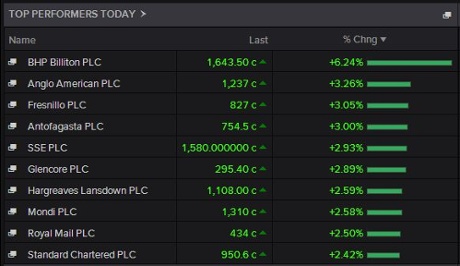 The top risers on the FTSE 100 today. Photograph: Thomson Reuters
5.03pm GMT
The highs of December 1999 were followed by the dot-com crash, which saw the FTSE 100 slide for two years.
It then recovered, before the credit crunch struck, followed by the collapse of Lehman Brothers and a global downturn.
This graph, from Brewer Dolphin's Stephen Ford, shows the story:
Turn of the millennium to date on the FTSE 100 and a new high achieved today pic.twitter.com/pRmHLfJ5sb
— Stephen Ford (@Brewin_Ford) February 24, 2015
4.57pm GMT
1999 was truly a dark time....
The last time the FTSE 100 was this high Westlife were number 1 with I Have A Dream-slash-Seasons In The Sun
— Michael Bow (@SignorBow) February 24, 2015
4.45pm GMT
FTSE 100 sets new closing high
The FTSE 100 has just closed at a record high, finishing the day at 6949.63 points. That's a gain of 37 points today, or 0.5%.
The intraday record high was set a few minutes earlier, at 6958.89.
So, we can finally put the 1999 record highs to bed.
4.35pm GMT
Chris Beauchamp, senior market analyst at IG, confirms that Greek relief helped to drive the London stock market higher.
With Grexit risks dampened, traders are now looking forward to the launch of the European Central Bank's monetary stimulus programme.
Beauchamp explains:
We can stop worrying about Greece for now. With this worry removed it looks like stock markets are free to power ahead, especially as the start of ECB QE looms.
4.24pm GMT
Greek relief is only one factor that pushed the FTSE 100 over its previous alltime high this afternoon.
The final push came as Federal Reserve chair Janet Yellen testified to the Senate. She said it was unlikely that the Fed would raise interest rates in the next few months; the prospect of looser monetary policy cheered investors in Europe and New York.
A small rise in the oil price today also helped energy shares, while mining stocks have benefitted from better-than-feared results from Anglo-Australian miner BHP Billiton. BHP's shares are up almost 7% today.
Updated at 5.28pm GMT
4.14pm GMT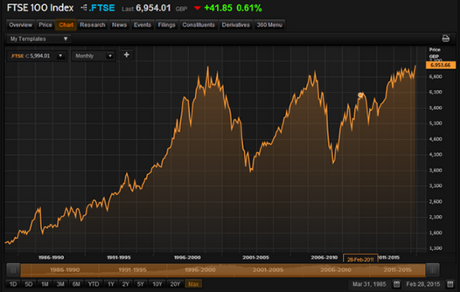 FTSE 100 since it was created in 1984 Photograph: Thomson Reuters
4.03pm GMT
FTSE 100 HITS RECORD HIGH
Britain's FTSE 100 index of blue-chip shares has hit a new alltime high, breaking through its dot-com record.
Relief that Greece's bailout crisis has eased today has pushed the Footsie through the 6950 point mark, reached on the final trading day in December 1999.
It's currently hovering around 6954 points, and on track to close at a new record high too (the old record closing is 6930, also set on 30 December '99).
Updated at 4.15pm GMT
3.58pm GMT
Greek news agency ANA- MPA has also heard that some Greek government ministers raised objections to the bailout plan at today's cabinet meeting [as Helena reported earlier].
Enikos.gr has the story:
Ministers and members of governing coalition partner Syriza on Tuesday expressed their reservations on the list of reforms the Greek government sent to its lenders during a cabinet meeting, state news agency ANA-MPA reported.
The list was approved in the afternoon, according to an announcement by the European Commission.
Citing a government source, the agency said Energy Minister Panagiotis Lafazanis raised objections over some measures included in the list, while other ministers asked for more detail.
In his letter to Eurogroup President Jeroen Dijsselbloem, Finance Minister Yanis Varoufakis pledged not to roll back privatisations which have been concluded or are in an advanced phase. One of them involves the tender for the sale of power grid operator ADMIE, a subsidiary of public power utility PPC. Lafazanis has objected to the sale.
3.34pm GMT
Greek stock market jumps 10%
The Athens Stock Exchange. Photograph: Thanassis Stavrakis/AP
The Greek stock market has surged by 10% today, to close at its highest level in two and a half months.
Bank shares gained up to 20%, as bailout relief swept the Athens stock market. The main ATG index finished the day up 85 points at 910.
That's the highest close since December 09 2014, the day after former prime minister secured a two-month bailout extension and called snap presidential elections (triggering last month's general election).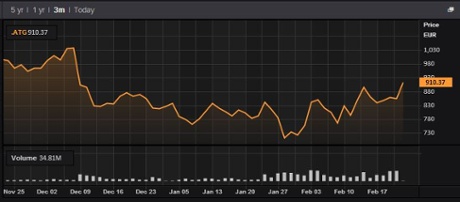 The Greek stock market over the last quarter. Photograph: Thomson Reuters
Updated at 3.34pm GMT
3.22pm GMT
The Parliament building in central Athens, Greece, on 24 February 2015. Photograph: Simela Pantzartzi/EPA
Reports are filtering through that the atmosphere at the Greek government's cabinet session this morning was very heavy, with enraged ministers openly objecting to the aid extension agreement signed in Brussels last week.
From Athens, Helena Smith reports:
The energy minister Panagiotis Lafazanis, who heads Syriza's militant Left Faction, emerged from the meeting "seeing red" according to reporters who were there.
Syriza's parlimentary group will now hold an emergency meeting at 8pm (6pm GMT) tonight.
Updated at 3.22pm GMT
3.09pm GMT
ECB approves four-month Greek extension, but....
.
Mario Draghi, the president of the European Central Bank, has given his approval to Greece's four-month bailout extension, but also flagged up concerns in a letter to eurogroup chief Jeroen Dijsselbloem.
Draghi isn't completely happy with the lack of detail in Greek reform plan. And the ECB (one of Greece's three creditors) wants convincing that any new economic reforms are at least as good as the ones in the existing bailout agreement.
Draghi says:
Dear Jeroen,
My Staff has reviewed the list of measures which the Greek authorities submitted yesterday evening. Our initial impression is that the document covers a wide range of reform areas and in this sense, it is sufficiently comprehensive to be a valid starting point for a successful conclusion of the review. However, as we expected it was not possible for the authorities to elaborate on concrete proposals and commitments that can be assessed by the institutions in respect to growth, public finances and financial stability. Given the very limited time available, this is understandable.
I assume that it is clear that the basis for concluding the current review, and also for any future arrangements, will be the existing commitments in the current Memorandum of Understanding and the Memorandum of Economic and Financial Policies (MEFP). In this context we note that the commitments outlined by the authorities differ from existing programme commitments in a number of areas. In such cases, we will have to assess during the review whether measures which are not accepted by the authorities are replaced with measures of equal or better quality in terms of achieving the objectives of the programme.
I would also again urge the Greek authorities to act swiftly to stabilise the payment culture and refrain from any unilateral action to the contrary.
With best regards,
[signed] Mario Draghi
Updated at 3.14pm GMT
3.00pm GMT
Damage limitation exercise underway in Greece
Back in Athens, the government is trying to calm fears that it has caved into its lenders.
Our correspondent Helena Smith reports:
The government has now distributed a six-page "non-paper", outlining the points in the "Thessaloniki programme" [Tsipras's anti-austerity manifesto] which are included in the list of reforms. That's aimed at the growing number of critics within his own party.
Prime minister Alexis Tsipras outlined his radical left Syriza party's economic policies in Thessaloniki, Greece's northern capital, last September - pledging to enact them when he assumed office.
The paper points out that the new government will begin by alleviating "the needs that have emerged with the recent rise of total poverty" saying, where needed, it will provide food, shelter, health services and basic energy.
The hand-outs will be given in such a way that they help reform the public administration and clamp down on bureaucracy and corruption. Efforts to alleviate the humanitarian crisis will, it insists, not have a negative impact on the fiscal budget.
The note continues with a run-down of how the anti-austerity leftist-led coalition will lure foreign investment (by pressing ahead with privatisations), kickstart employment opportunities, improve the business environment, tax collecting revenues and target oil smuggling and other forms of tax evasion by the country's wealthy elite.
One finance ministry source confided:
"It's really nobody else's business how we deal with our finances internally as long as we are keeping balanced budgets."
2.56pm GMT
Christine Lagarde ends her letter with a serious warning -- as things stand, the policy proposals outlined by Greece are not enough to ensure a successful review of its IMF programme (which runs until 2016)
Here's link on @FT's website of complete @Lagarde letter to @J_Dijsselbloem on #Greece. Key sentence at page turn: http://t.co/rUcwoWNMAV
— Peter Spiegel (@SpiegelPeter) February 24, 2015
Updated at 2.56pm GMT
2.52pm GMT
Once EC/IMF/ECB/Eurogroup have all approved extension, each EZ member needs to sign off. Parliaments in FIN, DE, SK, AU & NL need to vote it
— Maxime Sbaihi (@MxSba) February 24, 2015
2.52pm GMT
The IMF's concerns probably won't stop eurozone parliaments approving Greece's four-month bailout extension, but it's another sign that the next few months will be tricky for Greece.
2.46pm GMT
IMF raises concerns over Greek plans
Hold the euphoria. The International Monetary Fund has written to the eurogroup, criticising elements of the Greek government's reform plans.
Christine Lagarde says that:
Whilst the authorities list is comprehensive, it is not very specific, which is perhaps to be expected considered the government is new in office.
In the letter, just released, Lagarde welcomes signs of "stronger resolve" on tax evasion and corruption, but then warns:
We note in particular that there are neither clear commitments to design and implement the envisaged comprehensive pension and VAT policy reforms nor unequivocal undertakings to continue already-agreed policies for opening up closed sectors, for administrative reforms, for privatisation, and for labour market reforms.
Those undertakings are essential to Greece's ability to meet the basic objectives of its programme agreed with the IMF, Lagarde adds.
Yikes! #IMF not on board with approval of #Greece list. Excerpt from letter from @Lagarde to @J_Dijsselbloem pic.twitter.com/2nx20p8RV2
— Peter Spiegel (@SpiegelPeter) February 24, 2015

. Photograph: IMF
Updated at 2.54pm GMT
2.37pm GMT
Eurogroup statement released
The European Parliament has confirmed that finance ministers has approved extending Greece's bailout programme by four months.
But, in a brief statement, the ministers also want Athens to flesh out its reform measures.
It says:
The Eurogroup today discussed the first list of reform measures presented by the Greek authorities, based on the current arrangement, which will be further specified and then agreed with the institutions at the latest by the end of April. The institutions [IMF/ECB/EU] provided us with their first view that they consider this list of measures to be sufficiently comprehensive to be a valid starting point for a successful conclusion of the review.
We therefore agreed to proceed with the national procedures with a view to reaching the final decision on the extension by up to four months of the current Master Financial Assistance Facility Agreement.
We call on the Greek authorities to further develop and broaden the list of reform measures, based on the current arrangement, in close coordination with the institutions in order to allow for a speedy and successful conclusion of the review.
#Eurogroup statement on #Greece, following today's conference call: http://t.co/uj4K8UeTr2.
— EU Council Press (@EUCouncilPress) February 24, 2015
Updated at 2.39pm GMT
2.22pm GMT
Sky's Ed Conway says that the eurogroup wants Greece to make some changes to its reform programme, and we might get the details later...
Eurogroup teleconference lasted abt an hour. Hearing there's likely to be amendments to reform list. Greek fin ministy to announce them soon
— Ed Conway (@EdConwaySky) February 24, 2015
In the meantime, though, Greece's immediate funding needs should be covered.
Euro zone finance ministers have approved Greece's reform plan so paving the way for Greece to receive a further tranche of bail-out funds
— Gavin Hewitt (@BBCGavinHewitt) February 24, 2015
2.13pm GMT
I've had confirmation from my own EU sources. #Eurogroup has approved Greek list of reforms. Teleconference ended a moment ago
— Ed Conway (@EdConwaySky) February 24, 2015
2.12pm GMT
Eurozone approves Greek bailout extension
IT'S OFFICIAL. The eurozone finance ministers have approved Greece's four-month bailout extension, after a one-hour conference call in which they scrutinised Athens' reform programme.
Valdis Dombrovskis, commissioner for the euro, tweets the news:
Following #Eurogroup teleconference decision national procedures for extension of the Greek programme can begin #Greece
— Valdis Dombrovskis (@VDombrovskis) February 24, 2015
Now the ball is passed to national parliaments, who must give their own approval. Germany is the key vote -- on Friday.
Reuters has also had the news confirmed by a Greek finance minister:
* Greek Finance Minister official says Eurogroup approves Greek reform plan - RTRS
— Fabrizio Goria (@FGoria) February 24, 2015
2.06pm GMT
Slovak minister says deal "holds"
The Slovakian finance minister's media team has tweeted that the Greek bailout deal "holds".
They add that the eurozone is eager to see firm details on Athens' plans in the weeks ahead.
#eurozone deal with #Greece reached on Fri holds. Greeks have lots of heavy-lifting to do until end-April. We all want to see numbers now.
— Peter Kažimír (@KazimirPeter) February 24, 2015
Peter Kažimír should have taken part on the eurogroup conference call, of course, so he should know the result.
Updated at 2.08pm GMT
2.02pm GMT
Crisis delayed, but perhaps not denied?
Crisis averted, until, like April. (BN) *GREEK AID EXTENSION SAID TO BE APPROVED BY EURO-AREA MINIS TERS
— HansNichols (@HansNichols) February 24, 2015
1.58pm GMT
Newsflash from Bloomberg, saying the eurozone finance ministers have approved Greece's reform package.
Greek bailout extension said to be approved by Euro area Bloomberg
— Nicola Duke (@NicTrades) February 24, 2015
I can't see anything official yet, though.....
1.45pm GMT
Our Europe editor predicts a lively few months ahead....
#grexit looks like @tsipras_eu passes first test. loadsa fun to come tho
— Ian Traynor (@traynorbrussels) February 24, 2015
1.15pm GMT
The reception hall of the Stock Exchange in Athens, Greece, where the main index has soared over 7%. Photograph: Yannis Kolesidis/EPA
12.58pm GMT
OECD chief Angel Gurria spoke about the Greek crisis in London today:
OECD Gurria: "we have been working with Greek govt now for many many years and we are happy to support the new govt" pic.twitter.com/850MbGsLC3
— Katie Allen (@KatieAllenGdn) February 24, 2015
OECD Gurria on Greece talks says want to express "hope and support that clearly there should be a convergence"
— Katie Allen (@KatieAllenGdn) February 24, 2015
12.57pm GMT
Lunchtime summary