Missing Syria Schoolgirls Stole Family Jewellery To Fund Trip, Met Tells MPs: Politics Live Blog
5.45pm GMT
Afternoon summary MPs have been told that the three London schoolgirls thought to have gone to Syria to join Islamic State (Isis) funded their trip by stealing family jewellery. The girls paid more than £1,000 for their tickets to Turkey. In evidence to the Commons home affairs committee, when asked how they paid for the trip, Metropolitan Police assistant commissioner Mark Rowley, the national police lead for counter-terrorism, said:
We think it's linked to theft from families. We think it's linked to taking jewellery from one of their family members.
Sir Bernard Hogan-Howe, the Met police commissioner, has apologised to the families of the girls for the fact that the police failed to ensure they got letters saying another girl from the school, who was friendly with the girls, had already gone missing. (See 4.32pm.) The letters were handed to the girls, who failed to give them to their parents. Hogan-Howe said he did not think the fact that the parents did not get the letters was to blame for the girls going missing. However, he said the police was reviewing how they notified people in similar cases in the future. Tasnime Akunjee, a solicitor representing the families, said if the parents had received these letters, they might have been able to stop the girls leaving. He said they would have been "on notice" for issues like radicalisation and foreign travel. Rowley has told MPs that, if the girls were to return to the UK, they would not face prosecution, because there is no evidence they have committed terrorist offences. Hogan-Howe has told MPs that politicians need to be "braver" in making it clear that Islamic State is a political problem, not a religious one. He said that in the past some Muslim leaders has not done enough to condemn Isis, but that that had changed since last summer, when the full horror of Isis became apparent. Hogan-Howe has told MPs that at least 700 Britons have joined Isis. Rowley said that in the last year 87 families had reported people missing to the police because they were suspected of going to Syria, of whom 26 were women. Relatives of the missing girls have told MPs they did not know how or why they became radicalised. Shamima Begum's sister Sahima Begum said:
My sister was into normal teenage things. She used to watch "Keeping Up With The Kardashians".
Tasnime Akunjee, the solicitor, said it could be hard to understand any 15-year-old. It was hard to understand the appeal of Justin Bieber, he joked.
David Cameron has suggested that former generals and other military experts warning that defence cuts will put Britain at risk have vested interests such as having books to promote. This has not gone down well with the Sun's political editor, Tom Newton Dunn.
Accusing highly respected generals of pushing for defence money because they have books to sell should be below a Prime Minister. Awful.
— Tom Newton Dunn (@tnewtondunn) March 10, 2015 Philip Hammond, the foreign secretary, has told the foreign affairs committee that Britain could consider supplying lethal weapons to Ukraine if the Ukrainian army were collapsing.
We would consider it again [supply lethal equipment] - but not necessarily do it - if the circumstances on the ground materially changed.
If we found the Ukrainian army was crumbling for example or if we saw clear evidence that the Ukrainian army was under sustained attack and was not holding the line because of inadequacy of equipment and weapons, then we would certainly want to consider again.
Sir Alan Duncan, a Conservative MP and former minister, has said that Margaret Hodge's treatment of Rona Fairhead at the public accounts committee yesterday was "rude" and "inexcusable". In a letter he said the attack on Fairhead was "utterly contemptible". He explained:
You maligned her reputation and suitability for her current role at the BBC and called on her to resign or be sacked. This is inexcusable. You were rude, abusive and bullying in a manner which brings your Committee and the proceedings of the House into disrepute ...
As if to prove the inappropriateness of your behaviour, you tried to mitigate it by saying this was just a personal view. Thus in your own words you have said why it was utterly inappropriate for you to use the platform of a PAC hearing in this way.
Justine Miliband, Ed's wife, has said that she expects attacks on her husband to get "really vicious" during the election. She told the BBC:
I think it's going to get worse, I think over the next couple of months it's going to get really vicious, really personal, but I'm totally up for this fight.
But she said she was up to the fight because "because I think this goes way beyond Ed as an individual, I think it's about whether decencies and principle count for something in political life". As Stephen Bush points out, in some circles the reaction has been predictable.
Well, that didn't take long: https://t.co/D9Fi4sY2bE
— Stephen Bush (@stephenkb) March 10, 2015
That's all from me for today.
Thanks for the comment.
Updated at 5.53pm GMT
4.56pm GMT
It is interesting to see what the Metropolitan police has been tweeting from the hearing on its official account. Here are the four lines it tweeted.
AC Rowley speaking @CommonsHomeAffs "Police did enormous amount of work with Turkish police and they have provided us significant resource."
— Metropolitan Police (@metpoliceuk) March 10, 2015
AC Rowley: "Increasing trend last year of leaders from Muslim communities stepping forward to confront propaganda."
— Metropolitan Police (@metpoliceuk) March 10, 2015
AC Rowley: "87 people reported missing by their families to police in last year, believed to have travelled abroad. 26 of those women."
— Metropolitan Police (@metpoliceuk) March 10, 2015
AC Rowley: "We want counter terrorism command to be reflective of London. Our recruitment process has changed to achieve that."
— Metropolitan Police (@metpoliceuk) March 10, 2015
4.51pm GMT
The session has resumed.
Keith Vaz asks the question.
Q: Would you know the difference between Sunni and Shia? [That is a reference to a point made by Dal Babu, a former Met chief superintendent, yesterday.]
Rowley says he knows that it relates to a schism about the succession to Mohammed.
Q: But it is not just about that.
Rowley says he is not saying it is. But he was asked about what the difference was.
Q: The commissioner says you need more Muslims in the police.
Rowley says he agrees with that point.
Hogan-Howe says Babu was a good officer. He agrees with much of what he said.
And that's the end of this part of the hearing. They are now taking evidence on a range of other police issues.
I'll post a summary shortly.
4.33pm GMT
The hearing is being suspended because there is a vote.
It will resume in about 15 minutes.
4.32pm GMT
Sir Bernard Hogan-Howe's apology to the relatives of the missing schoolgirls
Here's the statement that Sir Bernard Hogan-Howe made at the start of the session when he apologised to the families of the schoolgirls for the fact that they did not get a letter about another missing girl from the same school.
First of all we're sorry if the family feel like that, clearly it's a terrible situation they find themselves in, having lost their daughters in such a horrible way.
You can only half imagine what a parent is going through at this time. In that sense, I'm sorry they're in that situation.
Also sorry the letter we intended to get through, didn't get through. It's clear that failed. It was intended for them and failed and for that of course we're sorry.
I don't think we would go as far as saying therefore that caused the girls to go.
There was nothing more we could have done to prevent that. Because at the beginning we were trying to get from these girls information about a further young woman who had actually left in December that was our principle reason for talking to that family.
In hindsight, we now know that these girls were planning to go and neither the family, the police, the school nor anyone else realised that.
That's the sequence of events, the circumstances the parents find themselves in is a terrible situation and they must be worried sick, about how those girls are.
Hogan-Howe did not use the word "apologise". But he said he was "sorry", and it was a "sorry" for something the police did, not just "sorry" about something bad that happened, and so in my book that counts as an apology.
4.27pm GMT
Tim Loughton goes next.
Q: Would it not have been logical to go to bus stations in Turkey to try to intercept the girls?
Rowley says it is not for him to question what the Turkish police did.
4.24pm GMT
Rowley says, if the girls come back to the UK, they will not face prosecution. There is no evidence they have been involved in terrorism.
4.21pm GMT
Q: Are you pursuing lines of inquiry against people who may have been responsible for radicalising these girls?
Hogan-Howe says the police have various lines of inquiry.
But the internet is a big factor. They are taking down 1,000 sites a week.
Q: Can you get to the individuals behind these?
Sometimes, says Hogan-Howe. But it is difficult if people are abroad.
4.18pm GMT
Q: What more could the Muslim community do to address this problem?
Hogan-Howe says they could do more of what they have been doing since August last year. Muslim leaders have condemned repeatedly what Isis have been doing.
In the past some Muslim leaders have not done this, he says.
And he says politicians need to be braver. They need to say this is about politicians, not about religion.
4.16pm GMT
Rowley says the Prevent programme does not just tackled Islamist extremism. It covers other forms of extremism too, such as far right extremism.
4.15pm GMT
David Winnick goes next.
Q: A former Met commander says there is a lack of Muslim staff in the Prevent programme. Is that a fair comment?
Yes, says Hogan-Howe. There are 50,000 people in the Met, including 32,000 officers. Some 11% are minorities. There are more than 300 Muslim officers. But, proportionately, that is low, because there are 1.25m Muslims in London, out of a population of 8.6m.
4.10pm GMT
Met says schoolgirls funded their flight to Turkey by stealing family jewellery
Michael Ellis goes next.
Q: Was the letter addressed to the parents?
Rowley says it was expected to be given to the parents. He is not sure exactly how it was addressed.
Letters were sent to the parents of seven girls in the friendship group of the first girl who went missing.
Q: You have found the travel agent. They paid for their tickets in cash.
Rowley says it was more than £1,000.
Q: How did they get that money?
Rowley says they think the girls got the money by stealing family jewellery.
Met asssistant commissioner says girls funded their flight to Turkey by stealing family jewellery.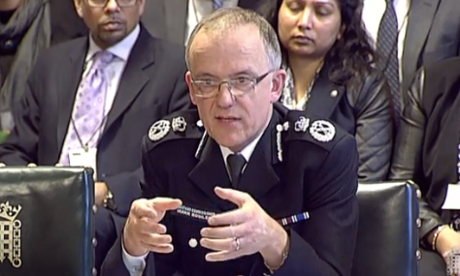 Mark Rowley Photograph: Parliament TV
Updated at 4.11pm GMT
4.04pm GMT
Rowley says 87 families have approached the Met about people going to Syria.
Some 26 involve women going missing. And 61 are young people, under the age of 21.
4.03pm GMT
Hogan-Howe says the Met have to work with the Turkish authorities. They cannot carry out their own search in Turkey, just as the Turkish police could not mount an operation here.
4.00pm GMT
Q: Did you not feel that more could have been done to find these girls?
Rowley says the officer has done a lot of work with the Turkish police. They have done an enormous amount of work. There have been some promising leads. But he has to work with the Turkish police. He cannot do surveillance work on his own.
3.59pm GMT
Q: Why did no one go out to Turkey to try to find the girls?
Rowley says there was an officer normally based in Turkey. He was on leave, but he cancelled his leave and went back to Turkey.
Q: When did he get there?
One or two days later.
3.55pm GMT
Mark Rowley, the Met assistant commissioner who is giving evidence with Hogan-Howe, says this has been a big investigation.
He says two people have been arrested in relation to child abduction in relation to the first girl.
As for the letter, the police officer was doing a "belt and braces" job. He interviewed the girl's friendship group. The initial interviews did not yield much information. So he went back, and decided to do further interviews, and sent letters to parents asking for permission.
3.52pm GMT
Q: Will you revisit this?
Hogan-Howe says he does not know how much privacy the family of the first missing girl wanted.
And you have to reach a balance between warning people, and not scaring them, he says.
3.51pm GMT
Met commissioner apologises to Syria schoolgirl relatives for their failure to get missing girl letter
Keith Vaz says the committee has just heard "damning" evidence from the relatives of the schoolgirls.
At a time when the police should have been reaching out to communities, particularly Muslim communities, here was a chance for the police to show they were on their side. What would you like to say.
Sir Bernard Hogan-Howe says he is sorry the families are in this situation.
And he is sorry that the letter they were meant to get did not reach them. He says they are sorry for that.
But the police do not accept that that was the reason for the girls going.
Going back to the parents, he says they are in a "terrible" situation.
Sir Bernard Hogan-Howe, the Met police commissioner, apologises to relatives of the schoolgirls who went to Syria for the fact that they did not get a letter about another missing girl from the school.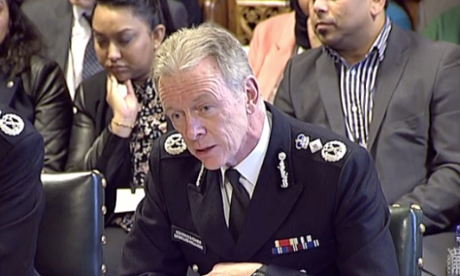 Sir Bernard Hogan-Howe Photograph: Parliament TV
Updated at 4.02pm GMT
3.47pm GMT
MPs question Sir Bernard Hogan-Howe, the Met police commissioner
Sir Bernard Hogan-Howe, the Metropolitan police commissioner, is giving evidence next.
3.46pm GMT
Vaz tells thanks the four witnesses for their evidence.
3.44pm GMT
Nicola Blackwood, a Conservative, asks Akunjee for more detail of the case where the police acted within two hours.
It was a terrorism case, says Akunjee. It involved Turkey.
3.43pm GMT
Tim Loughton, a Conservative, says a few years ago his 16-year-old daughter was detained at an airport because she was travelling alone. He got a call. It was embarrassing, because he was children's minister at the time.
Tasnime Akunjee says one of the girls was travelling on someone else's passport.
Q: But shouldn't Turkish Airlines have asked what the three girls were doing on their own?
Akunjee agrees with that. But airport staff work under pressure, he says.
3.41pm GMT
Tasnime Akunjee says the Prevent strategy is a "defunct" document.
Q: Should more have been done to get the girls back once they were in Turkey?
Akunjee says he thought there was no real effort to get the girls back.
He has worked on cases where someone fled to Turkey and there was a response team on the ground ready for them two hours later.
It is unacceptable for the police to wait 24 hours.
Q: How can you expect the police to know the girls may have been radicalised when the families did not know?
Akunjee says the police knew these girls were associated with the first girl who went to Syria. So, as soon as they found they were missing, they should have taken action.
3.38pm GMT
Sahima Begum says the school the girls attended, Bethnal Green Academy, is amazing.
But she feels let down by the police. All the information they got from the police was information they had given the police in the first place.
The police said they could not send the letter direct to parents because the police did not have contact details. But the school said it could provide contact details.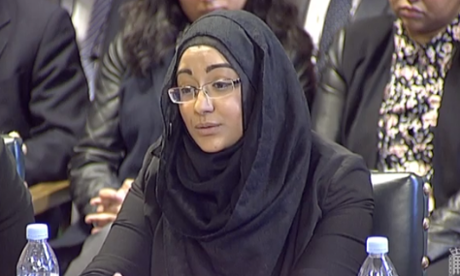 Sahima Begum Photograph: Parliament TV
Updated at 3.57pm GMT
3.35pm GMT
Q: Are you seeking an apology from the Met?
Yes, says Tasnime Akunjee.
Q: And do the Met need to appoint a new liaison officer?
Akunjee says it was "abhorent" for the liaison officer to advise the relatives not to follow their lawyers' advice. He should reconsider his training, Akunjee says.
3.33pm GMT
Q: Do you think the authorities should have followed the girls to Turkey?
Sahima Begum says the Met police said there were police on the ground in Turkey looking for the girls.
But when the footage of the bus station came out, that suggests that was not happening.
Vaz says the Turkish authorities say they were not told until the Friday about the missing girls.
3.31pm GMT
Q: Where would you go if you had concerns about the daughter being radicalised?
The school, says Fahmida Aziz.
Vaz says there is a counter-terrorism hotline. But he accepts that parents would not necessarily ring that.
3.29pm GMT
Q: Had you noticed any differences in the girls' behaviour?
No, says Fahmida Aziz.
Q: Did the internet, or social media, have a part to play?
Tasnime Akunjee says the government is encouraging the uptake of high-speed broadband.
Michael Ellis says he wants to hear from the relatives.
Keith Vaz says it has come to light that one of the girls was a heavy user of Twitter. She was following 70 extremists. But he would not expect parents to know who their children follow on Twitter.
Updated at 3.30pm GMT
3.27pm GMT
Tasnime Akunjee says the families could not know what was going on in their children's lives when the police were withholding from them.
Q: But it is routine for the police to withhold information.
Akunjee says the police knew that information [in the letter] should have been communicated to families.
3.23pm GMT
Michael Ellis, a Conservative, went next.
Q: [To Sahima Begum] Did you say your sister felt like she was being harrassed by the police?
Not my sister, says Begum. It was one of the other girls who was interviewed by the police when the girl went missing, an acquaintance of my sister.
Q: Some might say the police can't win. They are criticised for having an intrusive presence. But they then get criticised for not doing enough.
Tasnime Akunjee says all the police had to do was use an envelope. If they had, this might have been avoided.
He says, when the families spoke out, the police effectively called them liars.
3.20pm GMT
Vaz says the committee is clear that the relatives believe that the fact that they did not get the letter from the police may have contributed to them going missing.
3.19pm GMT
Q: What do you think parents should do to find out if their children are being indoctrinated?
Hussen Abase says he is just focusing on what he can do to get his daughter back.
Sahima Begum says, when her sister was on her phone, the family monitored what she was doing.
But if they had known that her sister's friend had gone missing, that would have raised the alarm. Friends have similar mindsets.
Keith Vaz says he has spoken to the school. They were only allowed to tell people the girl was missing. The school was not allowed to say she had gone to Syria.
Fahmida Aziz says the school should have discussed this with parents.
3.16pm GMT
Hussen Abase says his daughter was the kind of girl who would call him to pick her up at sunset.
3.15pm GMT
Labour's David Winnick goes next.
Q: We will be asking Sir Bernard Hogan-Howe, the Met commissioner, why these letters were not given to the families. But why do you think these girls were attracted to a "murderous outfit", that is destructive and evil.
Fahmida Aziz says the girl who went to Syria in December was a close friend. Perhaps they wanted to see her. But we don't know, she says.
Q: Is it possible there was indoctrination outside school, unknown to the family?
Hussen Abase says it is hard to know why his daughter left. That is why the family feels it is in the middle of nowhere.
Q: Could other young girls take the same route?
Tasnime Akunjee says this is hard to understand. He says understanding the mindset of a 15-year-old can be difficult anyway. Understanding Justin Bieber can be hard.
Some people go abroad to fight against Isis, he says.
3.11pm GMT
Julian Huppert, the Lib Dem MP, goes next.
Q: Do you think the fact that these letters were given to the girls encouraged them to leave?
Tasnime Akunjee says that is a possibility. They do not know, he says.
3.09pm GMT
Tasnime Akunjee says the Met put out a statement recently effectively calling the families liars. The police said the families had been told about the girl who went to Syria.
The police should have known what they did and did not do, he says.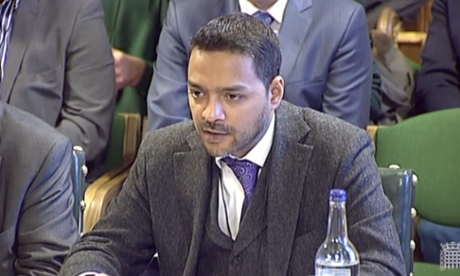 Tasnime Akunjee Photograph: Parliament TV
3.08pm GMT
Vaz suggests that, if the families had known about the first girl who went to Syria, they might have hide the girls' passports.
Hussen Abase says he and his wife kept their daughter's passport. But she was able to get it, he says.
3.07pm GMT
Tasnime Akunjee, the lawyer for the relatives, says a police officer told his clients not to listen to his advice.
Q: If you had received that letter directly, what impact would it have had.
Sahima Begum says the family would have asked her sister what she knew about the other girl from the school who had went to Syria.
Begum said she did not know the other girl had gone to Syria.
But she knew girls had been questioned in relation to this.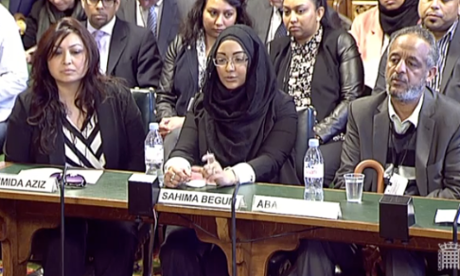 (From left) Fahmida Aziz, Sahima Begum and Hussen Abase Photograph: Parliament TV
3.02pm GMT
Q: The letter from the police was not given to you directly. Why do you think that was?
Hussen Abase says that is a puzzle.
Q: Should it have gone to you directly?
Yes, says Abase.
3.01pm GMT
Tasnime Akunjee says the school has said there was no reason to believe the girls were of concern.
3.00pm GMT
Keith Vaz, the committee chairman, opens the hearing.
He tells the three relatives that what has happened is every families' nightmare.
Q: When did you first realise your daughter was missing?
On 17 February, says Hussen Abase. He reported it to the police. At that stage he just thought his daughter was missing.
2.49pm GMT
Here's my colleague Vikram Dodd's most recent story about the three schoolgirls. And here's how it starts.
A handwritten list discovered in the bedroom of one of the three London schoolgirls feared to have fled to join Islamic State (Isis), seen by the Guardian, details the items they needed to buy as well as the travelling costs of getting to Syria.
The items ranged from a mobile phone to underwear, makeup and an epilator. Plane tickets to get them to Turkey are listed at just over £1,000, using the French word for ticket. The list appears to be in keeping with an Isis online guide for potential recruits.
Shamima Begum, 15, Kadiza Sultana, 16, and Amira Abase, 15, travelled from London to Turkey last month. The girls, all from the Bethnal Green Academy in east London, were lured by Isis propaganda and are believed to be on a pathway to become so called "jihadi brides". Police were handed the list by the family of one of the girls, who went through her things immediately after she disappeared.
Family members will on Tuesday testify before the home affairs committee of MPs. They will be followed by Metropolitan police commissioner Sir Bernard Hogan-Howe, from whom they want an apology for his force's handling of the case. Last week the girls' families spoke out against the police for failing to pass on information about another girl from the same school who disappeared and was believed to have travelled to Syria, arguing that had they known they might have been able to prevent their daughters from following.
2.45pm GMT
MPs question relatives of schoolgirls who fled to Syria
The Commons home affairs committee is about to take evidence from relatives of the three London schoolgirls who are thought to have gone to Syria to join Islamic State (Isis).
They are:
Hussen Abase, father of Amira Abase
Fahmida Aziz, first cousin to Khadija Sultana
Sahima Begum, older sister of Shamima Begum
Their solicitor, Tasnime Akunjee, is also giving evidence.
1.40pm GMT
Andy Burnham, the shadow health secretary, has welcomed NHS England's plans for more health and social care integration (see 1.24pm), but claimed that Conservative spending plans would not allow this to happen.
We welcome the vision set out by NHS England but it will never be turned into reality if current government policy remains in place.
The Tories' extreme plan for £70bn of spending cuts will put the NHS and social care at risk, severely damaging efforts to integrate services at a local level. In addition, the government's drive to increase competition in the NHS is leading to greater fragmentation of services and making integration harder to achieve.
1.28pm GMT
Vladimir Putin, the Russian president, also came under criticism at the Litvinenko inquiry today. My colleague Luke Harding has filed on it. Here's the start of his story.
Vladimir Putin's decision to give a major state honour to Andrei Lugovoi - the man accused of murdering the Russian dissident Alexander Litvinenko - is a deliberate "provocation", apparently aimed at the UK, the inquiry into Litvinenko's death heard on Tuesday.
On Monday the Russian president granted Lugovoi a medal for "services to the motherland". Over the past three weeks the inquiry has heard damning evidence which suggests Lugovoi smuggled polonium to Britain three times, poisoning Litvinenko in November 2006 during a meeting with him at a Mayfair hotel.
Ben Emmerson, the QC for Litvinenko's widow Marina, said the timing of Putin's decision was no coincidence. It came, he said, on day 22 of the inquiry and after "a substantial amount of evidence has been called establishing Lugovoi's involvement in the murder".
He added: "[It] is clearly both a provocation from President Putin and the clearest possible message he identifies himself with Mr Lugovoi".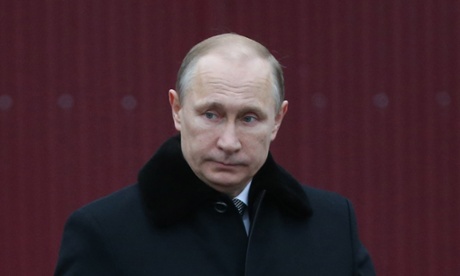 President Putin Photograph: Sasha Mordovets/Getty Images
1.24pm GMT
Lunchtime summary Philip Hammond, the foreign secretary, has said Britain needs to draw a line under the debate about mass surveillance by the intelligence agencies sooner rather than later to stop them getting distracted from their work. In a speech, he also said Russia could pose the biggest single threat to Britain's security. (See 10am.) Eric Pickles, the communities secretary, has told MPs that 90% of families targeted by the troubled families programme have "had their lives turned around" by it. That amounted to 105,000 families being helped sucessfully since 2011, he said. Nicola Sturgeon, Scotland's first minister, has written to Sir Jeremy Heywood, head of the civil service, complaining about a "pre-election patisan attack" on the SNP from the Treasury. She complained that Danny Alexander was able to use Treasury figures to attack the SNP's economic policies while the SNP has been excluded from pre-election access to civil servants. "This inconsistency reeks of hypocrisy, as well as a Treasury which has become transparently party political," she said. A new poll has undermined claims that the Scots are more tolerant of immigrants than people in the rest of the UK. As the Press Association reports, Sir Geoff Palmer, professor emeritus at Heriot Watt University's school of life sciences in Edinburgh, said politicians should set out the facts about Britain's attitude to immigrants regardless of the impact it may have on their own political careers. He was reacting to a new BBC poll which found 49% of people in Scotland think the level of immigration to Britain should be reduced, exactly the same proportion as a poll conducted across Great Britain last year. About one in seven (15%) Scots want immigration stopped completely compared with over a fifth (21%) across Great Britain, the YouGov poll of 1,100 Scottish adults conducted between March 4 and 6 found. NHS England has announced details of plans to start integrating health and social care services in 29 pilot areas. The details are available here. Jeremy Hunt, the health secretary, said:
This is a pivotal moment for the NHS and supports the government's long term plan to deliver more joined up, proactive, personalised care for our most vulnerable. By integrating services and moving more care closer to people's homes we can ensure efficient spending, and prevent unnecessary trips to hospital for the frail elderly and people with long term conditions.
12.45pm GMT
You can read all today's Guardian politics stories here. And all the politics stories filed yesterday, including some in today's paper, are here.
As for the rest of the papers, here's the PoliticsHome list of top 10 must-reads, and here's the ConservativeHome round-up of today's political stories.
And here are four stories I found particularly interesting.
The Daily Telegraph says General Sir Peter Wall, the former head of the army, says defence cuts have left Britain unable to tackle the threat posed by Russia.
Defence cuts have left Britain unable to tackle the threat of Russia and Vladimir Putin's "interference in our airspace and offshore waters", the former head of the Army warns today.
General Sir Peter Wall says that the cuts, which have seen overall defence spending fall by 10 percent since 2010, have led to Britain and its allies being "caught napping" amid a deepening confrontation with Russia as well as the rise of Islamic State of Iraq and the Levant (Isil).
Writing in The Telegraph, the former Chief of the General Staff says that Britain is now seeing the "consequences" of decisions taken by the Government to slash military spending.
The Financial Times (subscription) says George Osborne is considering changing his long-term spending plans to stop Labour being able to say state spending would be cut to its lowest level since the 1930s.
If Mr Osborne added £16bn to overall spending totals in that year he would lessen the need for deep departmental spending cuts, while also dashing Labour's claim that he intends to cut public spending as a share of GDP to 1930s levels.
Indeed the chancellor could project a £16bn increase in public spending, earmark £7.5bn for proposed tax cuts and still hope to run a budget surplus in the last year of the next parliament.
The £16bn sum would add 0.7 per cent of national income to total public spending. That would allow the chancellor to say spending levels would be higher than the 35.9 per cent of national income level set in 1999-2000 when Gordon Brown was chancellor.
The Times (paywall) says three prospective Labour candidates have refused to accept money from Tony Blair.
Two prospective candidates from marginal target seats announced their intention to reject the £1,000 gifts yesterday. The cheques were among more than 100 such donations announced by the former prime minister last week.
The former RAF wing commander Sophy Gardner, Labour's candidate for Conservative-held Gloucester, said that it would be "hypocritical" for her to accept the donation after she criticised the Iraq war, which Britain entered under Mr Blair's leadership.
Sally Keeble, the party's candidate in Northampton North, where the Tory Michael Ellis won with a majority of less than 2,000 in 2010, also said that she would be handing back the cash.
Their decisions came after Lesley Brennan, Labour's candidate in Dundee East, said at the weekend that she had opted to hand back the money after consulting her local party.
The Telegraph says the BBC executive in charge of the TV debates talks is under pressure to step down because she is married to a former Labour communications chief.
A senior BBC executive is facing calls to stand down from her role as lead negotiator for the televised election debates after it emerged that her husband is a former Labour communications chief.
Sue Inglish, the head of political programmes at the Corporation who is leading talks over the debates for the broadcasters, has been criticised by Conservative MPs following the disclosure that her husband, John Underwood, was previously a director of communications for Labour.
The BBC has faced accusations of "institutional arrogance" after threatening to press ahead with televised election debates without the Prime Minister.
12.32pm GMT
Yesterday David Cameron announced that a Conservative government would open 500 more free schools by 2020.
That might not have been such a good idea. According to a YouGov poll for the Times political newsletter, Red Box, 42% of voters oppose the creation of more free schools, and only 25% are in favour.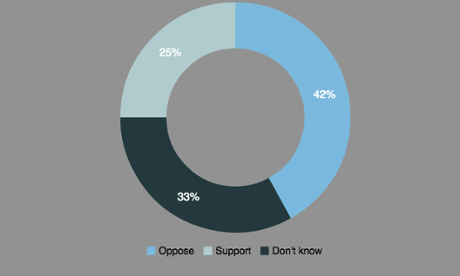 YouGov poll on support for creation of free schools Photograph: Red Box
When asked what the future of the free schools programme should be, 50% of people said no more should be created. Only 21% said they favoured the opening of more free schools.
11.51am GMT
Here's the full text of Philip Hammond's speech.
11.51am GMT
Cable says Commons will block Heathrow expansion, but not Gatwick expansion
At a business event last night Vince Cable, the Lib Dem business secretary and MP for Twickenham in west London, said that parliament would never agree to Heathrow expansion, but that it might agree to a second runway at Gatwick.
On the Davies report [which will recommend after the election whether an extra runway should be built at Heathrow or Gatwick] I will just make this controversial observation. I think if it recommends Heathrow I don't think it will happen and the reason it won't happen is because the Boris Johnson wing of the Tory party - which is quite a big wing I think, I'm not a member of it but I suspect it's quite a big wing - and my party and I suspect substantial chunks of Chuka's [shadow business secretary Chuka Umunna] will oppose it vehemently because of the impact on London.
We have got about three quarters of a million people who are already very seriously affected by Heathrow in a negative way; both noise and pollution.
If it recommends Gatwick I suspect it will happen because only a 20th of the number of people are affected by it.
I've taken the quote from PoliticsHome.
11.43am GMT
Russian ambassador hits back at Philip Hammond
The Russian ambassador to London, Alexander Yakovenko, has hit back at Philip Hammond.
. @PHammondMP remarks at @RUS_org prove John Le Carre right: intelligence services are a spiritual home of British political elite.
— Alexander Yakovenko (@Amb_Yakovenko) March 10, 2015
I'm not sure entirely how to read that, but I think he's accusing Hammond of being a stooge of the spooks.
11.23am GMT
On a related issue, the Today programme also had an interview with Samantha Power, the US ambassador to the United Nations. She said Washington was worried about how many Nato countries were cutting defence spending.
This is concerning. The number of missions that require advanced militaries to contribute around the world is growing, not shrinking – whether it's the Ebola mission where the United Kingdom and the French and we deployed vanguard forces, in our case almost 3,000 troops, to deal with Ebola; or whether it's the anti-Isil [Islamic State] effort where we are helping lead a coalition of 60 countries and where the United Kingdom, of course, is playing an important role.
These threats are not diminishing; if anything they're growing more diffuse and are requiring more contributions in more places.
We're looking at an awful lot of threats and many of those threats are migrating into Europe, at least in the form of Isil. And yet, we haven't seen European defence spending reach the 2% of GDP level that European leaders committed to so I came to Brussels, basically, to appeal to European governments to do more.
She said that she was not particularly getting at the UK.
The United Kingdom is exceptional and has been a staunch Nato ally. It has stepped up, whether on Isil, on Ebola, or in Afghanistan. So this is not about one country, but it is about a larger collective security challenge that we are now facing.
I've taken the quotes from PoliticsHome.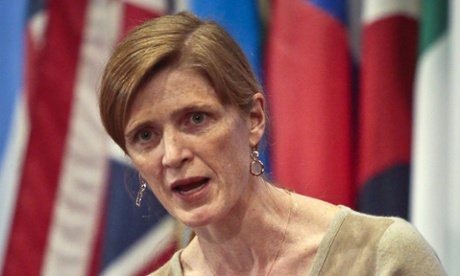 Samantha Power, US ambassador to the UN Photograph: Bebeto Matthews/AP
10.59am GMT
Hammond says Russia could be 'single greatest threat to our security'
Here's the key quote on Russia from Philip Hammond's speech.
The rapid pace with which Russia is seeking to modernise her military forces and weapons combined with the increasingly aggressive stance of the Russian military including Russian aircraft around the sovereign airspace of Nato states are all significant causes of concern.
We are in familiar territory for anyone over the age of about 50, with Russia's behaviour a stark reminder that it has the potential to pose the single greatest threat to our security.
Hence, continuing to gather intelligence on Russia's capabilities and intentions will remain a vital part of intelligence effort for the foreseeable future. It is no coincidence that all of our agencies are recruiting Russian speakers again.
10.46am GMT
Philip Hammond said today that anyone going abroad to fight against Islamic State (as well as anyone going to fight for it, obviously) could face prosecution on their return. (See 10am.) The issue came up on the Today programme this morning, when it broadcast an interview with a former soldier who wants to go abroad to help the Kurdish Peshmerga fight Islamic State.
A former British soldier wants to fight against IS to 'make Syria a better place' - he told @sima_kotecha. Video: http://t.co/i53O2okSEK
— BBC Radio 4 Today (@BBCr4today) March 10, 2015
But David Anderson, the government's independent reviewer of terrorist legislation, saying going abroad to fight in this way would not necessarily be an offence. This is what he told the programme.
There's no law in Britain against going to fight abroad as there is in some countries but that's not to say that what you're going to do there is necessarily lawful.
There are three laws that could be applied to your depending on what you do. The first is a foreign enlistment act which makes it a crime to join a foreign army fighting a friendly nation. This was introduced during the Franco-Prussian war because Queen Victoria was embarrassed by the thought that people might go and fight for the French against the Prussians in 1870.
The second thing that they could prosecute you for would be war crimes – but you would have not only to fight but deliberately break the laws