Outdoor Summer Cinema Round-up
The major pop-up players in and around London are now well-established. Roving the capital's parks and public spaces are The Nomad Cinema (to 30 Sep, whereisthenomad.com), which has Napoleon Dynamite and Whiplash in Grosvenor Square this week, Pop-Up Screens (24 Jul to 26 Sep, popupscreens.co.uk), and the Luna Cinema (to 27 Sep, thelunacinema.com), which covers not only prime spots such as Kensington Palace, Kew Gardens and Crystal Palace Park but also venues as far afield as Cardiff, Lincoln and Warwick castles. In terms of programming, they're all pretty similar: vintage crowd-pleasers such as Mamma Mia!, Top Gun and Dirty-bloody-Dancing, plus recent hits like Birdman and The Theory Of Everything. The Nomad is slightly edgier, with the likes of Guardians Of The Galaxy, Under The Skin and Pan's Labyrinth.
London's stationary outdoor screens are equally well-established. The Rooftop Film Club, with venues in Peckham, Stratford and Hoxton (to 29 Aug, rooftopfilmclub.com), and The Backyard Cinema (29 Jul to 4 Sep, backyardcinema.co.uk), which now has two deckchair-equipped screens in Camden Market. Or for something more novel, there are The Guardian's Double Take screenings in King's Cross (24 & 25 Jul, membership.theguardian.com/events), playing two films simultaneously, and leaving you to choose which one to listen to on your headphones. It's Anchorman v Bridget Jones, then Ferris Bueller's Day Off v Mean Girls. Pillow Cinema has alfresco sleepover-style screenings on a Shoreditch rooftop (to 2 Aug, pillowcinema.com).
Further ahead, you've also got the prestigious Film4 Summer Screen at Somerset House (6-19 Aug, somersethouse.org.uk), the extraterrestrial-themed Floating Cinema (20 Aug to 20 Sep, floatingcinema.info), and free films at The Scoop (3-26 Sep, morelondon.com).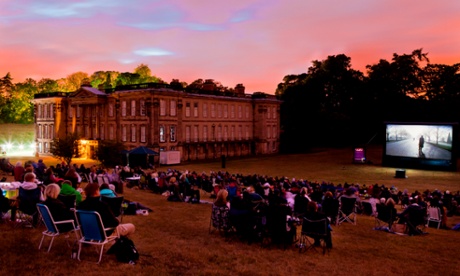 Summer Nights Outdoor Film Festival at Calke Abbey in Derbyshire Photograph: Graham Lucas Commons
Outside London there are more options than ever. Picturehouse has outdoor pop-ups at Henley-On-Thames's Mill Meadows this weekend and next, as well as at Norwich's Plantation Garden (6-9 Aug), and Brighton's Preston Manor, which tonight shows The Princess Bride (Sat to 30 Aug, all picturehouseblog.co.uk). Also in Brighton, you've got the beachfront Big Screen (14 Aug-13 Sep, brightonsbigscreen.com) playing free family films by day and ticketed movies at night. And the swimsuit-friendly Hot Tub Cinema also comes to Brighton (14-20 Sep, hottubcinema.com), after London (10-30 Aug) and Leeds (2-6 Sep).
Moving north, Sundown Cinema (2 Aug to 17 Sep, sundowncinema.co.uk) covers Hertfordshire, Bedfordshire and Cambridgeshire, the Outdoor Cinema (18 Jul to 13 Sep, theoutdoorcinema.co.uk), visits London, Kingston, Kent and Newcastle upon Tyne, Chester has screenings in its Roman Gardens (to 29 Aug, moonlightflicks.co.uk), and Lincolnshire's Burghley House has a long weekend festival, kicking off with a Lord Of The Rings all-dayer (29 Jul to 2 Aug, burghley.co.uk). In a similar vein, Derby QUAD's Summer Nights Film Festival (24 Jul to 19 Sep, summernightsfilm.co.uk) sets up its screen in heritage locations around the Midlands (its The Dark Knight Rises screening at Wollaton Hall is getting to be an annual fixture). And for more intrepid northerners, Picnic Cinema (Sat to 5 Sep, picniccinema.co.uk) has themed outdoor events with camping options, including a Trainspotting "Cheesy Quavers Party" in the ruins of Carlisle's Kirklinton Hall tonight and The Evil Dead and an "Undead Ball" next Saturday in Hamsterley Forest.