£35m Less Than £45m Plus Add-ons
FLASH, BANG, WALLOP
After a couple of days at home with the curtains drawn, possibly flicking between the cricket and the tennis with a tube of Pringles close by, Raheem Sterling has gone back to work. We know this because a member of the paparazzi has taken a long-lens shot of him from over the wall at Melwood, where Sterling is standing around, occasionally stretching a bit and lightly jogging. But mainly standing around. It's not a bad picture. Sterling, as the main subject of the shot, has been given due prominence, but isn't positioned in the centre of the frame, which would make for a rather dull and static photo. He's just to one side, giving a pleasing sense of movement. We do hope young Raheem, a keen student of photography and a vocal critic of poor composition, is happy with the outcome.
Meanwhile down in London, a midfielder who has won something in the game has moved to Crystal Palace for £35m less than £45m plus add-ons. Back in 2011, Yohan Cabaye helped Lille to their first French championship since 1953. That was nothing compared to his efforts over the following three years in making Newcastle United look vaguely competent. And since 2014, he's been hoovering up medals with Paris Saint-Germain, though he's spent a lot of time on the sidelines, and not everybody's content to loaf around for days on end. Or phone it in.
So he's returned to the Premier League in search of a regular game, and the London socialite Alan Pardew is only too happy to give him one. It's a no-brainer for Crystal Palace, despite the club-record £10m fee, and the player is content as well. "I'm happy to be here," he said today. "I've been waiting for the decision, had the medical and now I can't wait to focus on my new team, a new season and my new life. I also know the gaffer and have worked with him before and I'm confident with him." So there's Cabaye, who played a part in France's run to the quarter-finals of last year's World Cup, looking forward excitedly to Palace challenging for a top-eight place. Meanwhile Sterling, who played a nice pass when England lost to Italy, is demanding to challenge for the Premier League and Big Cup, as is his inalienable right, with immediate effect, if not sooner. What's the next lesson in our photography class? Ah yes, juxtaposition.
QUOTE OF THE DAY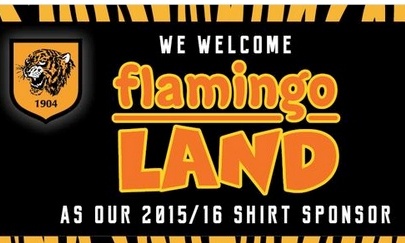 Home of the Mumbo Jumbo. Photograph: Publicity
"It has become abundantly clear that we are both Premiership quality" – on the day Hull are to find out if they'll be allowed to be called Tigers, Gordon Gibb, chief suit of Yorkshire's premier theme park, announces the name of another exotic animal is to adorn their shirt.
FIVER LETTERS
"While we're all in Full Pedant mode on Japanese spelling, I'd like to point out an error in one letter-writer's spelling of 'Fiver' a couple of days back. He wrote, '????' which is how you'd write 'Five.' Fiver would be written in katakana as, '?????.' Coincidentally (or is it?) that's also how you'd write 'fibre.' And we all know what fibre is good for producing … " – David Emery.
"Wait. So now I'm supposed to believe that not only are there 1,057 pedants but they're all teaching English in Japan?" – Todd Van Allen.
Send your letters to the.boss@theguardian.com. And if you've nothing better to do you can also tweet the Fiver. Today's winner of our prizeless letter o'the day is: Todd Van Allen.
JOIN GUARDIAN SOULMATES
Chances are that if you're reading this tea-timely football email, you're almost certainly single. But fear not – if you'd like to find companionship or love, sign up here to view profiles of the kind of erudite, sociable and friendly folk who would never normally dream of going out with you. And don't forget, it's not the rejection that kills you, it's the hope.
BITS AND BOBS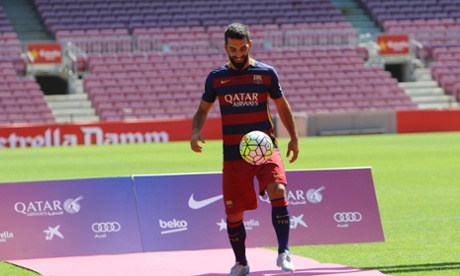 Arda Turan can't wait to get going … in January. Photograph: Jordi Vidal Conejo/Jordi Vidal Conejo/Demotix/Corbis
Barcelona new boy Arda Turan has completed the obligatory keepy-uppies and badge-kissing test at his official unveiling at Camp Nou. "Messi is the best," he stating-the-bleeding-obvioused. "But my idol is Iniesta. I can't wait to play with him."
Fábio da Silva lookalike Rafael da Silva is the latest Manchester United player to be shipped off to Turkey, with Galatasaray the willing recipients.
Bookmaker uses Roy Keane's picture to make a bad joke. Roy Keane gets annoyed.
Join Scott Murray for our MBM of Germany 5-1 England on 26 March 2016.
Swansea manager Garry Monk is still Swansea's manager Garry Monk, but with a few more notes in his trousers.
Remember that drone business that caused last year's Euro 2016 qualifier between Albania and Serbia to be abandoned? Well, Albania have been awarded a 3-0 win.
And Fabrice Muamba is now way too clever to write the Fiver after passing a degree in Proper Journalism. "I am extremely proud of him, especially after what happened to him and what he has been through," cheered his wife, Shauna.
STILL WANT MORE?
Barney Ronay on why Manchester United must keep Paris St Germain's giant gallic mitts off their hyper-evolved squirrel, Ángel Di María.
Paul Wilson puts the baffling business of football transfer tribunals through a journalistic codex.
Jonathan Wilson can't say it enough: the importance of goalkeepers is completely underappreciated. Jonathan Wilson can't say it enough: the importance of goalkeepers is completely underappreciated. Jonathan Wilson …
What happened when a teacher took their class of 10-year-olds to watch 'real football' in Enfield? It's not The Comic Strip Presents … it's Rosa Aers on Sport Network.
Get your hands on tickets for an extra special, season previewing, live, on-stage edition of Football Weekly. AC Jimbo, Barry Glendenning, Rafa Honigstein, Paul MacInnes and Gregg Bakowski will be treading the boards in London on Thursday 6 August.
Oh, and if it's your thing … you can follow Big Website on Big Social FaceSpace.
SIGN UP TO THE FIVER
Want your very own copy of our free tea-timely(ish) email sent direct to your inbox? Has your regular copy stopped arriving? Click here to sign up.
'I CAN'T THINK BEYOND A MINUTE AGO'