Harvesting Hill Streams Of Wales For Hydropower
The little stream bubbling off the Black Mountain and tumbling 300ft down to the river Towey in the Brecon Beacons has no name and is far too small to feature on most maps. But for Welsh hill farmer Howell W illiams , over whose 290 acres of steep and boggy pasture land it flows, it is an unexpected pension and a simple way to keep rural Wales populated.
Directing just some of his stream's water down a six inch pipe and into a turbine all constructed for about £50,000 generates nearly 18 kilowatt hour (kWh) of electricity at peak times, and earns him £10-15,000 a year.
Williams has dubbed his stream "Try dwr" – or "electricity from water". "You work long hours on the farm and do not earn much at all, but my small stream works 24 hours a day, even when I am sleeping. The price of lamb is down this year and the European grant has decreased so these are difficult times," he says.
Helping to harvest Wales's abundant rainfall should be a priority for any government, he says, because there are thousands of untapped streams like his pouring off hillsides in the Brecon Beacons, Snowdonia and the Berwyns.
"I would say micro-hydro beats farming. This is the best pension we could possibly have. Most farmers put all they earn back into the farm but have to leave when they cannot go out in all weathers ... Now I get paid to do nothing!"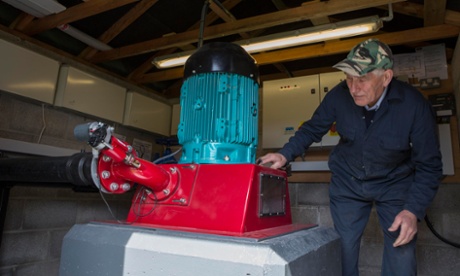 Williams checks his 15kW micro hydropower generator producing electricity at Abercrave farm on the Brecon Beacons, Wales. Photograph: Andrew Aitchison/Ashden Awards
Williams, 72, has always had to earn money outside the farm, working part-time in a quarry and at nearby Abercrave drift mine in the Swansea valley as a tunnel repair man. "The hill farm does not provide enough for a family. Hydro power is an added incentive to stay. It will definitely keep farmers like us on the land," he says.
While windfarms have divided Wales because of their visual intrusion and pylons, micro-hydro plants like Howell's are popular with rural communities and farmers because they take up no more space than a shed, do negligible ecological damage and – crucially – are not owned by large, remote power companies.
"The potential for micro hydro in this, one of the wettest parts of Britain, is almost limitless," says Chris Blake, director of the Green Valleys (Wales) community interest company which since 2009 has secured licenses for nearly 50 micro hydro schemes, installed 23, and has 13 more under construction. Together TGV's schemes generate nearly 2,000 megawatt hours (MWh) a year.
The company, which on Thursday won a £10,000 Ashden community energy award, plans to install 15 schemes a year and to work beyond Wales. "We want to make micro hydro affordable and to do it at scale. We know of at least 500 sites in Wales not to mention Scotland and Cumbria, and moorland in Yorkshire and south west England.
"Schemes like Howell's are not going to make a big contribution towards slowing global warming. But they represent a step towards a low carbon economy as well as securing long-term income in areas where subsistence hill farming is the main occupation," he says.
But Blake and other micro-hydro developers in rural Wales and the west country say they cannot expand in many areas because large wind and solar companies have taken all the capacity on the grid and [the regulator] Ofgem's rules state that private operators rather than the public money must pay for any upgrade.
The privatised grid in much of rural Wales is owned by Western Power Distribution (WPD), whose parent company is US coal giant Pennsylvania Power and Light corporation. Since buying out German utility E.On's UK power distribution company in 2011, it provides electricity to over 5m people in Wales, the Midlands and south-west England.
"WPD say the grid is full for the foreseeable future in much of rural Wales and south-west England and have asked us £5.7m to upgrade the grid and connect a tiny community-owned 18kW scheme. It's incredible," says Blake.
"Privatisation and Ofgem rules means that government targets for renewable generation cannot be met because we do not have the grid capacity," says Blake. "The system of ownership and regulation prevents any strategic investment in the network. The result is that very many potential hydro plants like Howell's will never get off the ground."
In a statement, WPD said: "Due to the high levels of embedded generation currently connected, or seeking connection to the distribution networks, there are areas in south Wales where significant reinforcement work is required. The contribution of the generator developer towards these costs is calculated in accordance with distribution network operator's charging methodology as approved by the electricity regulator Ofgem. This requires the connecting generator to substantially fund the reinforcement required, rather than the cost to be borne by all the customers in south Wales."
William's stream was harnessed five years ago and has already made his money back. "I would say that that one little stream has doubled the value of my farm because it is producing a bigger income than I can make with 300 ewes. That's a good investment. And I can wash my Wellington boots in it."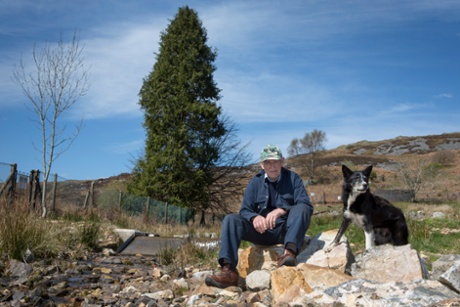 Williams and his sheep dog Ben sit by the entry point to the farm's 15kW hydropower plant on the Brecon Beacons, Wales. Photograph: Andrew Aitchison/Ashden Awards