Angry Birds 2 Review – New Twists On A Familiar Friend
Angry Birds 2? This is actually the eighth sequel to Angry Birds, following the Seasons, Rio, Space, Slingshot Stella, Friends and two Star Wars games.
That's just counting the ones that followed the original's form: spin-offs exploring other forms of gameplay include Angry Birds Transformers, Angry Birds Epic RPG, Angry Birds Pop, Angry Birds Fight and Bad Piggies.
By calling this new game Angry Birds 2, though, its developer Rovio is signifying its status as something of a reboot: getting back to bird-slinging basics while bumping up the production values, and designing it from the ground up as a freemium game.
It's the latter element that is both the biggest risk and biggest opportunity for Rovio. It's a chance to catapult Angry Birds into the lucrative, billion-dollar-revenues world of mobile games like Candy Crush Saga and Clash of Clans. Yet if it's bungled, also a chance to alienate fans – and their parents, in the case of kids who've made Angry Birds one of the biggest new children's brands in recent years. A challenge Rovio has been grappling with for some time now: all those recent spin-off games have been freemium.
Related: Angry Birds movie: Peter Dinklage and Maya Rudolph revealed in cast announcement
Have those lessons paid off? As a game, Angry Birds 2 does a lot of things really well, reminding you why the original hit was fuelled by word-of-mouth about its fun factor, rather than hype or blanket marketing.
On the freemium side, it's far from the most aggressive mobile game in terms of forcing players towards in-app purchases, with video advertisements – hailed as a player-friendly device in recent mobile hit Crossy Road – taking some of the strain.
The way that Angry Birds 2 pulls on every freemium lever sucks some of the fun out of it for players who loved the franchise's paid era (Angry Birds, Seasons, Rio and Space), although early reviews on Apple and Google's app stores indicate no such qualms from the newer wave of mobile gamers.
And the kids thing? That's still awkward, although not outrageous – and something for Rovio to worry about more than parents. But we'll get to that later.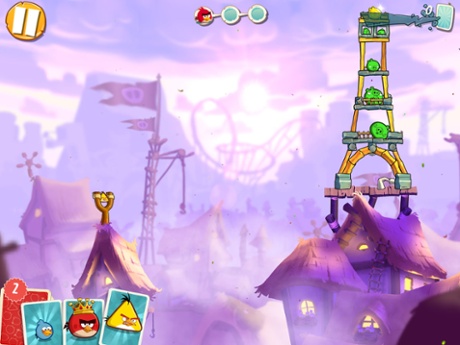 Angry Birds 2's graphics are impressive – as are the little touches. Back to Piggy Island
Angry Birds 2 is on familiar ground with its plot: Piggy Island is full of villainous green pigs with two key interests: stealing eggs, and building an array of towers from wood, ice and stone to protect themselves from the furious birds.
As before, your job is to slingshot the birds – Red, Chuck, Matilda, the Blues and the rest all reappear, each with their own special power – to destroy the pigs and towers. The game is launching with 140 levels, and more to come in future updates.
Related: My favourite waste of time: why Candy Crush and Angry Birds are so compulsive
There are some new twists. Levels can now have multiple stages: once you destroy one set of pigs, you move on to the next part of the level. There are boss battles in the form of larger, harder-to-destroy Foreman Pig, Chef Pig and King Pig enemies.
The birds you have available to fling are now represented by virtual "cards" which can be shuffled at will, enabling you to choose the order in which you use them.
Meanwhile, the game's power-ups system takes the form of "spells": an airstrike of rubber ducks; a blizzard turning towers into (easily-breakable) ice; a hot chilli that makes one of the pigs explode, and so on.
All of this is showcased with panache: Angry Birds 2 looks great, from the level backdrops through to the little touches: pigs quivering as you prepare to launch a new bird, and then zooming out of the screen towards you as nearby objects explode.
As far as longevity goes, 140 levels is plenty to grapple with before the next update, and once you complete level 25 you unlock an "Arena" section that will offer daily challenges and tournaments, competing against friends to level up your birds.
Paying and playing
Wrapped around all this are the freemium aspects. For starters, there's a system of lives, represented by hearts. You start with five but lose one every time you fail to complete a level, gaining one back every 30 minutes.
Spells are a consumable resource: you get a few of each as it is introduced, but once they're used up, you'll need to buy more using Angry Birds 2's gems virtual currency, sold for between £0.79 for 80 and £39.99 for 5,700 in an in-game store. Gems are also dished out for free once a day, with extra earned through playing, and for daily "quests" like popping 30 pigs.
Gems can also be spent to continue a level if you fail it. And a certain number of times a day, you can watch a video ad – invariably for another freemium game – to earn an extra bird in a specific level, or earn an extra life to play again.
As a guide to how this plays out in practice, in my first play through the game, I'd used up all my lives and daily video ads by level 22, reaching the wait-or-pay moment. Frustrating for a reviewer, but perhaps less so in real-world play patterns, when all five lives would replenish in two and a half hours.
More annoying was the random element of the levels, where structures can change shape and material every time you play: an easily-destroyable wooden Eiffel Tower one time, then a tougher, squatter stone-heavy structure the next.
That dials down the try-learn-repeat dynamic of older Angry Birds games in favour of … well, it feels like it's in favour of nudging you to buy spells. It's the Candy Crush school of power-ups counteracting randomised levels and limited lives.
I'm not a fan, but judging by Angry Birds 2's app store reviews – 4/5 from tens of thousands of reviews on Apple's, and 4.5/5 from hundreds of thousands on Google's – most mainstream mobile gamers don't have a problem with the model.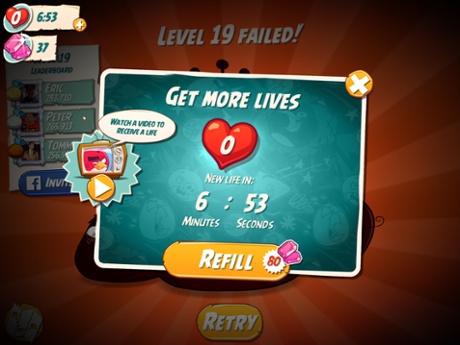 Angry Birds 2 uses a system of lives, gems and video ads to keep people playing. Time for a kids' spin-off?
I know someone who does have a problem with it, though: my eight-year old son, who's a genuine Angry Birds fan. He hit the wait-or-pay moment on level 16, found the level difficult, and after trying for a couple of days, drifted back to Minecraft during his tablet time.
That's why the freemium/kids aspect of Angry Birds 2 is something for Rovio to worry about, not parents. Children aren't fools: if a game actively stops them from playing, they'll play something else instead.
Related: Angry Birds revenues fell in 2014 due to sharp decline in merchandise sales
As long as parents' in-app purchases settings are locked down, the only danger here is to Rovio if children drift away from Angry Birds.
Its non-gaming business, from toys and merchandise to its ToonsTV video network and upcoming film, relies heavily on its appeal as a children's brand. Perhaps now's the time for a separate strand of Angry Birds 'kids' games, either as paid titles or completely-free games, to promote those other products.
That would leave Angry Birds 2 and subsequent sequels to the grown-ups, who can decide whether to play (and, indeed, pay).
And remember, pretty much every freemium lever can be tweaked in response to data on how people are actually playing the game – which unlike many of the wargames and match-three puzzlers on mobile, has strong characters and an engaging sense of fun at its core, rather than a hollow business model.
Angry Birds 2 is a free download for Android and for iOS.