Niece Of Kray Wife 'mortified' By New Tom Hardy-starring Biopic
The niece of Reggie Kray's late wife Frances Shea has spoken out against new film Legend for failing to provide an authentic view of her aunt's life.
Related: And next year's Oscar for looking like the person you play in the biopic goes to …
Shea, also called Frances, was recently shown the film at a screening in London but turned down a chance to meet the film-makers after she found the film too upsetting.
In the forthcoming drama, which stars Tom Hardy as both Kray twins, Australian actor Emily Browning plays Reggie's wife, who has a central role.
"I did not know how much the film was going to centre on my aunt Franie until I saw it," Shea told the Express. "She provided the narration throughout the film sounding common as muck and looking like a little two-bit trollope [sic]. I was mortified to see the huge part that my Franie was given."
Shea is upset that director Brian Helgeland and the producers of the film failed to contact her or anyone else from the family for their input.
"It's not alright [sic] to come to the East End and dip your toe in for a month or two and then think you know the whole East End story, while picking up information from people that are not the most reliable," she said. "Franie's thoughts, which act as the narration for the film, are from their own vivid imagination."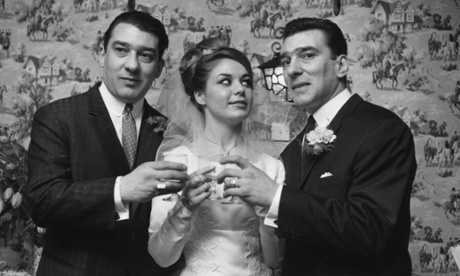 Frances Shea, after getting married to Reggie Kray, right. Photograph: Norman Potter/Getty Images
She also claims that her attempts to make contact were made futile after a universal lack of response. "I emailed everyone I could find connected with the film to raise my concerns and not one person got back to me," she said. "Because no one was interested I ended up quitting my job through the stress, I am having anxiety attacks, I barely sleep, I feel vulnerable."
Her aunt met Reggie Kray when she was 16 and they married in 1965 but the marriage lasted only eight months. If you plan on seeing the film, without knowing the full history, then spoiler alert: Shea died of a drugs overdose at the age of 23.
"Franie died in my bed. I was going to stay with a friend that night, so I kissed her and Reggie goodbye and never saw them both again, as she took her life and he went to prison soon after," she said.